1956
Eldorado Biarritz, Seville and Brougham Town Car
The rear end treatment of the Eldorado models was again vastly different from the standard line, repeating the theme used in 1955.

As in 1955 the name Eldorado appeared in gold script in the center of the trunk lip above a wide-angled gold V. The model names Biarritz or Seville appeared also in gold script on the upper front fenders, just ahead of the front door, below a gold-finished Cadillac crest.

The traditional, elongated Cadillac Goddess hood mascot was not used on the Eldorado models. Instead, it was replaced with two small, decorative fins mounted in the center of the hood, at the front. The ribbed, chrome door saddles used in 1955 appeared again in 1956.

The Seville

This year, Cadillac started offering a closed Eldorado model, the Seville hardtop coupe, in addition to the convertible, which got the distinguishing name Biarritz.

The front grille was available in optional gold finish. The coupe model differed from standard Cadillac coupe models by its vinyl roof covering.

The Seville coupe was Cadillac's production version of a special mood car shown at last year's Motorama, called the Celebrity. The latter car was described as a modified Coupe de Ville and had the distinctive Vicodec roof covering. The press release issued at the 1955 Motorama had this to say about it:

Completing the display of production 'show cars' will be the 'Celebrity', a dramatically styled Coupe de Ville combining a long-grain [red] leather covered roof with a brilliant red lower body. Matching the exterior color treatment, the interior trim design utilized Red Silver threaded V-Pattern cloth seat inserts and Red leather bolsters trimmed with chrome buttons and Silver finish welts.

Two color views of this graceful, air-conditioned, one-of-a-kind car can be admired in a Cadillac advertising catalog published in line with the 1955 Motorama entitled A trip to the Motorama [on pp. 4-5 and p.10]. Like the later production Eldorado Seville, the Motorama car had the Eldorado sabre-spoke wheels.

The name Celebrity was used later (1982) for a Chevrolet model.


A new hard-top Eldorado Seville for 1956
[ Photo: © 1956, GM/Cadillac ]


1956 fashion advertisement featuring the new Eldorado Seville


Artist's view of the new Seville from a period advertisement


Note the optional "gold" alloy wheels in the factory promotional photo (left)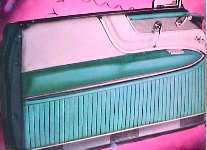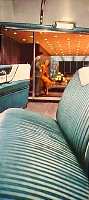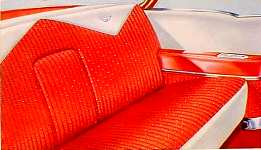 Eldorado Seville interiors came either in full leather or in a combination of Florentine pattern metallic nylon with
leather bolsters and trim; available shades of leather were black, blue, green or red with white leather bolsters
and trim; Florentine pattern metallic nylons were available in shades of black, blue, green and red with white
leather bolsters and trim. Vicodec roof coverings came in white, black, light blue, beige and light green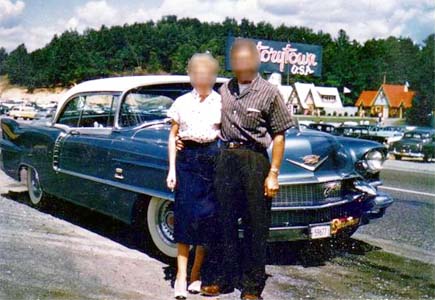 This was a "pre-owned" car, back in the 60s; I wonder if it is still around today
[ Photo: Internet, 2014 ]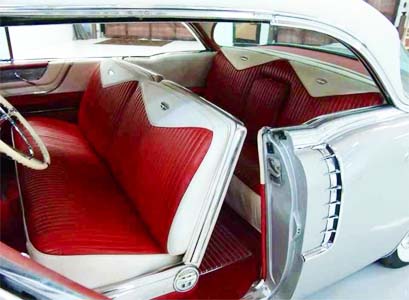 The "real thing" compared to the above catalog illustration



This lovely survivor in blue resides (2013) in Germany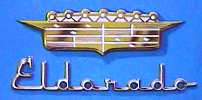 (Left) Early factory photos and one prestige catalog illustration show the Seville coupe
with only the Eldorado script; others show the car with the script Eldorado Seville;
it is believed that all the production cars had the full Eldorado Seville script.
The Biarritz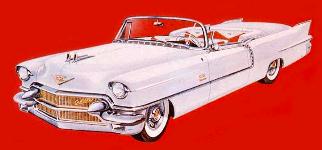 Two artist's views of the new Biarritz (the one at the left is from a period advertisement)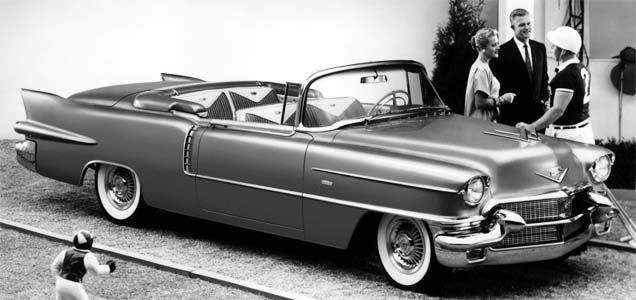 The convertible Eldorado is now named Biarritz
[ Photo: © 1956, GM/Cadillac ]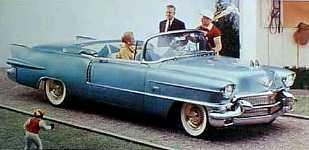 Different setting - same car ... in color
[ Photo: © 1956, GM/Cadillac ]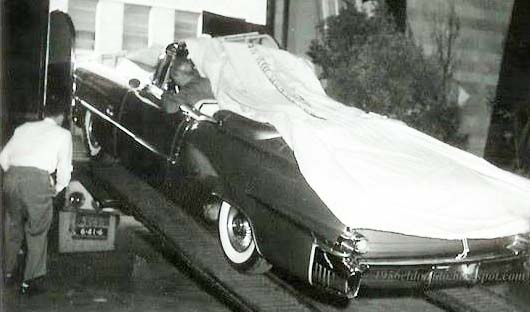 A 1956 Eldorado Biarritz being unloaded (?) for a motor show or perhaps a dealer's showroom
[ the filigree ".com" domain name across the rear bumper unfortunately is illegible ]




Standard on Eldorado models for 1956 were the cast, polished aluminum sabre-spoke wheels (available
at extra cost on all other models); they were optionally available on the Eldorado models in gold finish at no
extra cost with a matching gold-finished grille (above, right), These were available at extra cost on the
other models in the range (although I've never seen a 1956 Fleetwood 75 with gold grill and cast wheels!)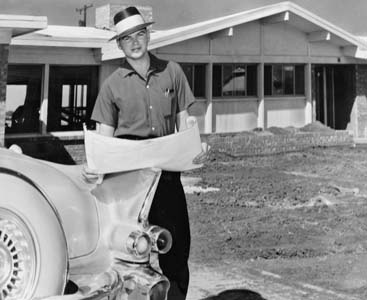 Would he be the owner ... or the builder?
[ Photo: Internet, 2014 ]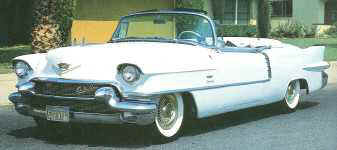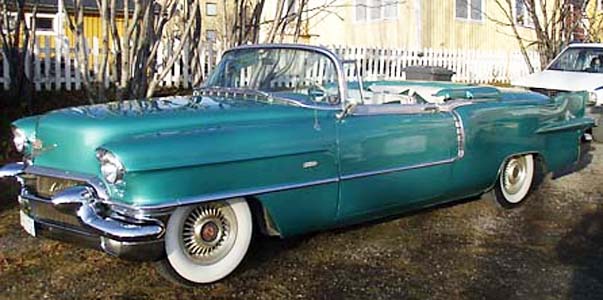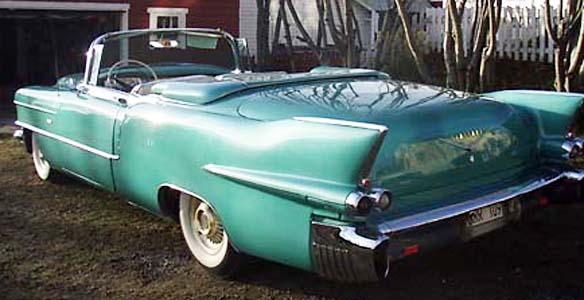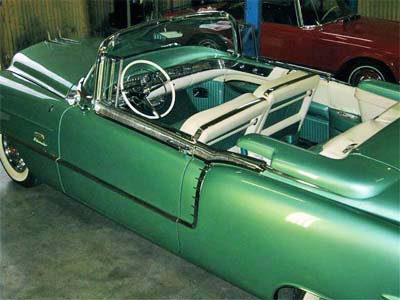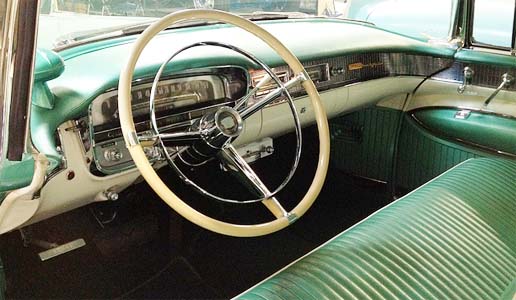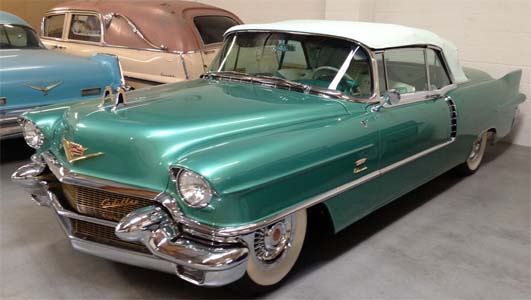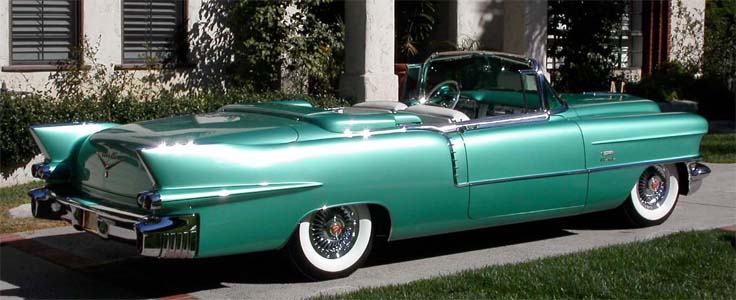 A restored 1956 Eldorado Biarritz in Australia; it is made to look like the Elvis Presley car. Color: grape!
[ Photos, above 3 rows: © 2012, Lou Commisso, CLC, 1956 Eldorado Biarritz Roster ]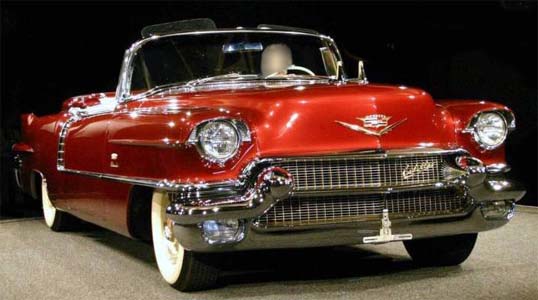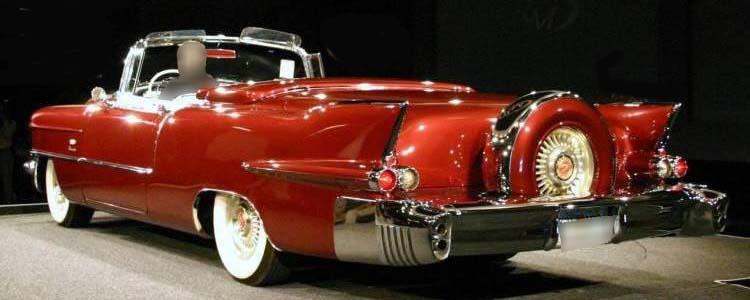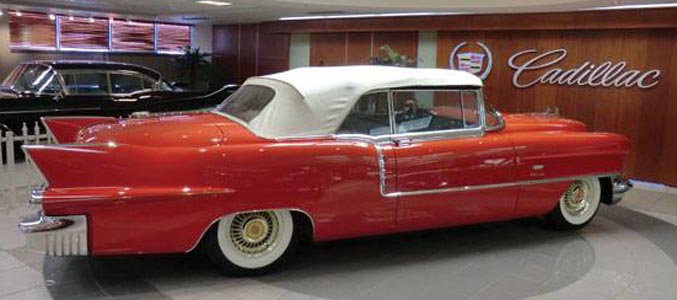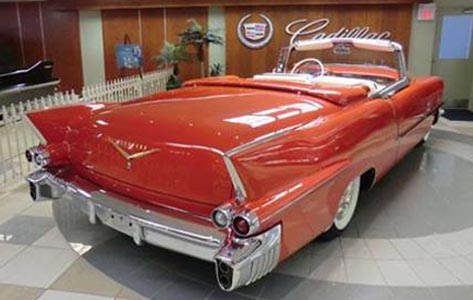 A fine survivor in red ... with no Conti kit!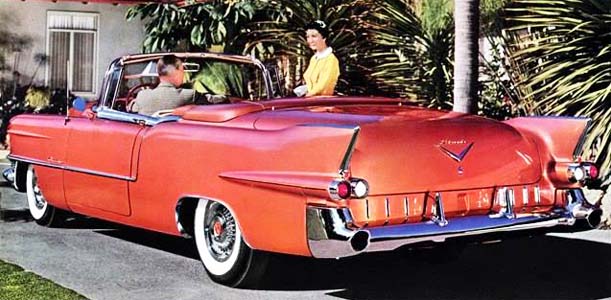 This illustration is from a period advertising piece;
it features the car in the new (for 1956) Pacific Coral hue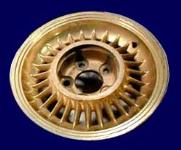 Left: cast wheel in polished aluminum; right: gold finish [center cap removed]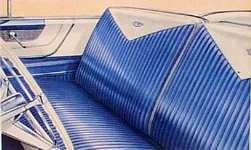 Eldorado Seville interiors came either in full leather or in a combination of Florentine pattern metallic nylon with
leather bolsters and trim; available shades of leather were black, blue, green or red with white leather bolsters
and trim; Florentine pattern metallic nylons were available in shades of black, blue, green and red with white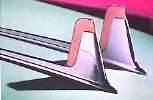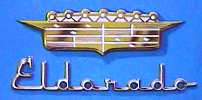 Exclusive to the Eldorado models were a new "winged" hood mascot (left)
and Eldorado script nameplate on the front fenders (center)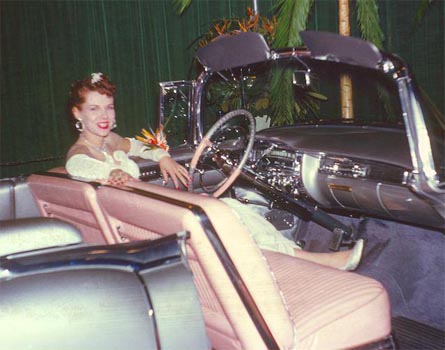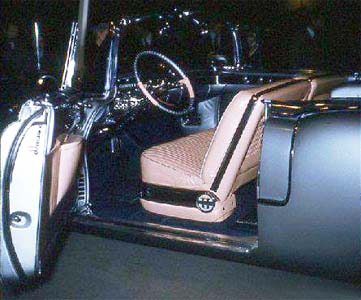 This mildly customized job was displayed at the Buffalo auto Show in NY
Trivia:

- Located in a barn, a stone's throw from Geneva's Cointrin airport, in Switzerland, in the late seventies, was a metallic blue, style 56-6267SSX Eldorado Biarritz convertible [FW No. 1941, trim 12, paint 24, accessories PH]. This car wore the red-lettered temporary French tags # 3136TT1Q and was reputed to have been once the property of the late Reza Pahlavi, Shah of Iran.

- In my collection also is a photo of the prototype Eldorado Biarritz convertible for 1956, taken in March 1955 [full RH side view, taken in front of the Fisher Body plant].
The pre-production Brougham
The Brougham Town Car Motorama special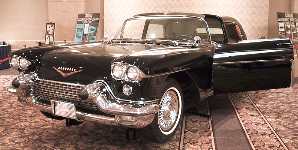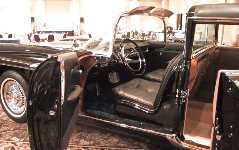 Although these were not production cars in 1956, I decided to include them here because they were conducive to the bespoke Eldorado Brougham models of 1957-58.

Roster of 1956 Eldorado models now available: CLC member, Lou Comisso, writes: I found a way to share the 1956 Eldorado roster I have been working on with the world. It's in the beginning stages with just over 100 cars but there is enough there now to share it. Hopefully more cars and details about existing cars will be contributed from enthusiasts once the word is spread. So please feel free to forward this link on to others in the hobby.

http://1956eldorado.blogspot.com/