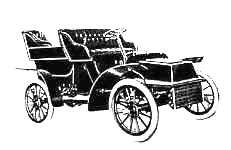 Production of the sturdy little Cadillac runabout and tonneau models continued in 1904. These were newly
designated Model A to differentiate them from the 1904 cars (above) designated Model B, which got a smart,
new, dummy hood, providing ample storage for tools and maintenance supplies as well as a package or two; optional
gearing was available (10-34, 10-38 or 10-45); the 1904 product brochure tells us that this nippy little runabout
may be geared up until it is capable of speeds enough to satisfy the most reckless driver!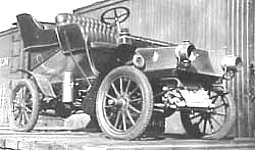 Original photo from the early part
of the twentieth century
Unlike the Model A, the new Model B runabout was not convertible to a 4-passenger touring car with the addition
of a removable tonneau; the Model B touring car was a completely new catalog offering; the latter (as well as
the Surrey, below, both were convertible to 2-seater capacity by the removal of the rear body and the addition
of a rear deck, supplied at a cost of only $10; tools, tire pump and repair kit were the standard options;
the costly, brass gas lamps (seen here) had to be ordered from the manufacturer, Gray and Davis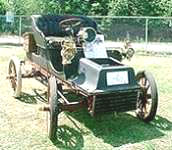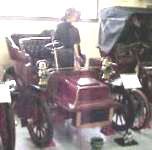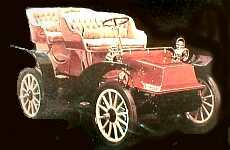 Surviving Model B runabout (left) and touring car (center and right)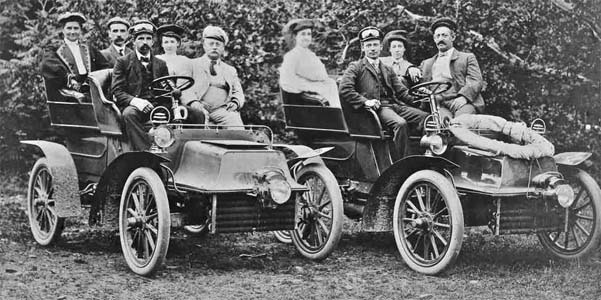 The party in the LH (period) photo are showing off their "new" Cadillac Model B; the gent in the fancy costume (far left) appears to be dressed up as "Sieur Cadillac" himself;
The couple in th RH photo are showing off this lovely survivor that belongs (2010) to Les & Roberta Holden of NC; it could even be one of the 2 cars at the left?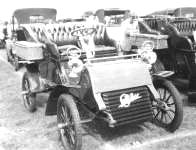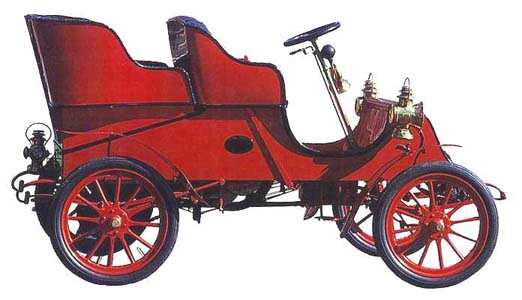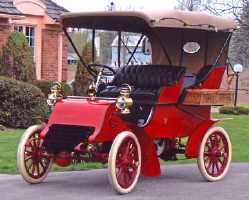 Possibly the same car, 50 years later (left) and 100 years later (center and right);
the car at far right is Cadillac #13 of a total production of 2498 units in 2003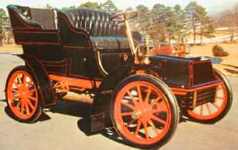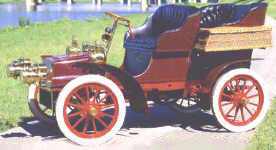 Two more survivors on color postcards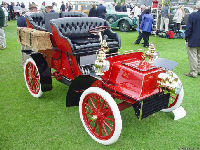 A survivor at Pebble Beach, 2002
[ Possibly the car belonging to Peter Wysocki of Haworth, NJ ]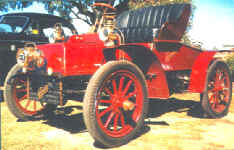 This lovely survivor is in Australia
[ Photo: courtesy "LaCad", magazine of the Australian CLC ]
Oddity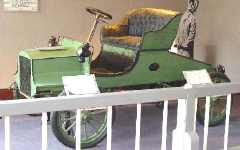 This 1903-04 runabout has been updated
with the dummy hood from a 1905 Cadillac
Rarities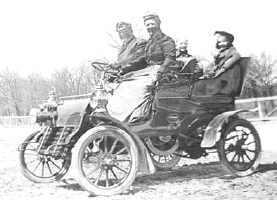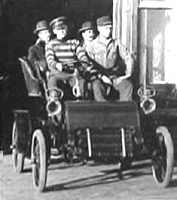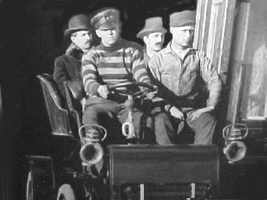 Here are a couple of rare, period photos showing family and business outings in a 1903-04 runabout with detachable tonneau;
in the photos (center and right), I'm guessing the guy in the striped sweater is the driver, the one on his left is possibly a mechnaic
and the two gentlemen in the rear tonneau probably are the (wealthy) owner and a buisiness acquaintance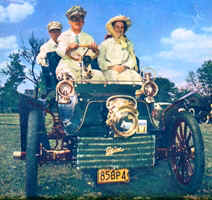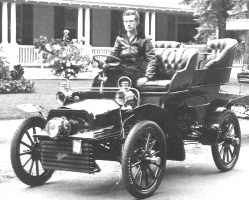 [Left] A survivor photographed in the '50s
[Right] Possibly the same car, belonging to C.G. Moyer
who participated in the 1954 Glidden Tour
[ Photo from the tour ]

Trivia : In February, 2005, the Centenary Dunlop Reliability Trial, held in Australia was won by a 1904 Cadillac runabout. The trial covered 500 miles in 4½ days and followed as closely as possible the original route that had been set 100 years earlier [info: Mark Hewitt, Sydney]