[ last update: 04.28.2014 ]
The (new) Cadillac Database©

Photo Pages
Cadillac

1912

Return to The (New) Cadillac Database© Index Page
or go back to the Cadillac photo index page to pick another year

Unless otherwise specified all photos and illustrations are from Yann Saunders'
collection of Cadillac photos, advertisements and product catalogs,
reproduced courtesy of the Cadillac Motor Car Division and the Cadillac-LaSalle Club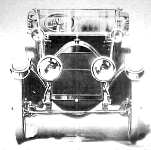 "The car that has no crank"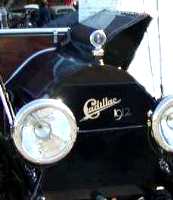 The big story for 1912 was the availability, for the first time in any production automobile, of the electric self-starter, which eliminated the need for the (sometimes dangerous) hand-operated crank.

The artist's drawings below are from the extremely rare, all-model catalog of new Cadillac models for 1912. I was fortunate to be able to find one in near mint condition.

In addition to this catalog, Cadillac also continued to advertise its products in the press. Over the past 45 years of collecting these sometimes colorful advertisements, I have turned up only a dozen of them for this particular year, all of them in B&W.

Styling remained basically unchanged from the previous year, with the exception that all models now had full doors in front. Operating controls also were moved inside the driving compartment (with the exception of the hand brake lever on open body styles.

The easiest way to distinguish the Cadillacs of 1912 is by the rear fenders, of which the rear extremity curves away from the car into an almost horizontal plane.

A new phaeton style replaced the earlier demi-tonneau and 4-door touring car. The coupe incorporated a new folding seat and could carry a second passenger in addition to the driver. This year, the limousine became a fully enclosed car; it was the only one of its kind on the market at that time.

Particularly wealthy buyers were in a position to acquire two bodies for a single chassis. The product bulletin for 1912 asserts that "The user of a Cadillac limousine, however, is not necessarily confined to the use of the enclosed body. With an extra touring car body, a change can be made from one to the other when desired, the bodies interchanging on the same chassis".

Now there's an idea for today's moribund auto market: why not go back to the two-body, single-chassis idea? Who would not dream of having a big, roomy sedan for the winter months and throwing on a dashing convertible body as soon as Spring returned?

Additional information on the 1912 models and the related sales literature may be found in The (New) Cadillac Database© sections entitled "Descriptions and Specifications of Cadillac Cars 1905-1912" and "Cadillac and La Salle Sales Literature 1910-1914". Further recommended reading:

"Standard Catalog of Cadillac, 1903-2000" edited by James T. Lenzke, © 2000, published by Krause Publications, Inc., 700 E. State Street, Iola, WI 54990 [ISBN #0-87341-925-1, Library of Congress #91-61301].

Space-permitting, some photos of surviving cars may be added here, later.
The Model Range for 1912

The ever-popular, open touring car
which cost $1800 with all its standard equipment


The same car, shown here
with its protective rain cover in place

Replacing last year's demi-tonneau and 4-door touring car
was this new phaeton style costing also $1800


The phaeton is shown here
with its rain cover in place

The racy new torpedo body style
cost $1900 with its complement of standard equipment


Here, the torpedo is shown
with top up

The Cadillac roadster continued as one of the most
popular open body styles; it cost $1800


Here is the roadster
with rain cover up


This interesting 1:3 scale toy is powered by the Kettering-designed,
battery-operated electric self-starter; only a few were made; Wilfrid Leland Jr.
had one; this survivor (in a Danish museum) belonged to the Norwegian Royal family

Many physician's liked this fully enclosed yet nimble coupe;
this year it gained an extra, folding seat. Costing $2250,
it was out of reach of most would-be buyers


The rear-facing, folding auxiliary seat in this
model increased occupant capacity to four
persons; upholstery was imported blue
broadcloth; silk curtains were fitted

As in previous years, the most expensive car in the range was the luxurious, fully enclosed limousine, costing $3250.
It was characterised by rich trimmings and deep, soft upholstery; behind the car: Henry Leland, founder of
the Cadillac Automobile Co.


The 1912 limo and its luxurious interior
weres equal to none
Mechanical Details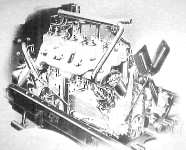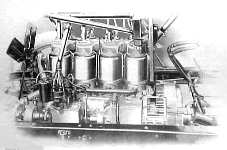 The 1912 power plant remained basically unchanged from the 1905 design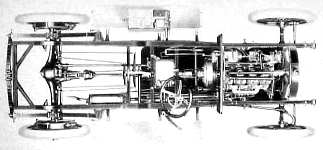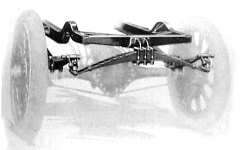 (Left) 1912 Cadillac chassis, (right) so-called ¾-platform rear suspension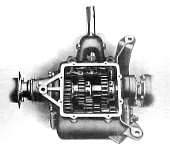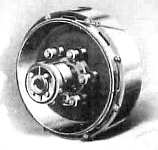 (Left) Transmission, (Center) clutch, (right) steering wheel and steering gear
[ insert photo ]

A survivor in Australia
[ Photo © and cortesy of Jack Cairns ]
Return to The (New) Cadillac Database© Index Page
or go back to the Cadillac photo index page to pick another year
© 1996, Yann Saunders and the Cadillac-LaSalle Club., Inc.
[ Background image: 1912 front clip - The Car that has no Crank ]