[ last update: 05.07.2008 ] Best viewed with a screen image size of 600 x 800 pixels
The (new) Cadillac Database©

Photo Pages
Cadillac

1913

Return to The (New) Cadillac Database© Index Page
or go back to the Cadillac photo index page to pick another year
or go to the La Salle photo index page
Unless otherwise specified all photos and illustrations are from Yann Saunders'
collection of Cadillac photos, advertisements and product catalogs,
reproduced courtesy of the Cadillac Motor Car Division and the Cadillac-LaSalle Club

Introduced in 1912,
"The car that has no crank"

Since the beginnings of the auto industry in America, Cadillac had become increasingly the criterion of excellence in practical automobile construction. Each year the public looked to the Cadillac for what represented real progress in the development of the motor car. They looked for features that marked real and substantial advancement, not mere sales gimmicks. In its first eleven years of existence, Cadillac never catered merely to public fancy not did the company ever take advantage of the uninformed; it built only cars it knew to be right, cars that would give buyers the largest possible measure of "value received".

By 1913, more than 50,000 Cadillacs had been built. The company's workmanship was famous the world over: famous for its accuracy, famous for its uniformity, famous for its standardization. The company was prepared to replace any part of any car it ever built. No user was ever obliged to discard his car owing to the unavailability of a replacement part.

Since the previous year the Delco Electrical Plant had become an integral part of all Cadillac cars. Refinements since the introduction of the so-called self-starter had brought it, in one short year, as near to 100% efficiency as any device could be.

This year was characterized again by artistic body designs. Bodies were first molded in wax [clay came much later], from which a plaster cast was made. From the latter, dies were built for stamping out the different body parts from sheet steel. These panels were built over a sturdy wooden frame. Open bodies were made of steel; aluminum was used for the closed types (coupe and limousine).

The standard 1913 colors were blue for all open cars, with fine light striping. The torpedo was steel gray with black moldings, hood and fenders. The enclosed limousine and coupe had blue lower panels and doors; uppers and moldings were painted black. The upholstery of all the models was made of the finest, hand-buffed black leather. Finally, all trim was nickel-plated.

Additional information on the 1913 models and the related sales literature may be found in The (New) Cadillac Database© sections entitled "Descriptions and Specifications of Cadillac Cars 1905-1912" and "Cadillac and La Salle Sales Literature 1910-1914". Further recommended reading:

"Standard Catalog of Cadillac, 1903-2000" edited by James T. Lenzke, © 2000, published by Krause Publications, Inc., 700 E. State Street, Iola, WI 54990 [ISBN #0-87341-925-1, Library of Congress #91-61301].

Space-permitting, some photos of surviving cars may be added here, later.

The 1913 body offerings all are illustrated below. Illustrations are from a fine reproduction copy of the 1913 product catalog published in the seventies by Floyd Clymer in 1973: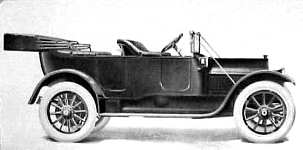 The standard touring car for five passengers;
it cost $1975 and included some standard equipment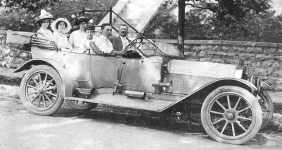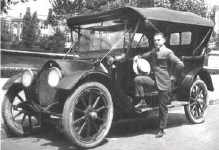 Original photos from 1913?
That front fender line (LH photo) does not look right

A survivor photographed in the seventies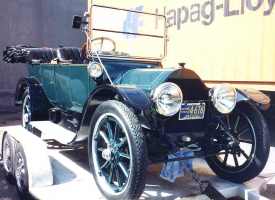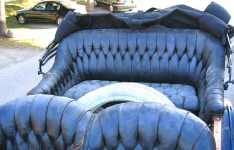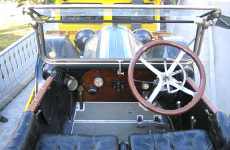 This survivor lives in Italy and belongs to "Peter"
who kindly supplied the photos
1913 Cadillac Model 30 Touring
[ for sale on eBay in June 2009 ]
In the fall of 1912, Cadillac launched a famous and enduring advertising campaign promoting Cadillac as the "Standard of the World".
The 1913 Cadillac benefited from more graceful sweeping lines because of the longer 120 inch wheelbase. The carriage era wooden cowl was replaced with a full medal cowl, sweeping fenders and fully enclosed driver controls. In addition the Model 30 was powered by a vertical, in-line L-head 365.8 inch four cylinder engine, rated between 40-50 horsepower. Shifting is precise with the 3 speed gear box and light clutch.
This particular Model 30 is a 2008 Show winner. It is finished in blue with black fenders, a black cloth top and beautiful nickel-plated components. The sun played tricks on me with the color, but be assured the body is all BLUE and the fenders are BLACK. In fact, blue was the only color Cadillac offered in 1913!! The black tufted leather is spectacular as well. Most importantly, it starts instantly with the original Cadillac starter-generator and runs and steers with ease. There is plenty of power for touring.
[ process photos ]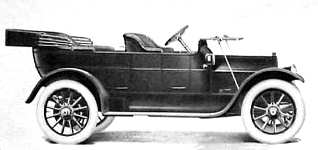 The "torpedo" could accommodate four occupants
in grand style. The horizontal body molding,
level with the hood crease, distinguishes it
from the other 1913 models; it cost $1975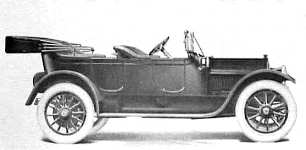 The phaeton for four passengers was another popular style.
It is recognizable by the bead molding about
4 inches below the belt; this style also cost $1975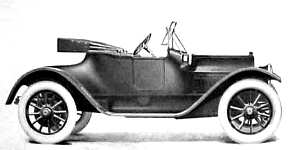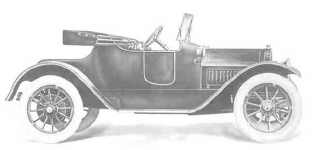 The sporty little Cadillac roadster for two passengers
enjoyed immense popularity; it too cost $1975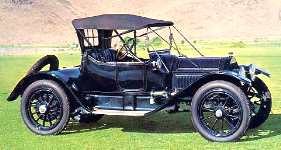 This survivor was in the former Harrah collection, Reno, NV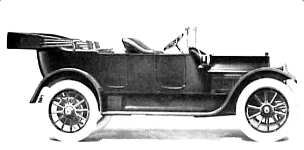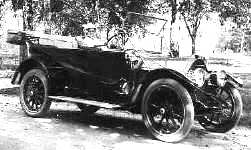 More expensive was the so-called 6-passenger car with fold-out auxiliary seats; its price was $2075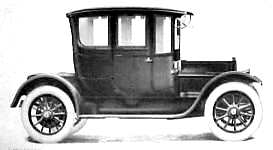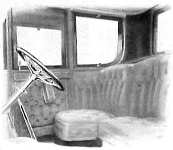 The Cadillac coupe was the leading car of its type in 1913. It accommodated four occupants,
three on the driver's seat and one more on a drop seat located in front of it; the latter
was hinged and allowed entry and egress from both left and right sides. American
black walnut trim was used for the ceiling, sashes, heel board, hood shelves and
finish moldings. All windows had silk blinds. This model cost $2500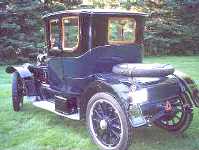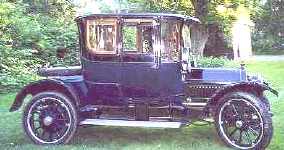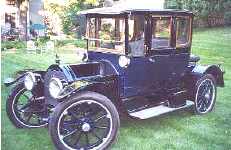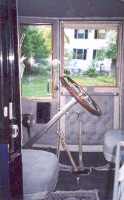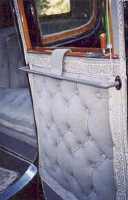 This lovely survivor was offered for sale at auction on the Internet in June 2007. The vendor, Walter Miller, whom many of you
know as a supplier of classic auto literature, has owned the car since 2002. It was bought new from the Don Lee dealership in
Los Angeles and continues to perform perfectly ...as it approaches 100 years in service! One owner took the car to Europe where he
toured extensively in the late '90s; Walter himself has driven the car in many classic events. It is one of only three known survivors
[ Photos: Internet, courtesy of Walter Miller ]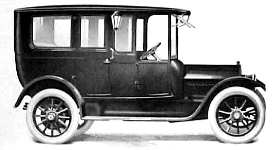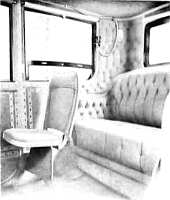 The most luxurious and most expensive model in the 1913 range was the limousine for
seven passengers. Although it cost a whopping $3250, new construction methods in fact
had brought the price down $1750 since 1906, when the Model L cost $5000! According
to the 1913 product brochure, the limousine found its greatest sales "among those who
place luxury, comfort, ease, richness, taste, dignity, elegance and refinement above all
price consideration, and are satisfied with nothing short of that which represents these
qualifications in the highest degree." The driver's compartment was three-quarters
enclosed, with storm curtains provided for added protection in inclement weather. Five
passengers could be accommodated in the rear compartment; two of them sat on revolving
seats that folded flush with the body sides when not in use. The passenger compartment
was trimmed in the best blue broadcloth. Silk curtains and a speaking tube were included
Some mechanical details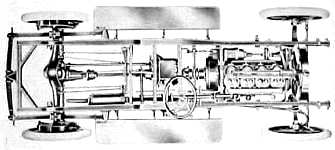 Above: the 1913 Cadillac chassis
Below: the rear axle and suspension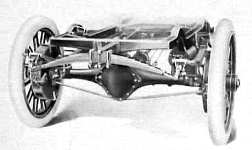 Engine, transmission and controls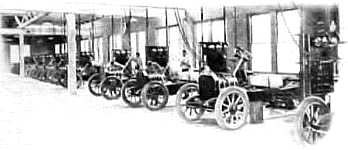 Dynamometer testing of engines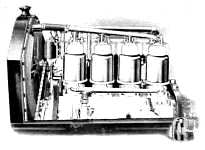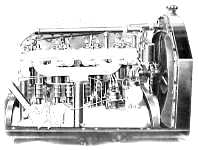 The 4-cylinder engine, LH and RH views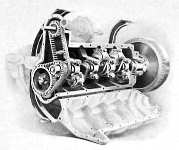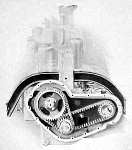 The engine with crankcase and front covers off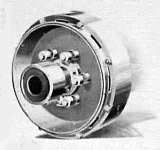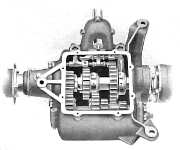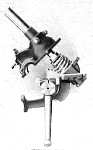 Front left to right: clutch, transmission and steering gear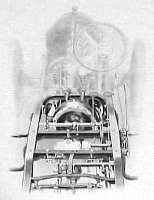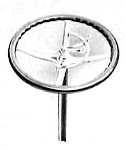 Controls and steering still were mounted on the right
Survivors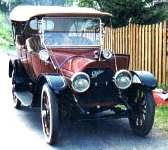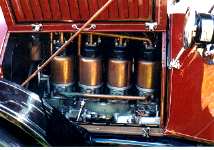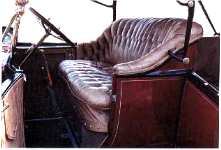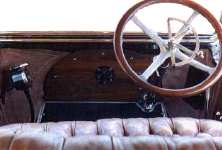 A nice surviving touring car
Return to The (New) Cadillac Database© Index Page
or go back to the Cadillac photo index page to pick another year
or go to the La Salle photo index page
© 1996, Yann Saunders and the Cadillac-LaSalle Club, Inc.
[Background image: The car that has no crank]