[ last update: 11.06.2014 ]
The (new) Cadillac Database©

Photo Pages
Cadillac

1920-1921
Return to The (New) Cadillac Database© Index Page
or go back to the Cadillac photo index page to pick another year

Unless otherwise specified all photos and illustrations are from Yann Saunders'
collection of Cadillac photos, advertisements and product catalogs,
reproduced courtesy of the Cadillac Motor Car Division and the Cadillac-LaSalle Club
As I have said before, the quality of the material shown in The (new) Cadillac Database© is no better than the quality of the material supplied or available to its compiler. Unfortunately, as regards, the Cadillacs of 1920-21, the only merchandising material available to me at this time are the relatively poor quality documents, below. But poor quality documents are better than NO documents at all, right? So, if any of you can supply better quality photos, I shall be glad to insert them here.

The 1920-21 models were designated "Type 59". They were similar to the cars of 1919 but their appearance was straighter and more full-bodied. The new phaeton and roadster featured a longer cowl while the windshields on the Brougham and limousine were slightly angled, with a fixed lower section. A coupe for 2 passengers was added to the line. There was a new 2-pass coupe in 1920 but it was dropped in 1921, together with the town brougham, only to re-appear in 1922, with the new Cadillac Type 61 models. For the first time, Cadillac prices began to exceed the $5000 mark [the most expensive car to date had been the 1906 Model "L" limousine at an even $5000].

Front wheels were given added rigidity by a return to 12 spokes instead of 10. Decorated headlight doors, shaped somewhat like the Cadillac crest, carried a small, removable, blank crest at the top, in the center. Nickel-plated headlights and sidelights were optionally available.

Over the two-year period, there were three different designs for most of the body styles listed here, with appropriate price increases. Listed prices of these models vary from one source to another; they ranged from approximately $3590 for the 2-passenger Roadster to $5690 for the luxurious town brougham for 7 passengers. There were design changes and price increases in the second year of production; style numbers and prices are included below when available.

Don Lee, coach builder to the Hollywood stars, executed some exceptionally beautiful and interesting coachwork on this Cadillac chassis. Some of them may be viewed in the "Dream Cars" section of the Database.

The artist's drawings, below, are from various merchandising booklets and folders of 1920 and 1921. Regrettably, many of them are copies, hence the relatively poor image quality.

The easiest way to quickly identify the year of these models is to look at the headlight doors; they appear squarish and have an ornate design around the rim with (at the top, center) a blank Cadillac crest outline. This new feature is combined with an oblong cowl ventilator door, concealed hood hinges and small side lights mounted close to the windshield.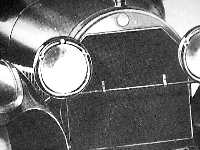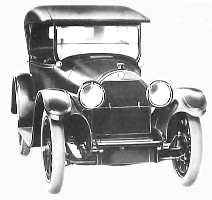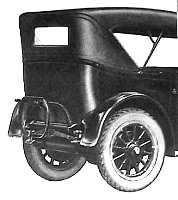 Easy ID: check the headlights for the Cadillac crest outline around the rim
Number plate is attached on cross bar between headlights
Additional information on the 1921-21 models and the related sales literature may be found in The (New) Cadillac Database© sections entitled "Descriptions and Specifications of Cadillac Cars 1913-21", "Dream Cars, 1903-1924" and "Cadillac and La Salle Sales Literature 1920 - 1924".

Additional reading matter on these Cadillac models: "Standard Catalog of Cadillac, 1903-2000" edited by James T. Lenzke, © 2000, published by Krause Publications, Inc., 700 E. State Street, Iola, WI 54990 [ISBN #0-87341-925-1, Library of Congress #91-61301].

The 1920-21 models are shown below in ascending order of their cost: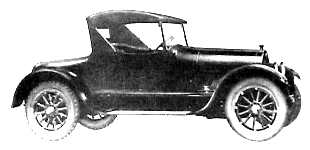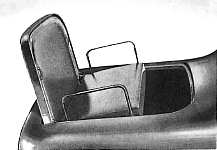 Rumble-seat Roadster: $3590 ($3790)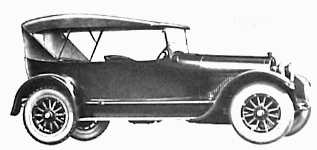 Phaeton for four passengers: $3590 ($3790)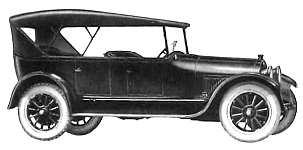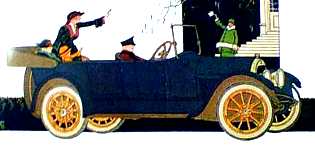 The 7-passenger open touring car: $3740 ($3940)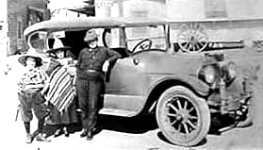 Left: U.S. tourists at Ciudad Juarez, Mexico, in the early twenties
Right: Original family photo, © and courtesy Jim Barber, Austin, TX

Type 59 touring (1920-21)

[ no image ]

The coupe: $4290 (this model was dropped in 1921 but re-appeared in 1922)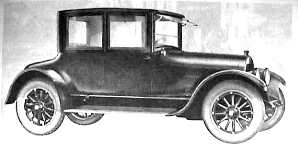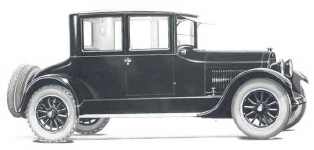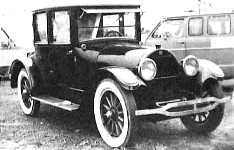 The Victoria for 4 passengers: style #4000 =$4340, styles #4130 and #4290 = $4540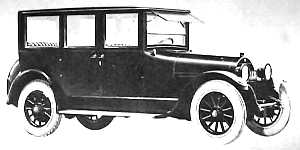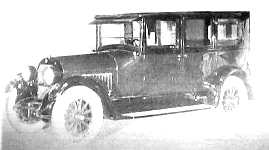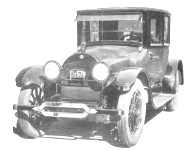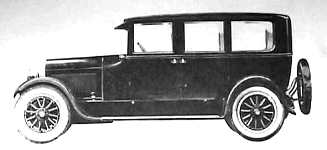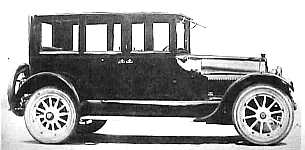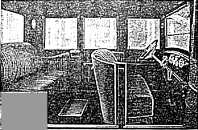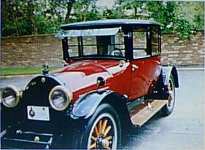 The 5-passenger sedan: style #4010 = $4750, styles #4140 and #4270 = $4950
Artist's renderings tend to elongate the car and attenuate its boxy shape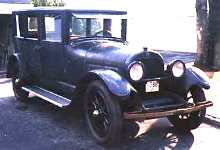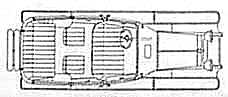 The Suburban model for 7 passengers: style #4020 = $4990, styles #4120 and #4300 = $5190
A survivor is shown immediately above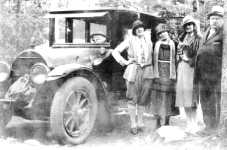 A family (?) outing in the early twenties
[ Photo: Internet, 3/2003 ]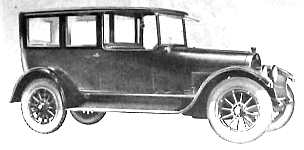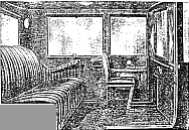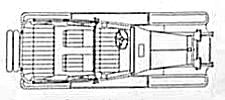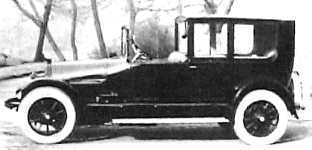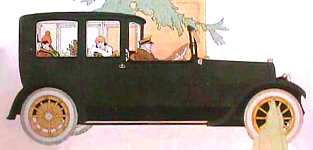 The standard limousine for 7 passengers: style #4030 = $5090, styles #4150 and #4300 = $5290
A full canopy enclosure was available for the driving compartment [top, right]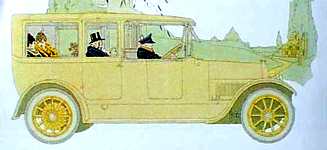 I believe this is to be an artist's rendering of the 1920 town brougham for 7 passengers
Despite three design and price changes in 1920, it was dropped from production in 1921
Style #4040 = $5090, styles #4160 = $5290 then $5690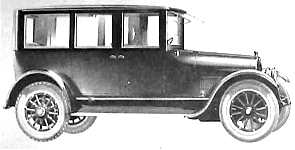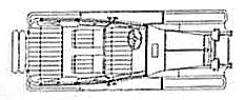 The imperial limousine for 7 passengers
Styles #4050 = $5190, #4170 and #4350 = $5390
Return to The (New) Cadillac Database© Index Page
or go back to the Cadillac photo index page to pick another year
© 1996, Yann Saunders and the Cadillac-LaSalle Club, Inc.
[ Background image: two views of 1920-21 front clip ]