[ last update: 02.13.2015 ]
The (new) Cadillac Database©

Photo Pages
Cadillac

1933
Return to The (New) Cadillac Database© Index Page
or go back to the Cadillac photo index page to pick another year
or go to the La Salle photo index page
Unless otherwise specified all photos and illustrations are from Yann Saunders'
collection of Cadillac photos, advertisements and product catalogs,
reproduced courtesy of the Cadillac Motor Car Division and the Cadillac-LaSalle Club


(left) Front grille of V8 and V12 models
right) front grille of V16 cars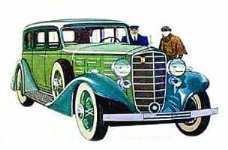 Illustrations from contemporary
marketing literature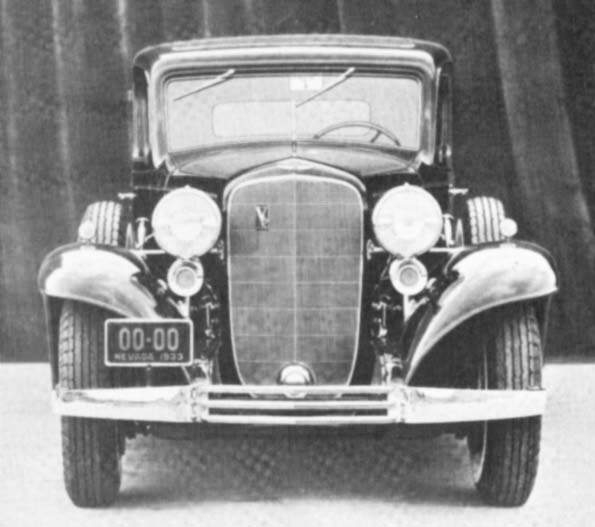 Front ensemble of the 1933 V12 cars
The artist's drawings below are from the rare and exquisite portfolio of V8 and V12 styles on the Cadillac chassis for 1933. I should like to thank Taylor Vinson, an automobile literature collector from Washington D.C. for putting that portfolio graciously at my disposal. Some factory photos as well as a few photos of surviving cars may be added later, space permitting.
Bodies were available from both Fisher and Fleetwood. Most body styles were available on both the V8 and V12 chassis; a few of each were mounted also on the V16 chassis for 1933. Click here to view the latter cars. You may also want to click here to look at some rare, surviving sixteens of 1933.

Additional information on the Cadillac models of 1933 is to be found in the "Specifications" pages for 1932 through 1937, as also in the "Dream Cars" section for 1933 through 1937.

Despite the unavailability, at this time, of production records for the V8 and V12 models, I have attempted. nonetheless, to list the styles in ascending order of their cost. Needless to say, some of the cheapest body styles of that period are among the most desirable and costly today (e.g. the sleek, sporty roadster).

The distinguishing feature of the 1933 Cadillacs is the front clip, with its wind-splitting, aerodynamic "V"-shaped grille divided by one central, vertical molding and eight horizontal ones. The bumpers are also a giveaway, with the central part divided by three horizontal bars. Headlights and fender-mounted parking lights are elongated bullets, as in 1932; the grille housing, headlights and parking lights could be painted or chrome-plated. Many buyers bought full wheel discs this year, to avoid the painstaking job of cleaning spoked wheels.

Typical V8 and V12 models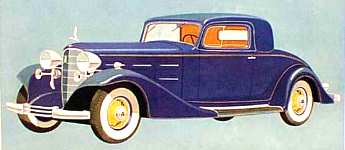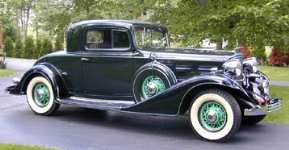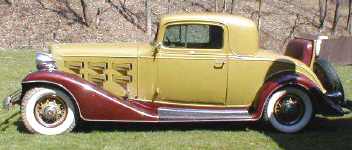 Fisher style #178, a 2/4-passenger rumble-seat coupe on the 134" wheel base chassis;
it cost $2695 in V8 configuration (image, left) and $3395 when mounted on the V12 chassis
[Photo, center, courtesy of the owner, Paul Ayres, CA1]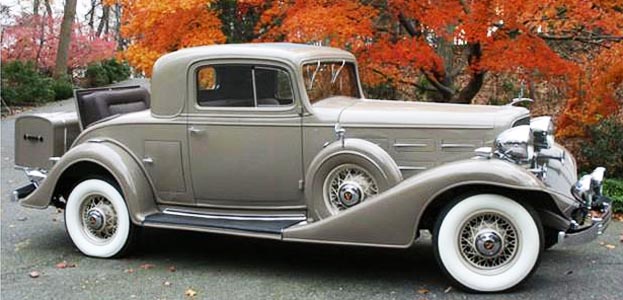 Here's a splendid V12 rumble-seat coupe survivor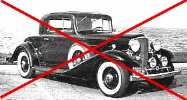 1 About the photo immediately above, that I used to illustrate a surviving 1933 coupe, Paul first thought
it was a '32 model with modified grill and fenders; he later identified it as a 1933 LaSalle, restored by
Ted Raines in California, and now in the hands of Terry Peters in Hawaii

Fisher style #155, a 2/4-passenger rumble-seat roadster
on the 134" wheel base chassis;
the V8 version cost $2795 and the V12 $3495 (illustrated)


This poor photo of a surviving roadster
is from a Kruse auction catalog of the eighties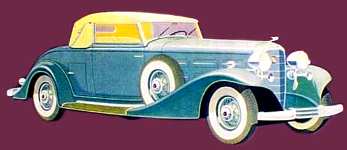 Above and below: Fisher style #168, a 2/4-passenger rumble-seat
convertible coupe on the 134" wheel base chassis;
the V8 cost $2845 and the V12 $3545 (illustrated)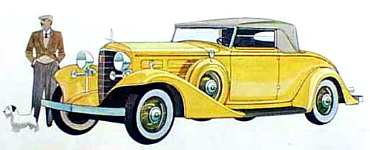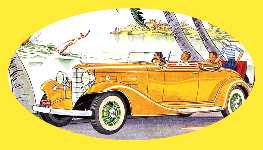 Artist's impressions from contemporary marketing literature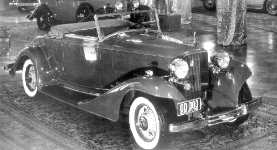 Left: original factory photo of this model, shown here with the top up
Right: the convertible coupe in a Cadillac showroom in 1933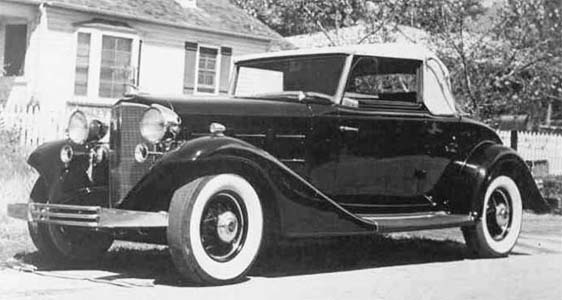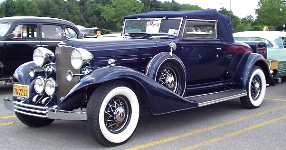 A fine survivor A much altered survivor photographed on the occasion of the CLC Grand National,
in 2003 [top (small) image). Sharp-eyed Database visitor, Arthur Jones, noticed immediately that this was NO regular
1933 Cadillac convertible coupe: note the windshield "A" pillars, the front-hinged door, the absence of
landau bars and the general "cut" of the top; Arthur says it's got a lot of Packard parts! The larger images
beelow it are from the archives of the St. Louis Car Museum where I bought our Black Pryncess
(1974 Cadillac Fleetwood 75)
The St. Louis Car Museum offered the foregoing "part-replica" 1933 Cadillac V12 Roadster finished in Navy Blue Metallic over soft Gray leather interior! It was custom built and restored to participate in the movie, Sea Biscuit, using a completely fiberglass body from the cowl back. The chassis, engine, front hood, front fenders, spare tire covers, and running boards all remain original metal, but the main body & rear fenders are hand laid reinforced fiberglass produced professionally to resemble an original Roadster. Components and accessories are all period correct, including a fully finished rear rumble seat upholstered to match the front interior! Even up close, this car looks as good off as on the big screen! Note that a very good, authentic V12 Roadster will now (2012) fetch in excess of $250,000, this part-replica (also below) has all the look of an original without the massive outlay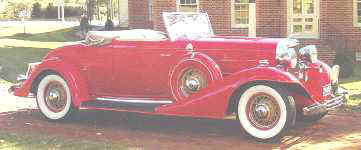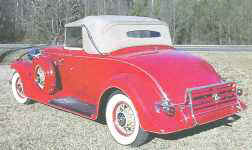 This survivor is #6 of a reported 71 units built in 1933
[ Photos: © 2007, Wayne Womble, courtesy Self Starter ]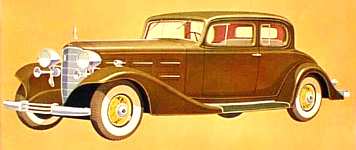 Fisher style #272, coupe for 5-passengers,
the V8 (illustrated) cost $2895 and the V12 $3595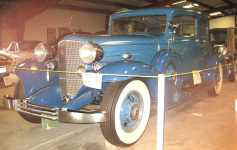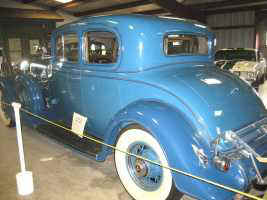 Surviving V12 model at the Pate Museum, TX
[ Photos: © 2006, Yann Saunders ]

Fisher style #259, sedan for 5-passengers [sorry about the scanning spots !],
the V8 cost $2895 and the V12 $3595 (illustrated)


This lovely survivor resides in GM's own "Heritage Center" (museum) near Detroit


Fisher style #279, sport phaeton for 5-passengers, with secondary cowl and folding, secondary
windshield the standard phaeton (Fisher style #256) had neither secondary cowl nor secondary windshield;
a special phaeton (Fisher style #280), with secondary cowl and a crank-down windshield, also was
available; in V8 configuration the phaetons cost $2895 and with V12 engine, $3595 (illustrated)


Fisher style #280 phaeton

This is a fine survivor photographed at the Cadillac-LaSalle
Experience meet in Kalamazoo, MI, June 1993
[ Photo: courtesy Katie Robbins, CCCA]



It looks so much longer and lower in this factory drawing from a product catalog


Fisher style #262, sedan for 7-passengers [the image is of the limousine,
below; in outward appearance, both cars looked identical]


This spelndid survivor belongs to Eric Voigt of CA
who kindly supplied the photos ... taken at Pebble Beach, CA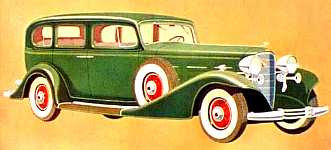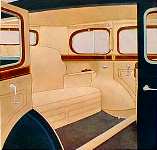 Fisher style #263, limousine (imperial) for seven passengers,
the V8 cost $3195 and the V12 $3895 (illustrated);
[below] a survivor on the V8 chassis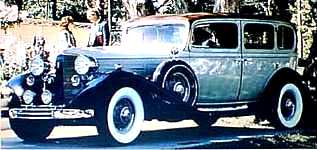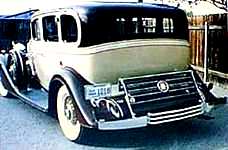 A survivor, in the nineties; it appears NOT to have skirted front fenders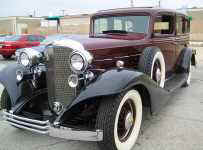 Another equally fine survivor ...the owner is looking for metal spare tire covers
[ Photos: CLC Forum page, Internet ]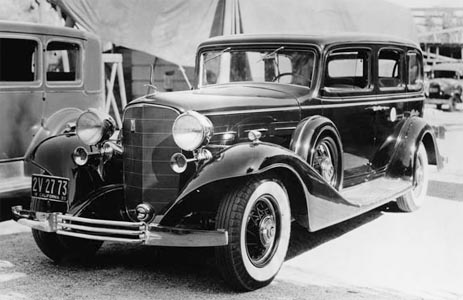 Could this be a Goverment-owned car?
It appears to have a US seal on the rear door.

Fisher style #252, town sedan for five passengers,
the V8 cost $2995 and the V12 $3695 (illustrated)


Fisher style #273, all-weather phaeton for five passengers,
the V8 (illustrated) cost $3395 and the V12 $4095


Only the grille, trunk and wheel cover badges
differentiated between the V8 and V12 models


Fleetwood style #5412, town cabriolet for five passengers
A town car on V8 or V12 chassis, with open quarters and opera seats


Fleetwood style #5425, town car for seven passengers,
the V8 cost $4145 and the V12 (illustrated) $4845
Again, it was only the grille, trunk and wheel cover badges
that differentiated between the V8 and V12 models


A very rare survivor, in the seventies


Possibly the preceding car ... after a full restoration - BEAUTIFUL!
Source: Internet - Clive Cussler Museum, Arvada, CO


Compared to the Austin Bantam on the left,
the 1933 Cadillac is one HUGE car!


Fleetwood style #5491, limousine brougham for seven passengers,
A town car on V8 or V12 chassis, with open quarters

Styling details


Left: the instrument board; right, V12 rear clip;
below, streamlined, blue-dot tail light


"Blue Dot" tail light pod

Features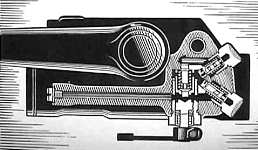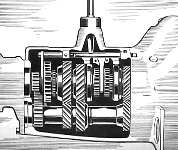 Left: "Ride Regulator", adjustable to seven different road surfaces
Right: "Super-Silent Syncro-Mesh" transmission



Above: new window vents, closed (left) and open (right)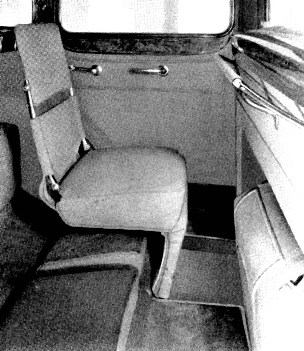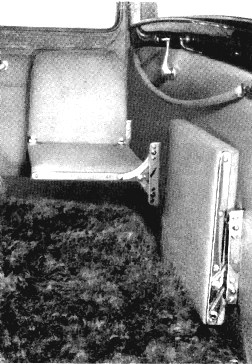 Two different styles of auxiliary seating for the larger sedans and limousines:
(left) Full size, fold-away "jump seat" with full back rest
(right) lightweight, fold-away "opera seats" (LH faces right, RH faces rear)
Return to The (New) Cadillac Database© Index Page
or go back to the Cadillac photo index page to pick another year
© 1996, Yann Saunders and the Cadillac-LaSalle Club, Inc.
[ Background image: 1933 front clip (V8 and V12 models) ]