[ last update: 03.29.2014 ]
The (new) Cadillac Database©

Photo Pages
Cadillac

1942

Return to The (New) Cadillac Database© Index Page
or go back to the Cadillac photo index page to pick another year
or go to the La Salle photo index page
Unless otherwise specified all photos and illustrations are from Yann Saunders'
collection of Cadillac photos, advertisements and product catalogs,
reproduced courtesy of the Cadillac Motor Car Division and the Cadillac-LaSalle Club
America's participation in WW2 curtailed production of the 1942 models, which began on October 1, 1941 and ended less than five months later, in February of the following year. Total production was only 16,511 units; that was about one quarter the record 1941 production of 66,130 units.

The rarity of the 1942 Cadillac models is on a par with the Type 53 and Type 55 models of 1916 and 1917 (circa 18,000 units each), or the 1925 V-63 (16,673 units).

Starting in March 1942, the factory began churning out engines and Hydra-Matic transmissions for tanks, as well as airplane engine parts.

Styling became more rounded, with bulbous fenders, front and rear. Grille spacing increased and the grille motif now extended almost to the full width of the car. The '42 cars are easy to spot because of their winged hood emblem [the same as in 1941] combined with rounded parking lights in the upper corners of the grille.

The artist's drawings below are from the rare, hard-backed catalog of Cadillac and Cadillac Fleetwood bodies for 1942, published on September 1, 1941. Some factory photos as well as a few photos of surviving cars may be added later, space permitting.
Each car is identified by (a) the "Series" code, namely the first two digits, and (b) the "Style" code, that is the last two digits and - in some cases - a letter suffix. Some additional descriptions of these double-digit body styling codes may be found in The (New) Cadillac Database© section entitled "Styling".

Easy ID


Easy ID: "winged" crest and circular parking lights
at the upper corners of the grille

The Series 61

The Series 61 cars were available also in export "format". These were knocked down and crated ["CKD"] for assembly in the country of destination. Twelve coupes and 24 sedans were thus exported.

The club coupe for five passengers, style #6107
2470 units built; cost $1560


Rear passenger compartment

Rear seat of the sedan


The touring sedan for five passengers, style #6109
3194 units built; cost $1647
The Series 62

The instrument panel of the club coupe
for five passengers


The club coupe for five passengers, style #6207
515 units were built; cost was $1667
A De Luxe version of the Series 62 coupe also was available. It was termed style #6207D. Production totaled 530 units, which makes it a tad rarer than the '53 Eldorado everyone raves about! The De Luxe coupes cost $1754.

The touring sedan for five passengers, style #6269
1790 units were built, costing $1754 each


Rear compartment of the touring sedan,
sober and functional luxury
Once again, a De Luxe version of the Series 62 sedan was available. It was termed style #6269D. Production totaled 1743 units; each one cost $1836. Of the De Luxe sedans in the Series 62 group, 84 units were crated knocked down.

The DeLuxe convertible coupe, style #6267D
Only 308 of them were built; the cost was $2020


All-leather upholstery of the convertible coupe;
no convertible sedan was offered this year


Left: A rare survivor [ Photo: © 2000, Yann Saunders ]
Right: this other survivor is used to advertise a line of apparel


I believe this is the same car shown above, right. It has just been acquired and shipped to Sweden by
collector-enthusiast Agne Otteson; Agne has promised to send me nicer pics when summer returns to his country


Here's another (or is it the same car); it was bid up to $80,000 at a Kruse auction in Hershey, PA, in October 2006




[Photos in these 3 rows: This untouched survivor came up for sale on Ebay in 2012; it is car #166 of the 308 units built in 1942]


Nicely restored example
The Series 63

The luxurious rear quarters
(plain seat cushion but tufted seat back)


The touring sedan for five passengers, style #6319
1750 units were built; they cost $1882
The Fleetwood Series Sixty Special

The Sixty Special sedan, style #6069
1684 of them were built and cost $2435 each


The trunk was rounded and spacious.
The vertical fender chevrons are not to everyone's taste


Sixty Special interior
Luxury at its very best




Three rare survivors
The luxurious Sixty Special was available also with an electric division. Thus outfitted it was termed style #6069F. Only 190 of the latter were built; they cost $2589.

One bare chassis received a special-order, all-weather phaeton (convertible sedan) body by Fleetwood. That car has survived the rigors of time; in June 1999, it was reported in South Paris, Maine (photo, below).


The unique Fleetwood-built convertible sedan has survived
The Series 67

The touring sedan for five passengers, style #6719
200 were built; each one cost $2896


Spacious rear quarters of the
touring sedan for five passengers
A formal version of the Series 67 series sedan for 5 passengers also was available. When fitted with an electric division, it got style #6719F. Only 50 of the latter were built; they cost $3045 each.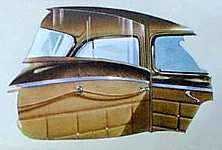 The partition in style #6719F

The broad, comfortable auxiliary seats
in the sedan for 7 passengers


The touring sedan for seven passengers, style #6723
260 of them were built and they cost $3045
The formal version of the Series 67 sedan for 7 passengers was termed the "Imperial Sedan"; it was style #6733. Appointments were similar to those in the car above. All 190 units had an electric division. Cost of this model was $3204.
The Fleetwood Series Seventy-Five
With only some 1,500 units built these were the most expensive production cars of of their day, ranging in price from $3,000 to $4,200 (that's about $31,000 to $43,000 in today's dollars ...so the top-of-the-range Cadillacs were slightly "cheaper" in 1942 than in 2002). The difference, today, is that production numbers are vastly greater. In 1942, you could choose among five different models, in one single series, of which fewer than 100 units would be built of each one. Now THAT is what I call rarity !

The touring sedan for five passengers, style #7519
205 of these were built; the cost was $3306


No auxiliary seating in this spacious, comfortable car
for five passengers (note the "flip-over" foot rest).


This style #7519 survivor was offered for sale
on the Internet, in May 2002
Sixty-five additional units were built with a rare, curved, formal division separating the chauffeur from the rear compartment passenger. This model carried style #7519F. It cost $3459. Only three or four units are known to have survived [pics. below].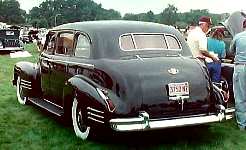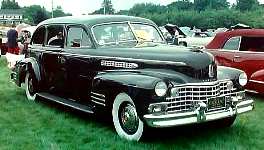 Above and below: one of four known style #7519-F survivors photographed at the CLC Grand National,
in 2001; it hails from Massachusetts and has a rather unfortunate red velour interior
[ Photos: © 2000, Yann Saunders ]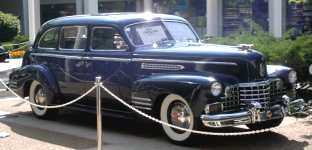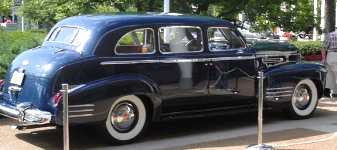 This second of 4 known survivors belongs (belonged?) to my friend Dick Mussatti, in the Chicago area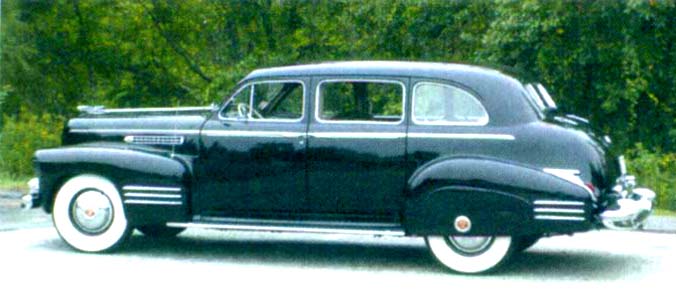 The third survivor was for sale in the Self Starter in December, 2011;
it is (or was) owned by John & Joann Sullivan of Massachussetts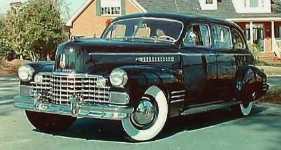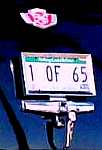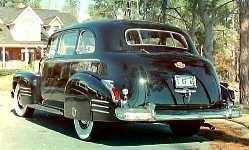 My own, former Black Pryncess, originally a Pennsylvania car;
I sold her to a gentleman from California who has the same model, but from 1941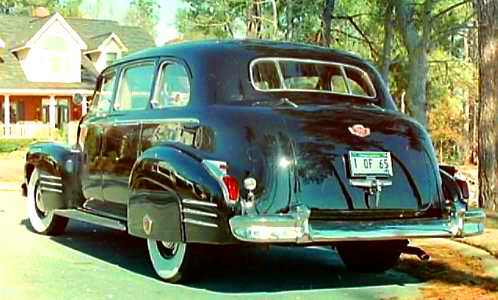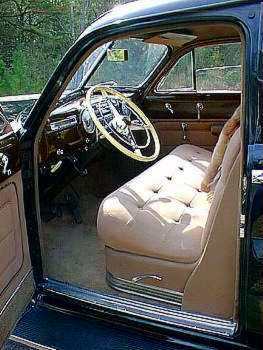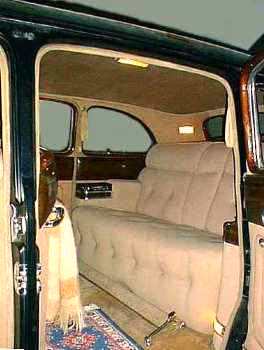 Upholstery was available
in gray Laidlaw cloth


...or taupe,
as in the author's car


The optional, electrically-powered, curved glass partition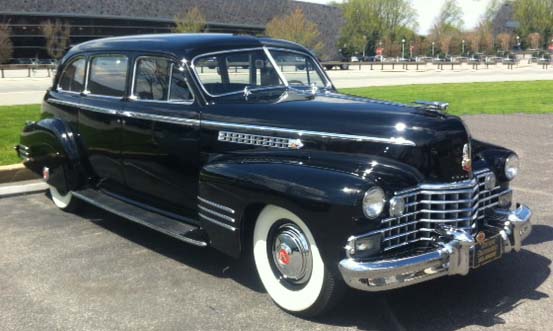 This superb Fleetwood style 7533 imperial sedan, with division glass, belongs to my friend
and CLC member Jeff Hanson of Newark, DE; it was previously owned by Jeff's Dad;
Jeff patiently restored the car completely, from 1990 to 2005
[cropped/modified image from Potomac region CLC - 5/2013]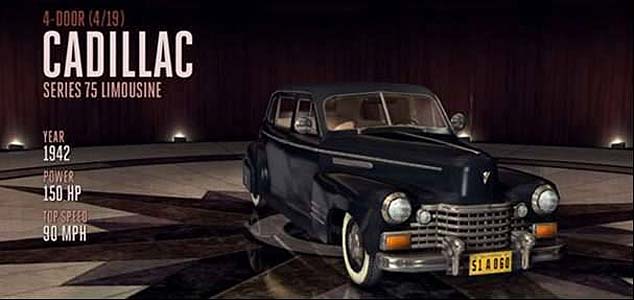 This publicity shot is from Jeff's vast collection of documents relating to the 1942 Cadillacs
[image: Potomac region CLC - 5/2013]

Broad, comfortable auxiliary seats
with double throw-backs


The touring sedan for seven passengers, style #7523
225 units were built, costing $3459
A further 29 units were built with livery trim (for hire). These were fitted with special auxiliary seating, wide enough to accommodate three adults comfortably. Termed the business sedan for nine passengers, these cars carried style #7523L ["L" being short for "Livery"]; they cost $3152 each. Their finish was less luxurious than in the regular 7-passenger car.
Closely resembling style #7523 was style #7533. This was the chauffeur-driven version of the 7-passenger car; it had a full partition between the front and rear compartments; 430 of them were built; they cost $3613.

In addition, 80 were built with the imperial division [no side bars or roof header]; these were given style #7533F; they cost $4484.

A livery version was also available at a cost of $3306; only 6 of the latter were built; they carried style #7533L.

The formal sedan for five passengers, style #7559
60 were built; they cost $4330


The enclosed rear quarters
featured a small rear window


A survivor [ before and after ]
[ Photos: Internet ]


Same car?
This model incorporated lightweight auxiliary seating for two. Of the two "opera seats", as they were called, the one on the left faces the RH side of the car, while that on the right faces the rear.

Series 75 cars all featured a smoking set in the LH rear armrest there was also a small notepad and pencil in a special slot in that arm-rest smoking set. In the RH unit, pad and pencil were replaced with a small hand-held vanity mirror for Madame [...the so-called "vanity items" in the Eldorado Brougham models of 1957-58 were déjà vu... in 1942!]

Also included in the curtailed 1942 Cadillac Series 75 production were a single chassis on the same 136-inch wheel base as the cars in this group, and 425 so-called "commercial chassis"); the latter were bought up by specialty coach builders and fitted with bodies for the funeral trade (hearses, flower cars, etc.) and as emergency vehicles (ambulances).

The instrument panel and the
large diameter steering wheel


Robe cord and ash receiver
in the Series 62 touring sedan


How a factory artist portrayed the Series 75 cars for 1942 in contemporary merchandising literature
Return to The (New) Cadillac Database© Index Page
or go back to the Cadillac photo index page to pick another year
© 1996, Yann Saunders and the Cadillac-LaSalle Club, Inc.
[ Background image: 1942 Cadillac grille ]