[ last update: 03.03.2014 ]
The (new) Cadillac Database©

Photo Pages
Cadillac

1951

Return to The (New) Cadillac Database© Index Page
or go back to the Cadillac photo index page to pick another year

Unless otherwise specified all photos and illustrations are from Yann Saunders'
collection of Cadillac photos, advertisements and product catalogs,
reproduced courtesy of the Cadillac Motor Car Division and the Cadillac-LaSalle Club
The 1951 models were merely face-lifted 1950 cars. There was a new combination grille and impact guards, a wider, more massive "V" set lower on the hood, chrome headlight rims, a wider, lower interior rear-view mirror, slim rear quarter panels to minimize blind spots, an inverted "U"-shaped instrument panel with the retro look of the 1948 horseshoe style, a new two-spoke steering wheel, striated, bright metal instrument panel insert which was carried through to the front doors (the extensions housed the inner door handles and the vent pane winders; in cars with hydraulically operated windows, these side panels also housed the power window switches. As in 1950, doors released from the outside by depressing a button on otherwise stationary door handles, and the hollow trunk "V" served as a handle to raise the trunk lid; trunk capacity was increased from 1950 and there were large rear ventipanes for increased, all-round vision.

The easiest way to identify the 1951 models is by the new, ornamental "egg-crate" grille extensions below the headlights:

The usual selection of accessories was available including a Fleetwood robe, seat covers, heater-defroster, push-button radio, signal-seeking radio, exterior sun visor, spotlight, full wheel discs or trim rings combined with hub caps, license plate frames, windshield washer, a vanity mirror on the RH sun visor, an outside RH rear view mirror, fog lamps combined with the parking and signal indicator lights and Cadillac's famous "Blue Coral" polish.

The artist's drawings below are from the unique merchandising folder for 1951. It was printed in December, 1950.

As before, the new, 1951 models were classified into the following groups (in ascending order of value): the series Sixty-One, Sixty-Two, Sixty Special and Seventy-Five. That is again the order I have chosen to follow in the graphic presentation, below.
Additional information on the 1951 models and the related sales literature may be found in The (New) Cadillac Database© sections entitled "Descriptions and Specifications of Cadillac Cars 1951 - 1955", "Cadillac and La Salle Sales Literature 1950 - 1954" as well as "Dream Cars for 1950 - 1951". Further recommended reading includes:

(a) "Automobile Heritage's Illustrated Guide to 1950 Through 1959 Cadillac" by Roy Schneider, © 1978, published by Automobile Heritage Publishing Co., Post Office Box 7, Temple City, CA 91780 [ISBN #0-917104-02-1] and

(b) The "Standard Catalog of Cadillac, 1903-2000" edited by James T. Lenzke, © 2000, published by Krause Publications, Inc., 700 E. State Street, Iola, WI 54990 [ISBN #0-87341-925-1, Library of Congress #91-61301].

The Series 61
[the final year for this Series]

Series Sixty-One coupe, style 6137
2,400 units were built


Rear passenger compartment,
plain and functional

Rear seat of the sedan,
again plain and functional


The Series Sixty-One sedan, style 6169
2,300 units were built


(Left) factory press photo of this model; (right) a fine survivor
The Series 62

The Series Sixty-Two coupe, style 6237
10,132 of them were built


Interiors were more luxuriously
trimmed than the 61 Series


Factory publicity shot of the new model


Factory designer's drawing of the same car

Rear seat of the 62 sedan
note small quarter window


The Series Sixty-Two sedan, style 6219
55,352 were built, of which 756 were knocked down and crated for export


Retouched factory photo of this model

The Series Sixty-Two Convertible Coupe, style 6267
6,117 units were built


Interior layout of the convertible;
sumptuous leather throughout


Illustration from period ad
[ Z. Taylor Vinson collection ]


A survivor

Click here to view some wonderful pics of a 1951 Cadillac Series 62 convertible that was
taken to Europe by its owners, in 1953, and visited a number of European countries;
this is a geography lesson as well as an interesting photo album

[link not yet running]

Rear seat of the Coupe de Ville;
a mixture of lain and pleated trim


The Series Sixty-Two Coupe de Ville, style 6237DX
10,241 units were built


Illustration from period ad
[ Z. Taylor Vinson collection ]


A fine surviving 1951 Coupe de ville
The remainder of the 1951 Series 62 production consisted of two bare chassis. One of these received a station wagon body by Coachcraft of Hollywood. Based on a design by Philip Wright, it was built for Merril M. Madsen of Minneapolis; a special hood mascot displayed the buyer's initials: "MM"
The Fleetwood Series Sixty Special

The Sixty Special sedan, style 6069
18,631 were built


Rear seat of the Sixty Special sedan, Cadillac luxury at its best


Illustrations from period ads
[ Z. Taylor Vinson collection ]


These are two factory publicity shots for the luxurious Sixty Special sedan


Snapped in the street back in the fifties


A good-looking survivor
The Fleetwood Series Seventy-Five


The roomy Series 75 cars comprised three models for 1951:
(1) Fleetwood style #7523-X, sedan for 7-8 passengers of which 1,090 units were built
(2) Fleetwood style #7533-X, limousine with division glass for 7-8 passengers, of which 1,085 units were built
(3) Fleetwood style #7523-L business sedan for 9 passengers of which only 30 units were made; these were
intended for rental or livery service; tan broadcloth was use for the seats, seat backs and door panels.

Sedans and limousines could be ordered in gray (like this) or tan broadcloth or Bedford cord
(the artist's view in the dealer's Data Book for 1951 differs from this one in that the lower
part of the center arm rest of the rear seat is plain, not tufted); the front compartment
of the limousine was trimmed in pleated black leather and the headliner was imitation leather,
also in black. The top of the partition, below the glass, had a Carpathian walnut grain finish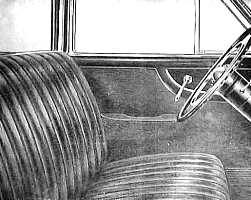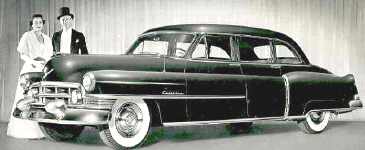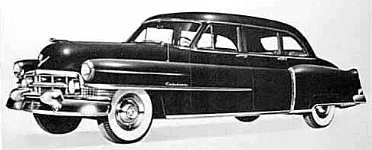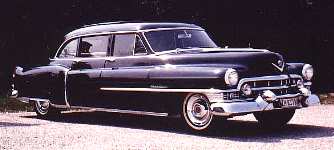 (Left and center) Factory publicity shots; (right) this beautiful survivor was still
in regular, private use, in Switzerland, well into the seventies
[Photo: © 1972, Yann Saunders]
In addition to the models in the "75" Series, Cadillac delivered 2,960 so-called "commercial chassis", Series "86", to independent coach builders, for use as ambulances, hearses, flower cars and the like.

No fewer than twenty of these chassis received identical, special bodies from Hess & Eisenhardt, all ordered by the Saudi Royal household, each one designed to carry six wives of then reigning King Ibn Saud. By my calculation that would make a total of one-hundred-twenty wives!


The rear windows and backlight were fashioned of see-out-not-in, mirror-coated
glass, it being forbidden for common man to gaze upon any of the king's wives
Trivia 1: in 1982, I had the opportunity to buy a similar car from the Geneva (Switzerland) stables of Saudi Arabia's King Fahd, son of Ibn Saud. The latter was a white 1976 Cadillac Seville with blood-red leather upholstery. No, this one did not have the one-way glass; times had changed.

Trivia 2: Nor sure of the occasion; I think it is a fashion shoot, taken in an underground parking garage; the cars are mere props; you can see 1951 and 1952 Cadillac models in the foreground, two Buicks from the fifties and a further unidentified Cadillac behind the beige Buick


This two-tone '51 sedan, on display at the 1953 Chicado Auto Show,
was used as an advertising prop for the then popular Collinite Auto Wax
Details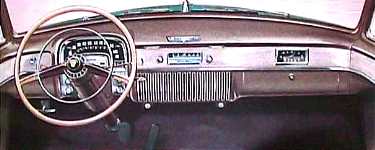 Apart from the new, inverted "U" instrument panel, the design of
the 1951 instrument panel was much the same as in 1950

Power window controls on bright metal panel on driver's door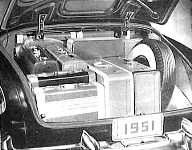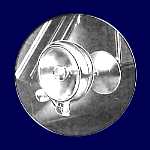 (Left) increased trunk capacity; (right) once again, the accessory spotlight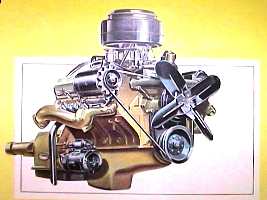 1951 power plant; basically unchanged since 1949
In addition to automobile production, the Cadillac factory was called upon once more to participate in defense production owing to the new conflict now opposing the United States and North Korea. Between 1951 and 1955, Cadillac built more than 3,700 Walker Bulldog light tanks [the M-41] in the new Tank Ordnance plant in Cleveland, OH.
Return to The (New) Cadillac Database© Index Page
or go back to the Cadillac photo index page to pick another year
© 1996, Yann Saunders and the Cadillac-LaSalle Club, Inc.
[ Background image: 1951 front clip ]