[ last update: 10.07.2014 ]
The (new) Cadillac Database©

Photo Pages
Cadillac

1955

Return to The (New) Cadillac Database© Index Page
or go back to the Cadillac photo index page to pick another year

Unless otherwise specified all photos and illustrations are from Yann Saunders'
collection of Cadillac photos, advertisements and product catalogs,
reproduced courtesy of the Cadillac Motor Car Division and the Cadillac-LaSalle Club
The complement of merchandising literature for 1955 is overwhelming; apart from the regular, all-model, fold-out brochure and the luxurious prestige color catalog in its orange-tan presentation envelope, there are three superb, full-color "mailer" items entitles "A Trip to the Motorama", "Just Imagine it's yours" and "It's a Wonderful Year"; all these are a must for any serious collector of 1955 Cadillac memorabilia, as are also the small color card and 4-page folder on the "Eldorado Brougham" prototype shown at various venues around the country in 1955.

Again, as in 1954, there were four basic series, presented in this order in the main catalog: Sixty Special, Sixty-Two, Eldorado and Seventy-Five. That is also the order in which I have presented the illustrations below. The artist's drawings from the prestige color catalog, below, are mixed in with color photographs published in the dealer "mailers" that year; you will see that the artists continued to use a certain degree of license in order to lower, widen and stretch these otherwise massive cars.

Basic body shapes were basically unchanged from 1954, with the exception of the new Eldorado model that took on entirely re-designed rear fins. The egg-crate grille spacings increased and became more rectangular. The front bumper "bullet" impact guards were now shaped like large "shell" tips. In the 1955 models the parking lights were repositioned in rectangular receptacles below the headlights.

The simplest way to recognize a 1955 Cadillac is to look at the rear; above the rear bumper are six vertical louvers. Of course the widely-spaced egg-crate grille and the huge "Dagmars" (impact guards) also are a dead giveaway, although these were used again in 1956.

Distinguishing Features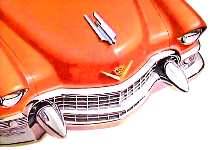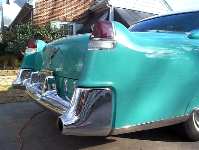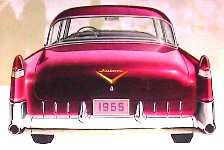 Front and rear clips of the regular 1955 models
the Eldorado had longer, more aggressive fins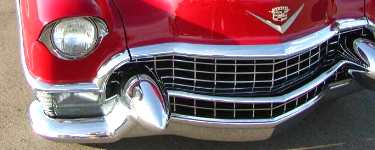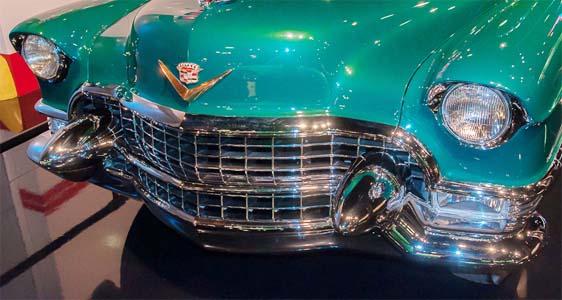 Additional information on the 1955 models and the related sales literature may be found in The (New) Cadillac Database© sections entitled "Descriptions and Specifications of Cadillac Cars 1951 - 1955", "Cadillac and La Salle Sales Literature 1955 - 1959" and "Dream cars of 1954-1955". Further recommended reading includes:

(a) "Automobile Heritage's Illustrated Guide to 1950 Through 1959 Cadillac" by Roy Schneider, © 1978, published by Automobile Heritage Publishing Co., Post Office Box 7, Temple City, CA 91780 [ISBN #0-917104-02-1] and

(b) "Standard Catalog of Cadillac, 1903-2000" edited by James T. Lenzke, © 2000, published by Krause Publications, Inc., 700 E. State Street, Iola, WI 54990 [ISBN #0-87341-925-1, Library of Congress #91-61301].
The Series Sixty Special






These four artist's views are from period ads
[ Z. Taylor Vinson collection ]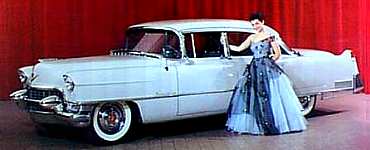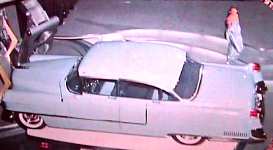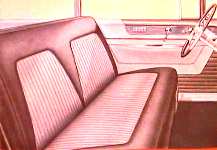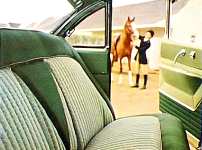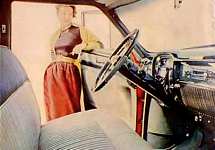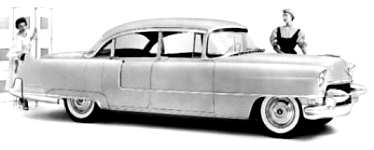 Style 6019-X Sixty Special sedan; 18,300 units were built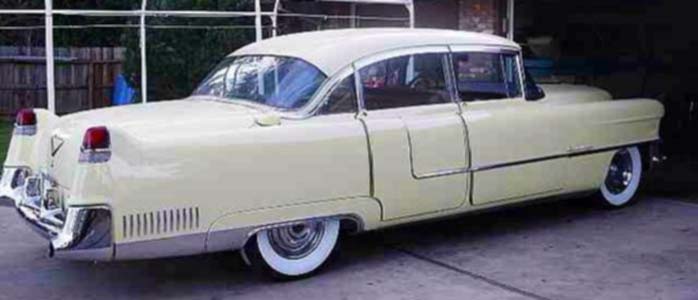 Nice survivors like this one are always welcome in these pages
The Sixty-Two Series

The Sedan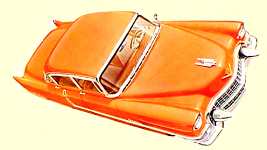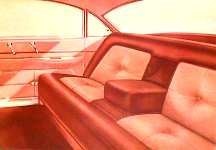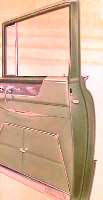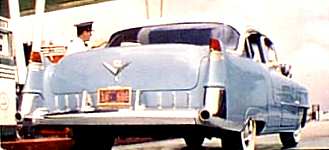 Style 6219 and 6219-X sedan [the latter with power-windows];
45,300 units were built, including 396 for export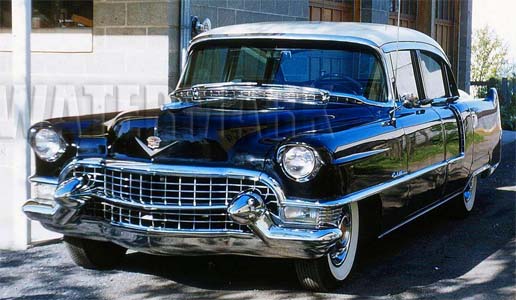 This pretty surviving sedan has an unfortunate watermark
The Coupe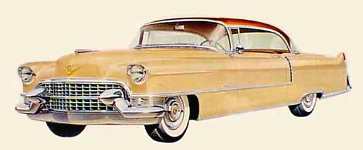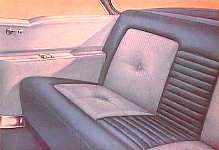 Artist's view (right) is from a period ad
[ Z. Taylor Vinson collection ]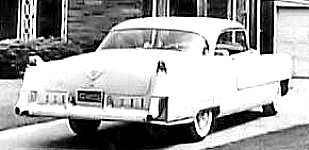 Style 6237 and 6237-X hardtop coupe [the latter with power-windows];
27,879 units were built
The Coupe de Ville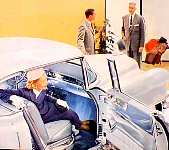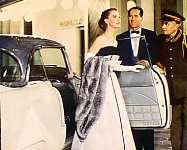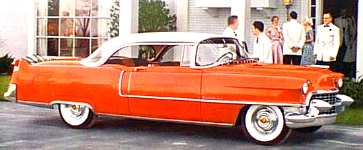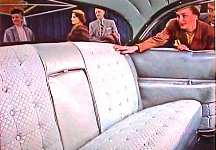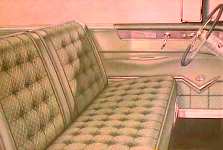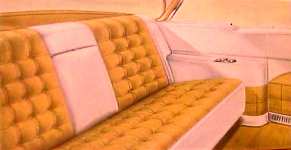 Style 6237DX Coupe de Ville [all with power -windows]; 33,300 were built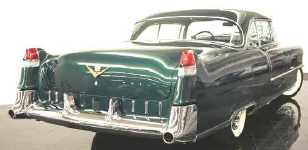 A survivor found on the Internet, 2008
The Convertible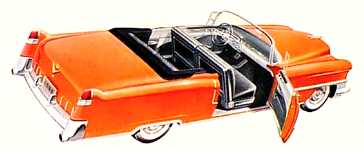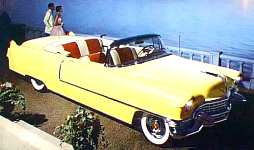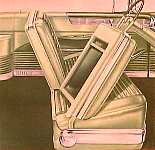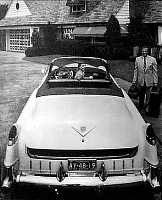 Style 6267X convertible; 8,150 units were built

This fine survivor turned up on Internet in 2014




The pink car, below, appeared in a British advertising flyer for a well-known credit organization
The Eldorado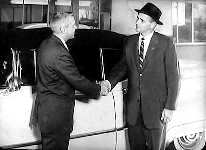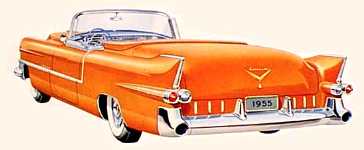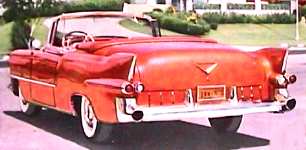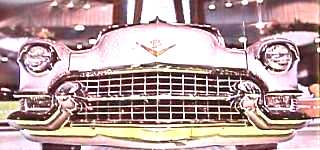 Style 6267SX Eldorado convertible; 3,950 units were built; the front clip (right) belongs to the
Cadillac Eldorado "St. Moritz", a mildly customized show car that was on display at that year's auto salons
[ the lighting gives the car a violet hue; in fact the car was white ]
The Seventy-Five Series
sedan and limousine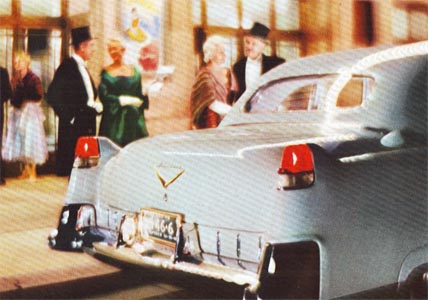 The name Fleetwood was spelled out in script between the tips of the "V"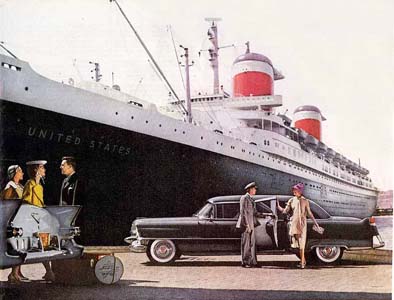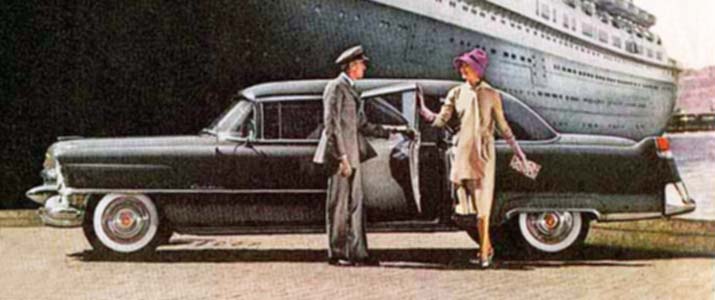 This illustration is from a period ad

...and this one is from a postcard of the time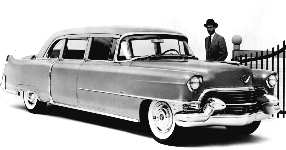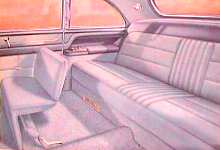 The limousine, style 7533X, featured a glass partition between driver and passenger compartments; 841 units
were built; the sedan, style 7523X, had no division; 1,075 units were built; interiors of the Seventy-Five cars
continued to be trimmed in gray (illustration) or taupe; the driver's seat in the limousine was black leather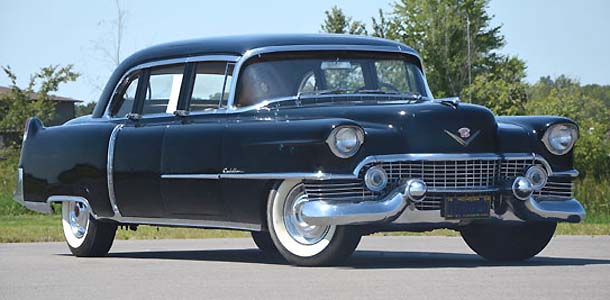 [ Photo: Internet ]
Mechanical and Styling Details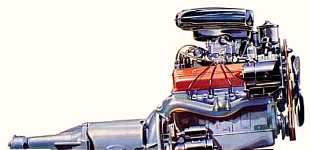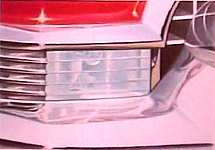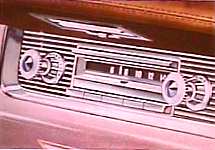 (Left) New fog lights, (center) signal[-seeking radio, (right) Spotlight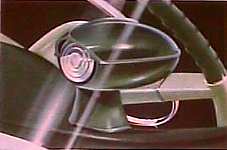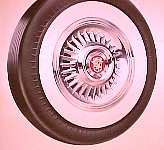 (Left) Optional seat covers, (center) Autronic-Eye, (right) cast aluminum "sabre-spoke" wheels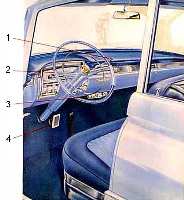 Power features for 1955 included: 1. improved Hydra-Matic Drive, 2. advanced
power steering, 3. perfected air-conditioner and 4. finer power braking
Survivors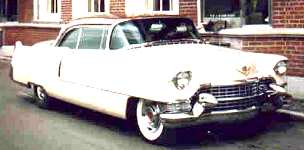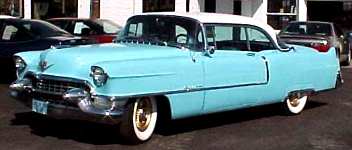 (Left) Series 62 coupe; (right) Coupe de Ville with optional sabre wheels
[ in fact, these gold finish sabers were available only from 1956 to 1958 ]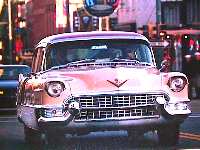 Tad Pierson of Memphis, TN, operates the American Dream Safari
at the wheel of this 1955 Cadillac sedan; he takes his clients to the city's Blues hot spots
[ Article in Southern Living, Spring 2002 - photo Art Meripol ]

(Left) The new 1955 models at a public showing in Colorado (Broadmoor Hotel);
(Right) image excerpted from 1955 sales training slide film
Return to The (New) Cadillac Database© Index Page
or go back to the Cadillac photo index page to pick another year
© 1996, Yann Saunders and the Cadillac-LaSalle Club, Inc.
[ Background image: 1955 Cadillac front clip ]