[ last update: 10.11.2005 ] Best viewed with a screen image size of 600 x 800 pixels
The (new) Cadillac Database©

Photo Pages
Cadillac

1986

Return to The (New) Cadillac Database© Index Page
or go back to the Cadillac photo index page to pick another year
or go to the La Salle photo index page
The (new) Cadillac Database© has turned into such a vast undertaking that the compiler is currently unable to meet the request of many of its users who would like to see more pictures of contemporary or "modern" Cadillac models.

As almost 95% of his time is taken up with maintenance of the Database, with additional research and with the completion or creation of new, interesting files relating to pre-WW2 and early post-WW2 models, some considerable time may elapse before he can satisfy the growing demand for information and pictures of the Cadillac models from 1970 to the present.
[10/2005] At last I found time to scan my own sales catalogs for the year and so I am including (below) for your immediate enjoyment, some small, low resolution images. Also shown are reductions of some factory photos graciously provided to me through the years by the Cadillac Division's Public Relations Department.
Total production of 1986 models was 281,296 units; I don't have he figures for each model. In ascending order of sales volume, there were, inter alia, 1,000 limousines, 19,098 Sevilles, 21,342 Eldorados, 24,534 Cimarrons, 36,350 two-door De Villes and 49,115 Fleetwood Broughams. The cars are shown here in reverse order, the rarest coming last.

I see no immediate styling cues that could help identify this year's all new, diminutive model offerings. The Cimarron was different from the Seville, which in turn was different from the Eldorado and from the De Ville and Fleetwood offerings -- why make it easy when you can make it complicated? Mark you, if you chance upon a "small" Cadillac, it was probably built this year or later.

After viewing the photos below, if anyone can educe a general styling theme common to all the 1986 models (apart from their diminished size), please let me know.

Front grilles have a slight, convex "bulge"; they all retain the popular egg-crate theme so dear to Cadillac. Rear tail-light housings continued with the tall, vertical look ...except for the Cimarron and Seville! Look also for identifying script or lettering on most models (Cimarron, De Ville, Seville, Fleetwood, Eldorado).

Additional information and photos of the 1986 models and the related sales literature may be found in The (New) Cadillac Database© sections entitled "Descriptions and Specifications of Cadillac Cars 1986 and up", "Cadillac and La Salle Sales Literature 1985-1989" as well as in the appropriate "Dream cars" section. Further recommended reading includes:

"Standard Catalog of Cadillac, 1903-2000" edited by James T. Lentzke, © 2000, published by Krause Publications, Inc., 700 E. State Street, Iola, WI 54990 [ISBN #0-87341-925-1, Library of Congress #91-61301].

The new Fleetwoods
[49,115 units]
The Coupe and Sedan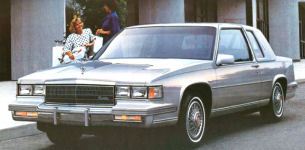 The Fleetwood coupe, in Platinum, with formal Cabriolet roof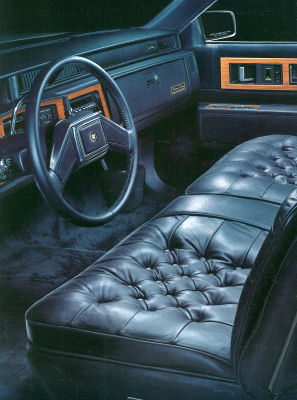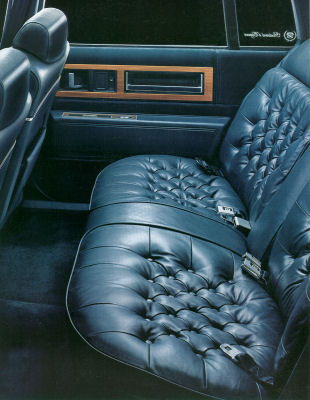 The Fleetwood "Sedan d'Elegance", an unfortunate amalgamation inspired by the French words "De Ville" and
"Concours d'Elegance"; why didn't they just leave it as Elegante, like the de luxe Seville model?
Right are shown the optional pillow style seats with leather seating areas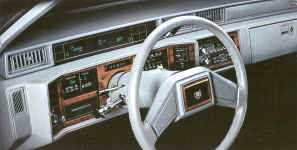 Instrument panel on above Fleetwood models
The Brougham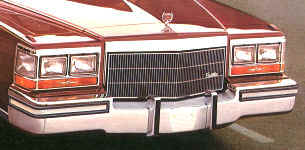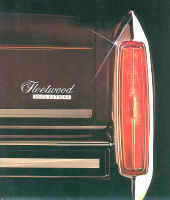 Front and rear ID features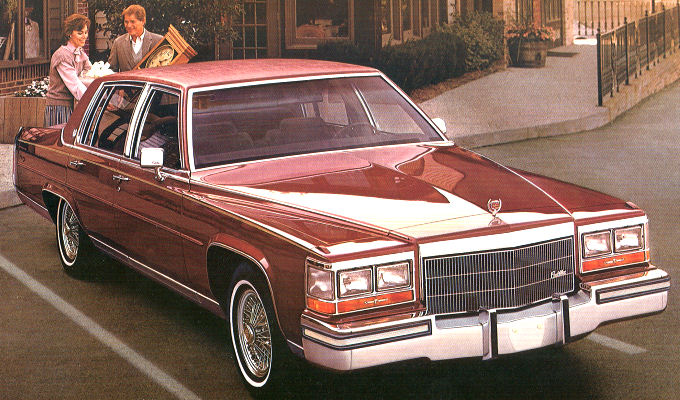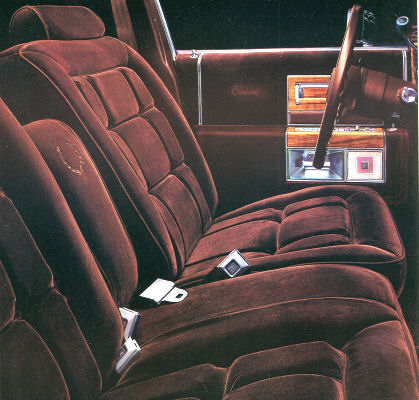 Brougham sedan in Autumn Maple Firemist
with matching Dark Claret Heather cloth trim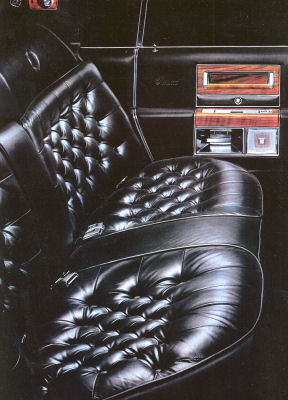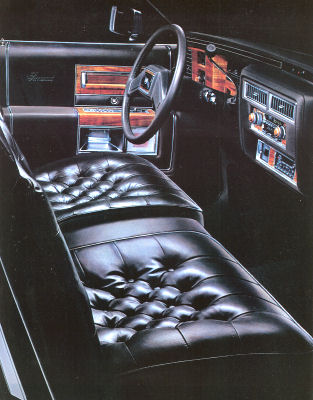 The sumptuous Brougham d'Elegance sedan [ despite abuse of the
French language! ] with pillow-style seating in plush black leather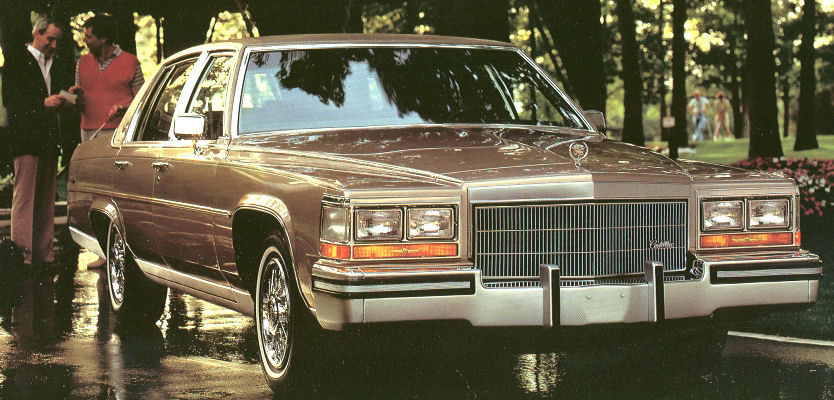 Here it is again ...in Desert Frost Firemist !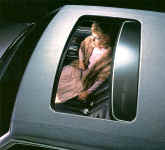 Fleetwood instrument board (left) and optional "Astroroof", right
The new De Villes
[36,350 coupes]
The Coupe and Sedan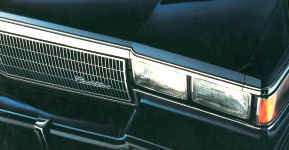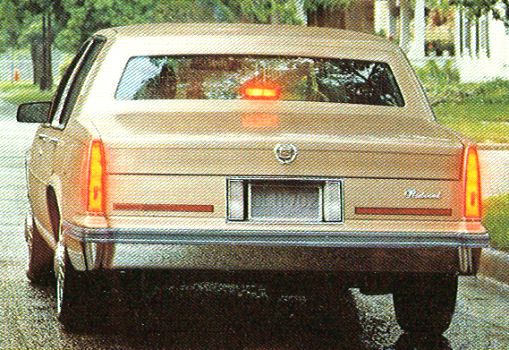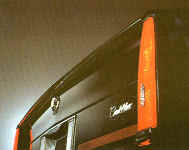 Front and rear ID clues on the De Ville series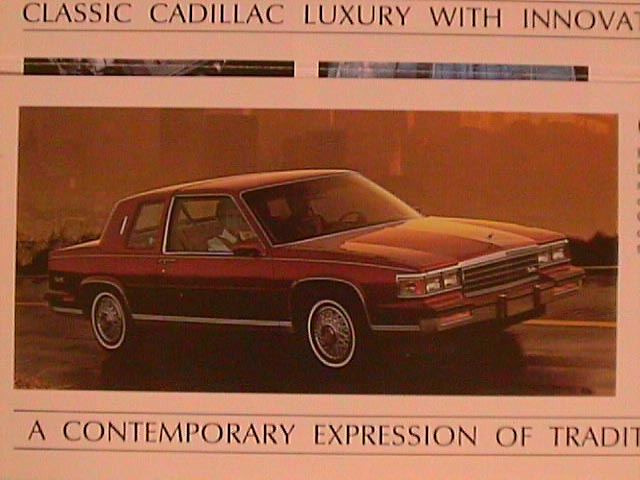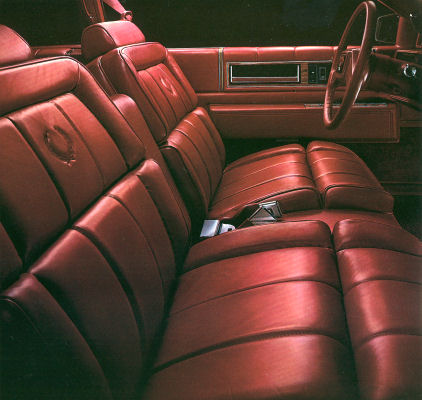 The Coupe de Ville in garnet with garnet leather trim, shown here with the formal Cabriolet roof option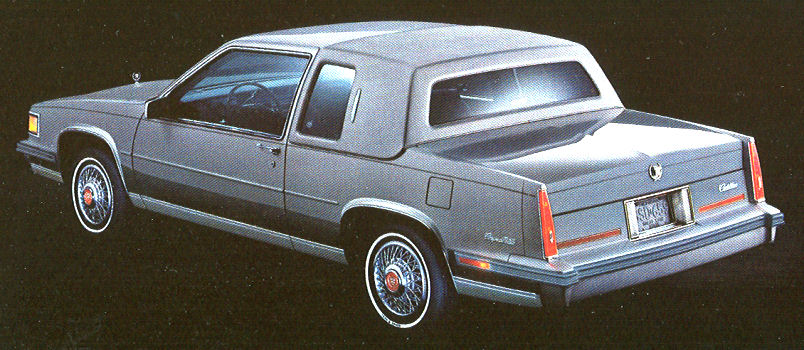 Here is another view of the padded, imitation leather Cabriolet roof



The Sedan de Ville ...popular mid-size family Cadillac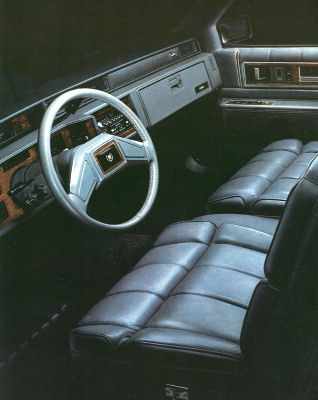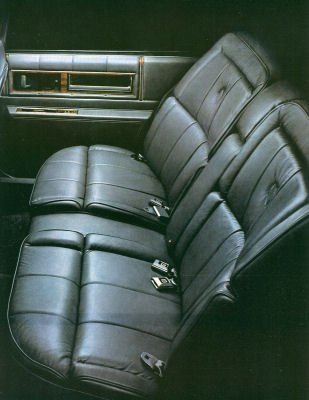 The same model in Academy Gray, with gray leather seating areas
[ gone are the glorious days of Cadillacs full leather seating and trim ! ]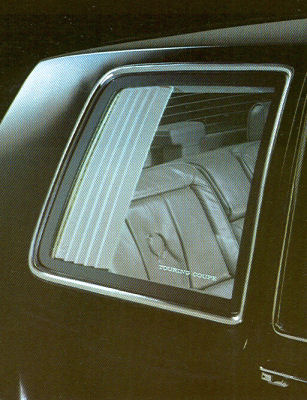 Left: The De Ville touring coupe, in Sable black
Right: unique, removable louvers on this model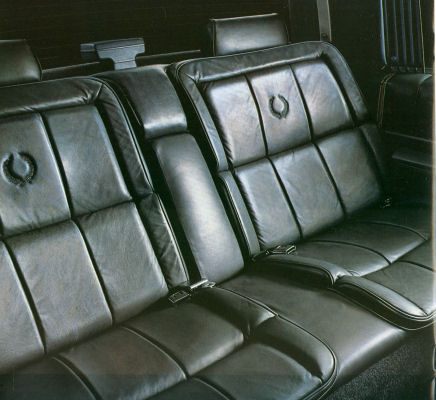 The De Ville touring sedan, in Platinum
Leather seating areas were standard in both the sedan and coupe

Instrument panel carries De Ville badge in script at far right


Optional cloth upholstery and trim
The new Cimarron
[ 24,534 units ]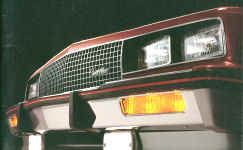 Cimarron ID features: square-opening egg-grate grille,
dual, oblong, horizontal headlights, long oblong, amber parking lights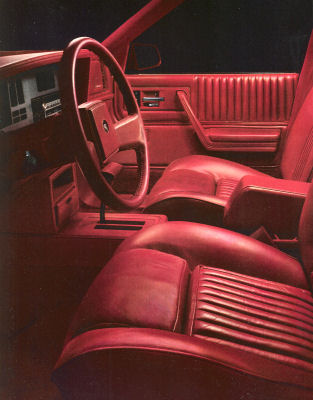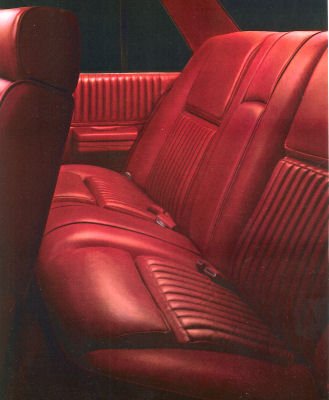 Genuine leather was an available trim option (right)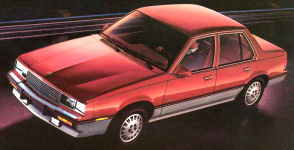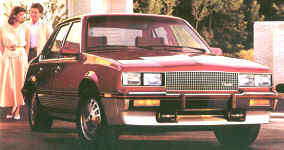 Models illustrated are shown with the optional, grooved accent molding and alloy wheels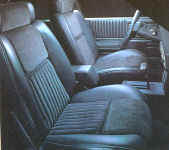 Buyers got credit for choosing the
cheaper cloth and leather trim option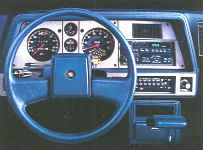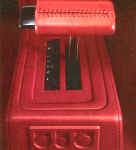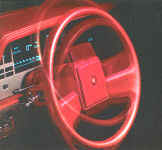 Left: Analog instrument cluster
Center: three-speed automatic transmission lever
Right: Tilt [but not telescope] steering wheel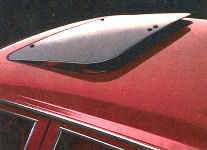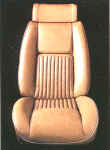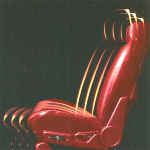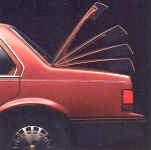 Other features/options of the diminutive Cimarron included (from L to R) "Vista Vent" opening roof,
leather seating areas and 6-way driver's seat and power trunk lid release
The new Eldorados
[21,342 units]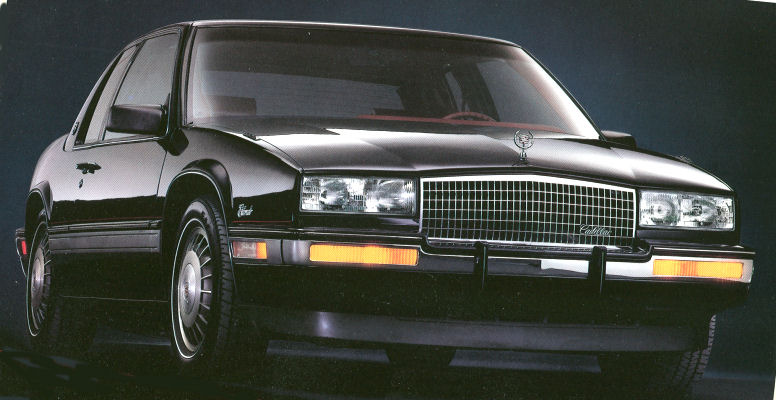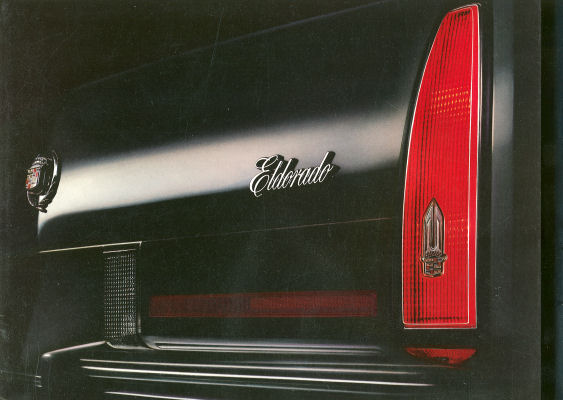 Front and rear clips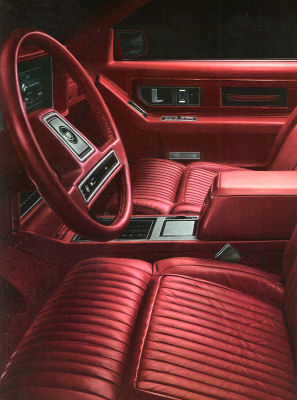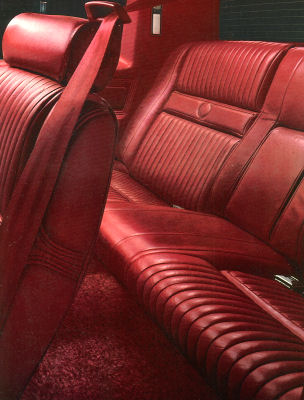 The regular Eldorado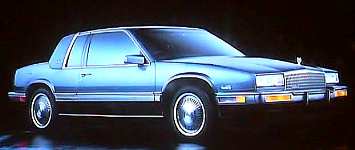 The trimmed up Eldorado Biarritz with dark blue leather and "genuine American walnut" accents (below)
[ ID includes 2-tone paint, padded Cabriolet roof [a term borrowed from Fleetwood nomenclature of the 20s and 30s],
opera lamps, wire wheel discs and the model name, Biarritz, in script on the front fender, quarter panel and rear trunk lid ]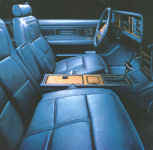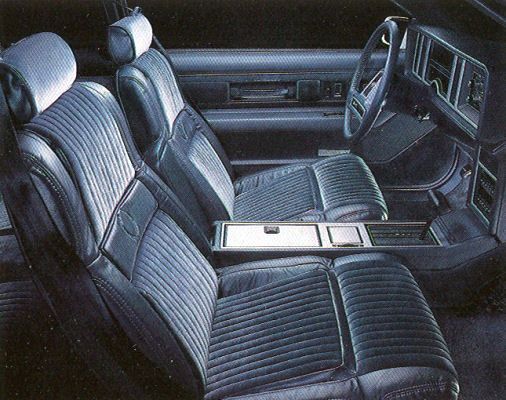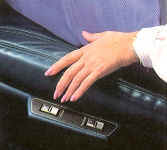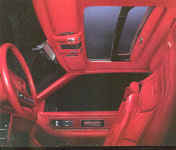 Left: leather and cloth upholstery option
Center: Power lumbar support on Biarritz model
Right: Power "Astroroof"
The new Seville
[19,098 units]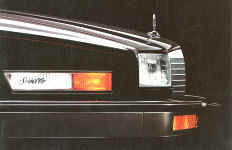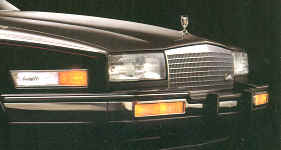 Grille has slight convex curve and rises to a point in the center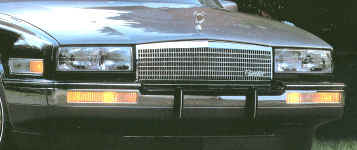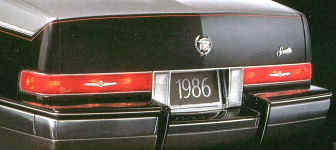 These two rows : front and rear styling cues of the 1986 Seville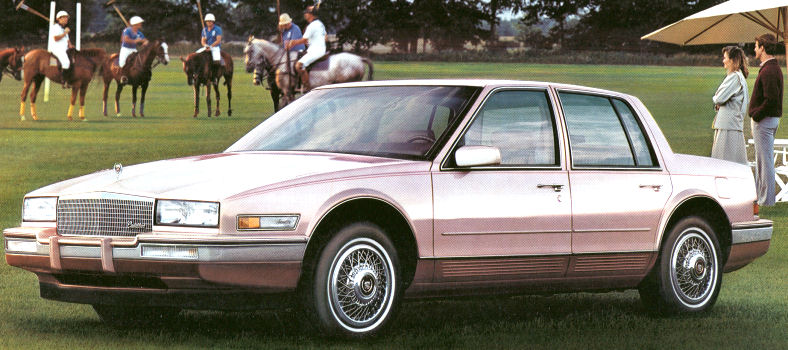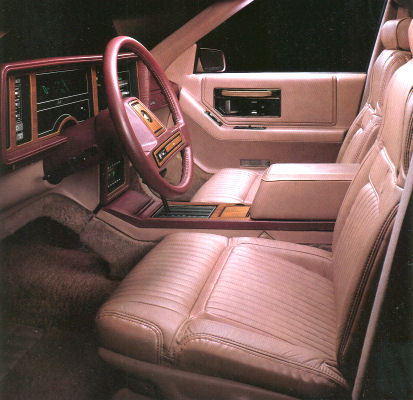 The regular Seville in an attractive color combination (Quartz Firemist)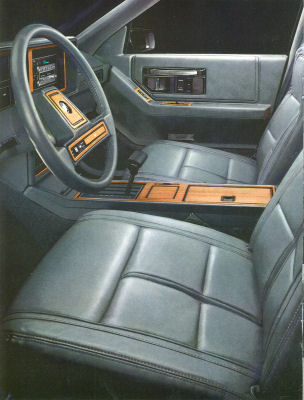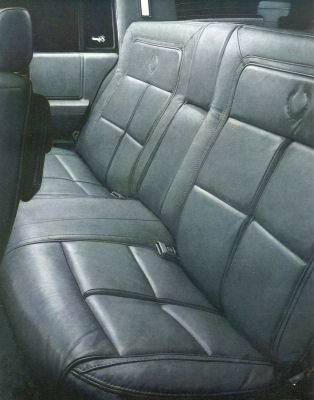 Seville Elegante trimmed in leather with American walnut wood accents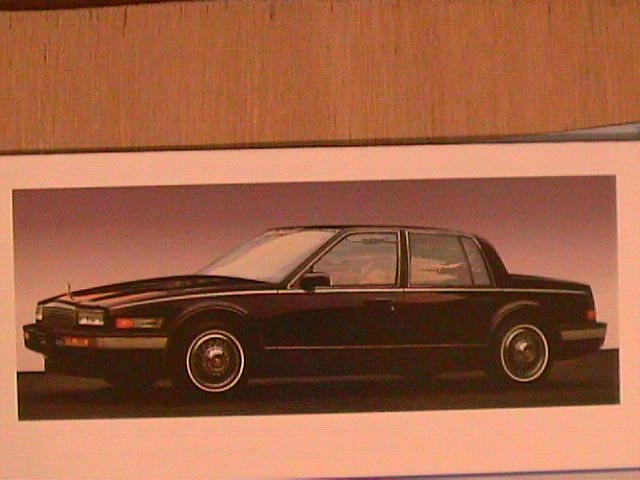 The Seville Elegante ...downsized elegance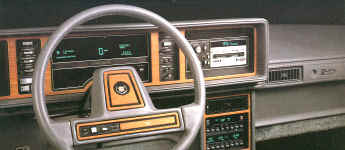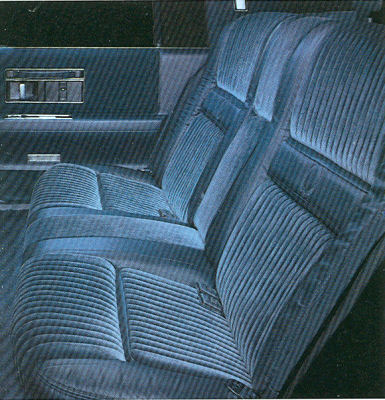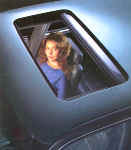 Left: Instrument panel, with tilt/telescope steering wheel
Center: Cloth and leather upholstery option
Right: Power "Astroroof" option
The new Limousine
[1,000 units]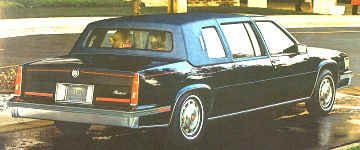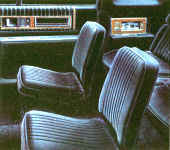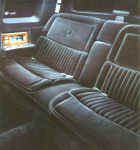 Left: auxiliary seats will accommodate two adults comfortably,
but the days of the 9-passenger, Series 75, are gone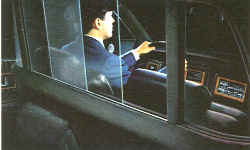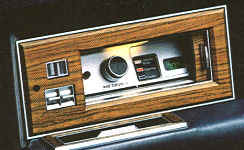 Left: the former power operated glass division has given way to a cheaper, sliding glass panel
Right: controls for A/C and door locks are incorporated in RH, rear armrest
Return to The (New) Cadillac Database© Index Page
or go back to the Cadillac photo index page to pick another year
or go to the La Salle photo index page
© 1996, Yann Saunders and the Cadillac-LaSalle Club
[ Background image: wreath, crest and 1986 sales slogan: Best of all, it's a Cadillac ]