Blank Keys and Cut Keys
Walter Youshock, a friend and Cadillac buff, saw a posting on the CLC Forum in March 2008, relating to crested Cadillac key blanks and cut keys. He told me that he had collected a few of his own over the years and sent me some photos (you will see them among the selection below). All of his keys were groove 15; they all fit Rochester locks up to 1965 or '66. Walter has decided to donate the keys one day to the CLC Museum and Research Center.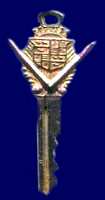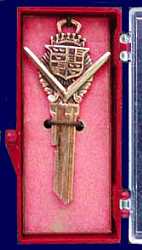 (Left) This one came with a 1959 Eldorado Biarritz that currently (2002) resides in Australia
[ photo: courtesy of the owner ]
(Right) New, in presentation box, this one sold on e-Bay, in November 2003, for BIG bucks !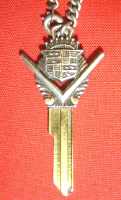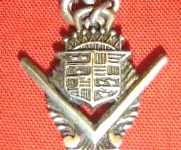 This uncut key (like the cut key above, left) was sold on Ebay in 2008;
the seller, collector Doug Scarrow, later sent me many more pics of
Cadillac-crested keys and key blanks like it [see below]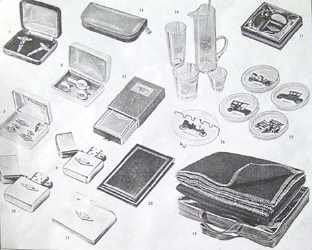 Cadillac blank "gold" keys in presentation gift box [top left of larger image]
These items are from a Cadillac Merchandising Gift Catalog from 1959
[ images provided kindly by Bob Millian, CLC resident expert on '59-60 Cadillacs ]

This boxed pair in a blue velour presentation box is Walter Youshock's favorite. He found them on the old Green Field at Hershey, in 1996, for $35.00; they are
crested on both sides and the vendor told Walter he had just bought them from a Cadillac dealership in South Bend, IN, that was going out of business.
The blue velvet box is the original that they came in. Later that day, Walter stopped by a Cadillac parts dealer who offered him $1,200 for them. No, he didn't sell!


This one marked "Cadillac", on the reverse, was an Ebay
purchase by Walter; he has never seen another one like it;
I am guessing that this crest design dates from 1954-55



Walter searched for the Curtis key (left) for 8 years; it is the one featured in the 1956 Christmas ad (far right) and detailed
(center); he finally found 2 of them on Ebay, from the same seller, for $25 or $30 each. His uncle had a hardware store in New Jersey
and these were in his key stock! Walter had one of them cut, for use with use with his '57 Cadillac; he also found a matching key fob.
1a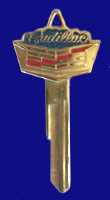 1b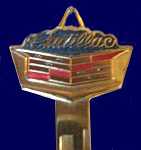 These "key" images were provided by Bob Millian; I'm not sure of the year;
The "dipped V" Cadillac crest first appeared on 1964 Cadillacs;
the heads are the same design as a key fob shown below
[ it is apparently the same model as #11, below ]
2

3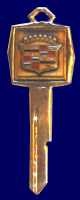 4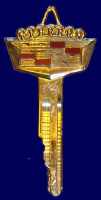 5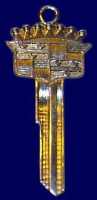 6

7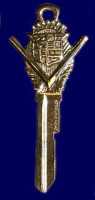 8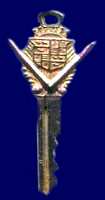 9

9a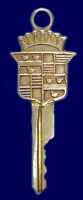 Keys #9 (uncut) and 9a (cut) are single-sided; on tbe reverse of #9a is the name Hillcrest Motor Co. , Cadillac dealer in Beverly Hills
10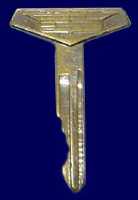 11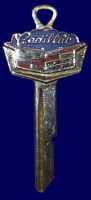 12

13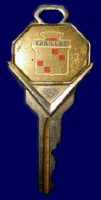 14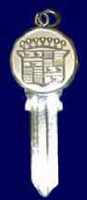 15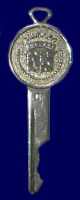 16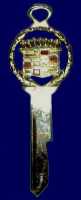 17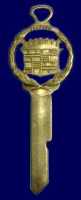 Key #7 was supplied with a 1959 Eldorado Seville and is the same model that was delivered with a 1959 Eldorado Biarritz that went to Australia;
Keys #7 and 8 look the same; Doug Scarrow says #7 is the second key of this type, with Canadian origin, that was supplied with a '59 or '60 Eldorado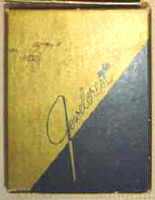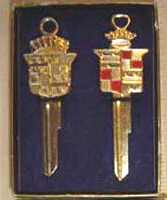 These two different Cadillac-crested keys were offered
in this presentation box; let's call them #14 (like #9?) and #18;
the box carries the name "Jewelcrest"
[ Doug Scarrow collection ]


The impressive collection of Cadillac "crested" keys illustrated in the preceding 4 rows was sent to me kindly by Doug Scarrow,
following up on a topic that was discussed on the Forum of the Cadillac & LaSalle Club, Inc. in March, 2008; Doug wrote: I admire
Bob Millian's contributions and am amused that his opinion is the "end of story." I have been collecting Cadillac keys since 1964;
[Doug also buys and sells them on Ebay] I was a member of the Cadillac Eldorado Club based out of Philadelphia, PA throughout the 70's and
was a contributor to the club magazine The Laurel Wreath; I only wish to add my experience to the evolving story of Cadillac Artifacts;
Key Fobs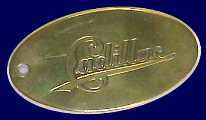 Old script but not necessarily
the oldest fob on this page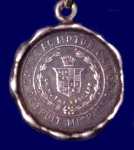 This one, from 1905, is the oldest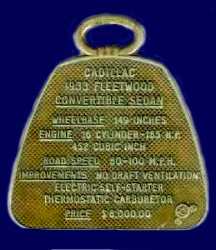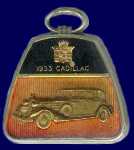 This one from the sixties (?) vaunts the
V-16 convertible sedan [all-weather phaeton]
of which a bare eight units were built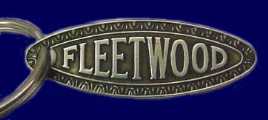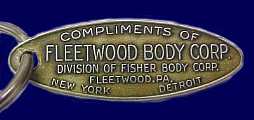 Not sure of the year of this "Fleetwood" key fob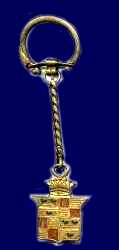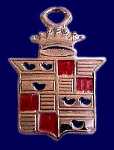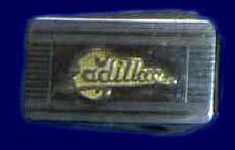 This two-bladed, flat pocket-knife is
from the Doug Scarrow collection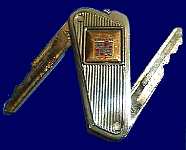 Believed to date back to the fifties, this cute "pen-knife"
fob bears a square Cadillac crest in the 1948-49 style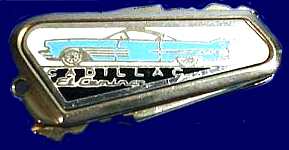 This one depicts the Cadillac El Camino show car
that was on display at the 1954 GM Motorama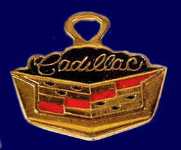 These are believed to be from the mid to late fifties


This one is from "Coulter Cadillac" [location?]
[ Doug Scarrow collection ]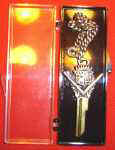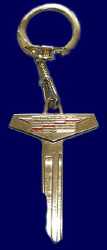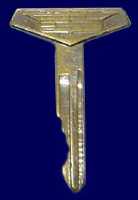 Two different Cadillac-crested key fobs of the fifties; the one on the left came in the plastic presentation box to its right;
The next one appears to be the same shape as the keys illustrated in Bob Millian's 1959 gift accessories catalog [B&W image, above];
it hs the same wide and narrow head (Doug Scarrow has THREE of these in his collection, including the worn, cut key at far right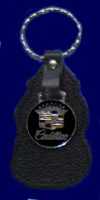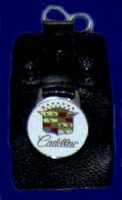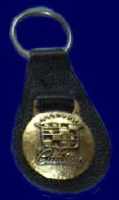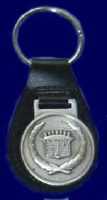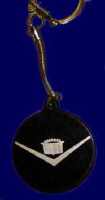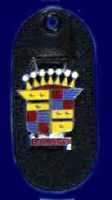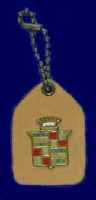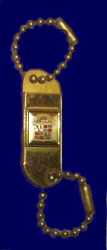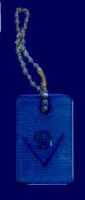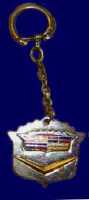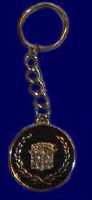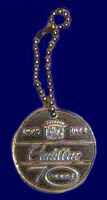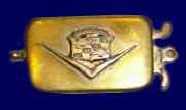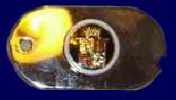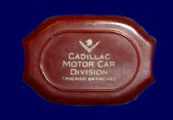 [ Key fobs (above 3 rows): Doug Scarrow collection ]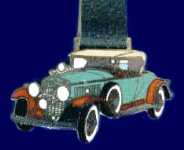 This watch/key fob depicts
a Cadillac roadster of 1930 vintage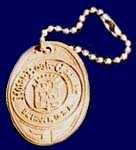 Room tag cum key fob from the old
Book Cadillac Hotel in downtown Detroit
Mini-Cadillac Key Fobs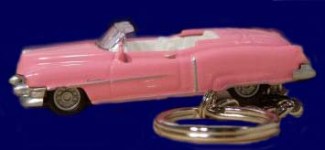 1953 Eldorado key fob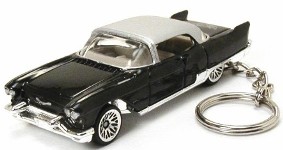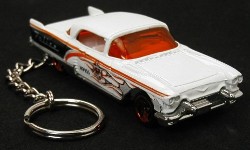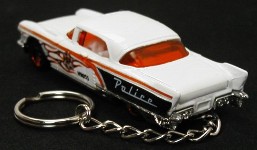 Two 1957-58 Cadillac Eldorado Brougham key fobs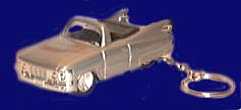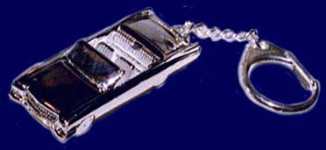 This one was for sale on e-Bay in 2002
it depicts a 1959 top down Cadillac
but I assume it to be from the nineties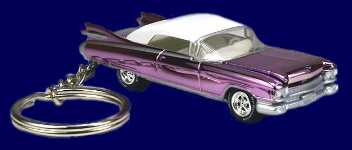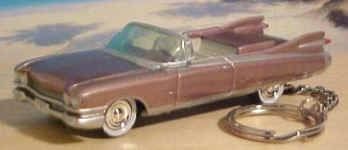 Two 1959 Eldorado Biarritz key fobs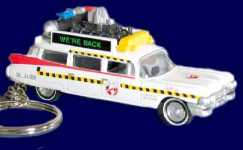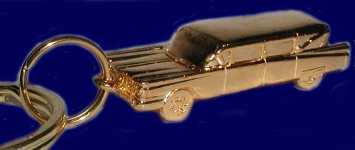 Ghostbusters ambulance key fob (left); gilded '59 hearse fob (right)
[ not how the decorative landau bars have been installed on the hearse quarter panels ! ]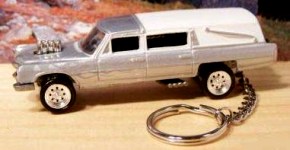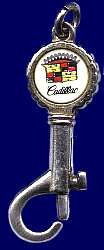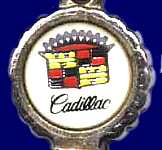 You may hang this one from a belt loop on your pants
In my opinion it dates from the sixties or seventies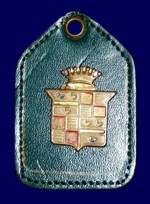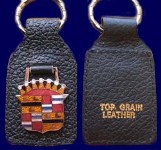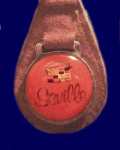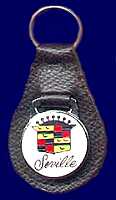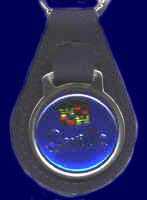 The style of crest and script
on these three Seville fobs suggest the same origin
and era as the carbine clip fob above them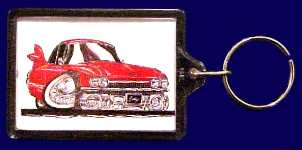 A combination of Cadillac art and key fob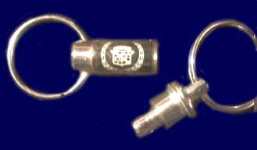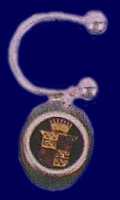 Two modern style key fobs with Cadillac crest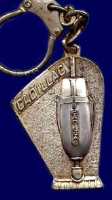 This curious fob advertises
a "Cadillac" brand vacuum cleaner
Custom Key Fobs by the "Key Chain Guy"
[many are available on Ebay]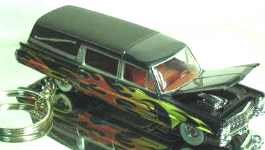 [1963 Hearse Key Fob]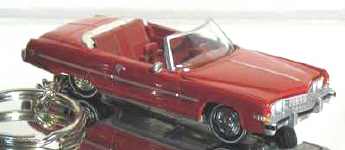 [1973 Eldo Conv Key Fob]
(2004FobEsca]
[2005FobEsca]