Cadillac Sculptures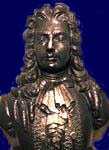 Bronze bust of the French explorer
Antoine de Lamothe-Cadillac,
founder of Detroit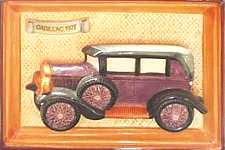 Bas-relief of 1927 Cadillac formal limousine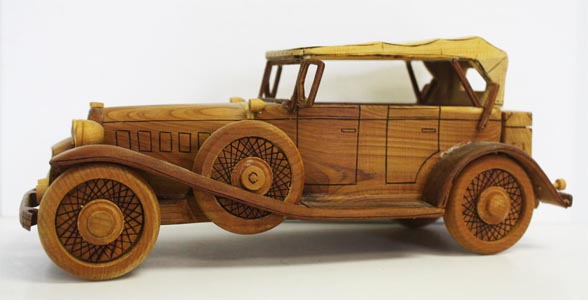 This 1931-32 Cadillac phaeton is honed out of wood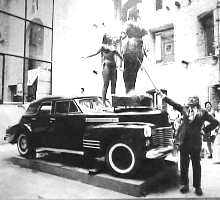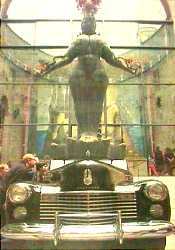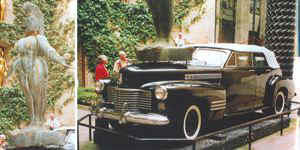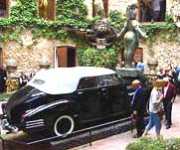 Salvador Dali's Rainy Cadillac statue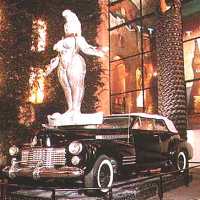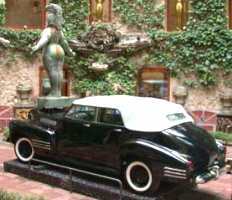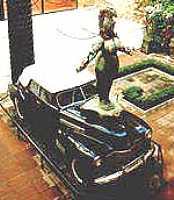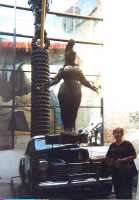 This statue/sculpture entitled Rainy Cadillac is on exhibition at the Dali Museum in Figueras, a popular resort on Spain's Mediterranean
Costa Blanca. The artist drove the 1941 Cadillac convertible sedan regularly from his home in nearby Cadaqués to Figueras'
Hotel-Restaurant Durán (Gita and I used to stop there too, en route to our finca - small country house - in Denia, near Alicante); the
Cadillac "statue" has the top up and the windows closed; inside, it is "raining" on the driver and his two passengers;
the gal in the image at far right is my lovely sister-in-law, Mary-Blair, on a visit to Figueras with her hubby, Warren;
[ check out also the "paintings" page for two oil paintings of 1941 Cadillacs by Dali and the "toys" page for a Dali-inspired plaster model]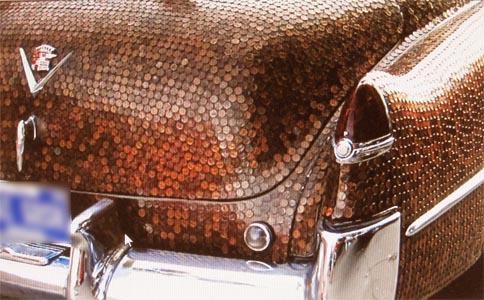 Teresa Thompson spent an entire summer covering her 1949 Cadillac with 38,249 pennies! All the pennies really added up in the end and add an extra
200 pounds to the car's original weight; in addition, those 38,249 pennies = $382.49 ... which is certainly less expensive than paying for a new paint job!
BTW, the sign propped up on the hood reads: PLEASE (do) TOUCH THE CAR; I guess Teresa wants you to make sure you're not dreaming!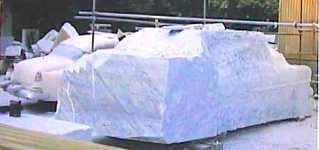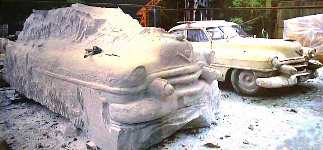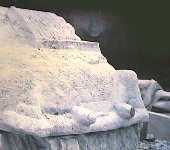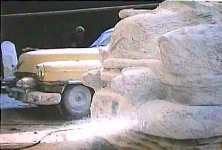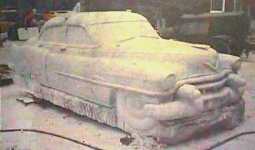 Above 4 rows: solid marble 1953 Cadillac in 1:1 scale,
by Gilbert Baladi, France


1953 Cadillac parade float


"Bent" '56 sedan sculpture
[ whose front yard is this ?... ]


1959 Cadillac "sculpture" above the garage
of the former Saunders home in Switzerland


Someone sent me the RH picture many years ago; I understand it depicts a "sculpture"
on display on an American University campus. Later I got a cutting from the LA Times
describing the work of Englewood artist, Dustin Shuler; it is called Death of an Era


This unique, Fiberglas model was seen for sale on e-Bay
in December 2002; it weighs circa 300lbs


Not sure what this is; it could be a PhotoShopped toy (model not recognized) or simply a painting


Ooops ... did the car first hit the tree, that fell. or did the tree first fall on the car?


Perhaps the owner used it this way, following the accident?


I've always wanted my own Cadillac Ranch ... !


Sad "Seventy-Five"
[ Photo: Internet, 2013 ]


Dumpster finds


1960 flat-top sedan made of intertwined wicker


1967 Cadillac planted in the Texas turf - start of another "ant Farm"?
[ Photos: © 2006 and courtesy Yann Saunders ]


Shop front (?) on Ventura Boulevard in California