[ Last update: 03.29.2010 ]
The (new) Cadillac Database©

Cadillac and La Salle Insignia
Insignia in Cadillac merchandising literature


Go back to the Cadillac insignia index page
or return to the "Miscellaneous Cadillac Stuff" index page
Return to The (New) Cadillac Database© Index Page



(le résumé en français se trouve en bas de page)
On this colorful page you will find a collection of Cadillac crests drawn from the company's merchandising literature (e.g. sales catalogs, ads and the like).

Should you have others not shown here, please send me digital images thereof and I will be happy to include them (please keep images down to a maximum of 100kB; thanks).
1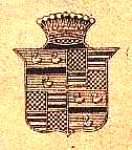 2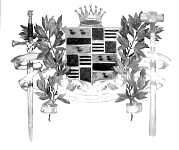 3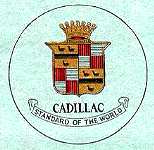 1. Crest from cover of 1916 product booklet
2. Very martial emblem from a Cadillac product catalog of 1918-19
3. The simple crest in a circle is from the 1921 Accessories catalog
4


4. The ornate crest and design above is from a 1922 product folder
5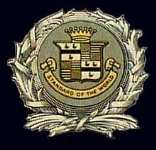 6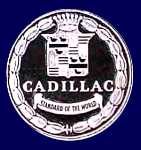 7

5. This one is from a 1924 catalog
6. This one was brought to my attention by the Cadillac-LaSalle Club of New Zealand;
the banner reads Standard of the World; I would date it in the mid-twenties
7. This is from a 1927 Xmas invitation from a Cadillac dealership
8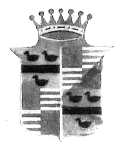 9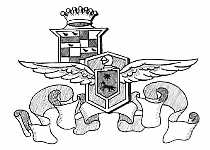 10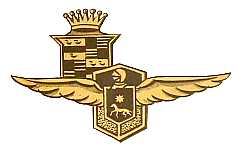 11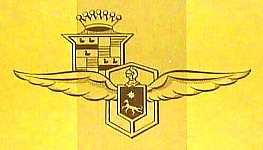 12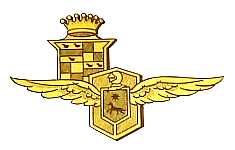 13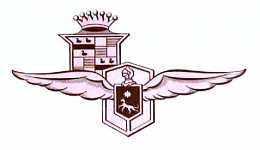 14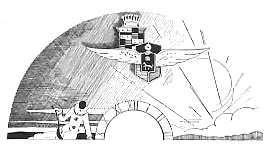 15


Crests 8 to 15 are from issues of The Crest,
an in-house publication, from the late twenties and early thirties
16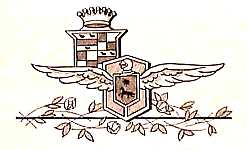 Ornate design from a 1928 merchandising item
16a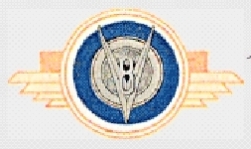 16b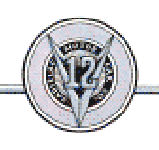 16c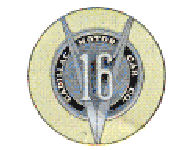 These emblems designate Cadillac multi-cylinder engine types on product advertisements of 1931
17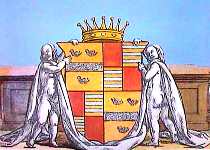 This crest is from the rare and beautiful
1930 Fleetwood portfolio-catalog
17a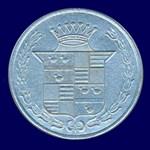 "Silver" emblem from 1932 prestige catalog cover

18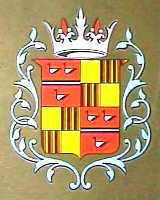 19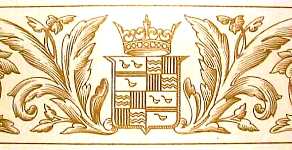 20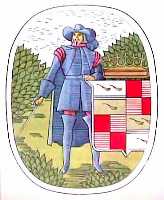 These three crests (18 - 20) are from the equally rare 1933 Fleetwood portfolio-brochure
21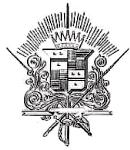 21. This decorative shield was used in 1935 ads and literature
The text (below) appeared on a 1935 Cadillac ad that depicted only the well-known coat of arms: The first Cadillac motor car was built to standards which produced the slogan, "Craftsmanship a Creed, Accuracy a Law". From that day to this, "Quality" has been the watchword of the entire Cadillac organization.

In 1915, for example, Cadillac made this statement: "In announcing its purpose years ago, this company said that Cadillac would create a new standard of automobile values ... Today the Cadillac is in very fact the standard of the world."

In 1925 Cadillac restated its purpose thus: "Not for any consideration would Cadillac lower by a hair's breadth the standards which have established the confidence of its public."

Now, in 1935, Cadillac reaffirms its pledge. Cadillac will continue to build motor cars to quality ideals. The Cadillac crest will continue to stand as a symbol of quality design, quality materials and quality craftsmanship in all cars that bear the distinguished Cadillac name.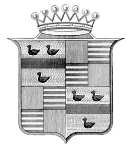 Left: this crest was used on a Cadillac ad of 1935
Right: this one is from the cover of the 1937 V-12 product catalog

For more than thirty years this, the Cadillac Crest, has stood for the finest in quality-built motor cars. To the Cadillac clientele it is a guarantee of inbuilt fineness ... to the Cadillac organization, an inspiration to maintain that standard of excellence which, throughout the years, has come to be Standard of the World.
22
23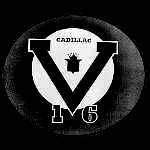 24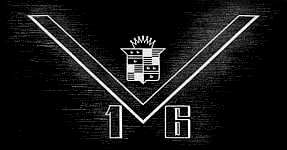 25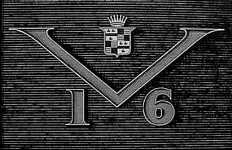 26
27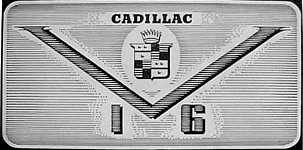 Emblems 22 to 27are from magazine advertisements for the second-generation Sixteens of 1938-40.
27a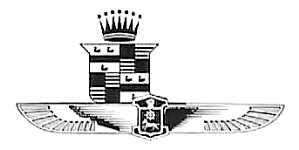 This one is from a 1940 literature item
28 29
28. The gold embossed crest is from the catalog of Fleetwood models for 1939
29. This crest was used in Cadillac merchandising during WW2
30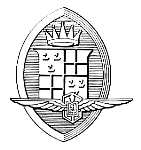 This one was used in 1941
31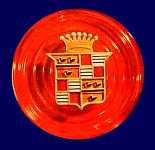 32
33
34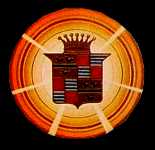 35
36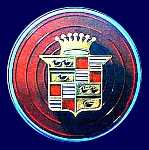 Crests 31 to 33: All these are from magazine advertisements for the 1941 Cadillac
37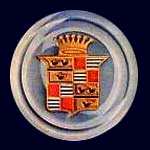 38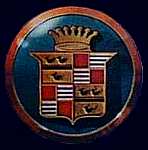 39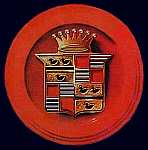 Crests 37-39 are from magazine ads for the 1942 models
40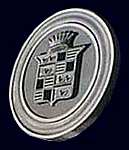 41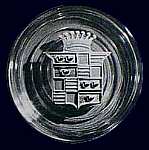 42
43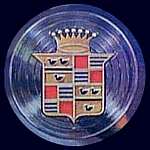 44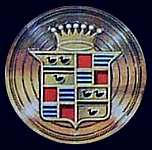 45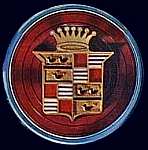 46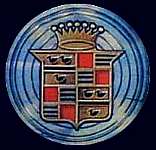 47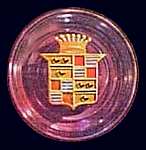 48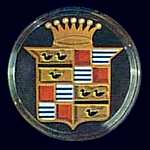 49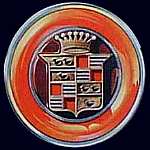 50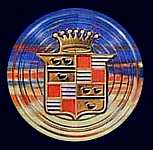 51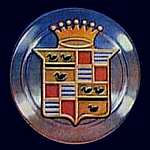 52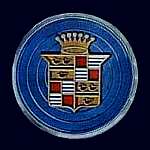 53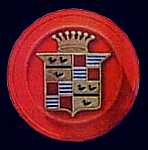 54
55
56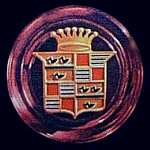 57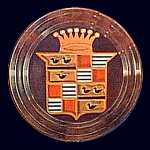 Crests 40-57 all are from WW2 ads depicting Cadillac war procuction
of tank motors and transmissions, as well as aeroplane engine parts
58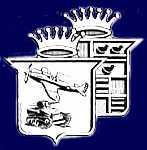 59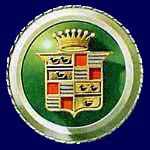 58. A simple, sober wartime ad
59. Crest from 1943 transitional ad
60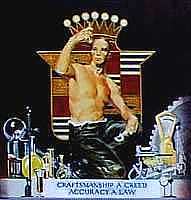 60. Cadillac craftsman with crest and motto,
Craftsmanship a Creed, Accuracy a Law,
was seen on company advertising in the twenties;
this one is excerpted from a 1943 product catalog
Post-WW2 Crests
from merchandising literature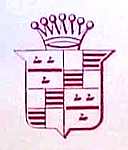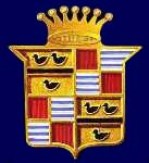 1946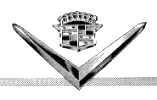 1951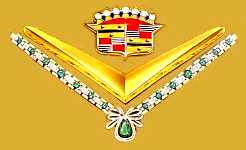 1953

1954


1957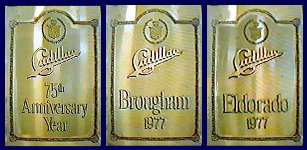 A series of large placards like these [circa 24x36") was made in 1977
to commemorate Cadillac's 75th anniversary; the three above are from the collection
of Lewis Jenkins in North Carolina. For many years, my Cadillac toy show
room exhibited a similar one that read Cadillac - on display in our showrooms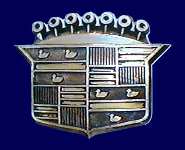 Large crest cut-outs like this one (circa 24x36")
were used to decorate dealer showrooms in the late seventies
This one is from the Lewis Jenkins collection, N. Carolina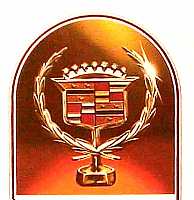 1979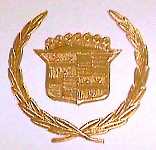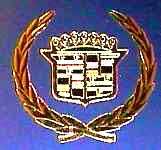 Emblem from 1983 literature item (left) and 1984 (right)


From the 1996 Catera catalog
...a red duck that zigs into the Cadillac crest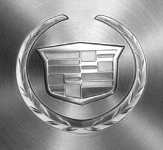 Crest from the 2001 product catalog
many more to come...


(résumé en français)

Cette page est consacrée aux différents emblèmes Cadillac qui figurent soit sur les voitures de la marque soit dans la documentation et les publicités d'époque y relatives.

Go back to the Cadillac insignia index page
or return to the "Miscellaneous Cadillac Stuff" index page
Return to The (New) Cadillac Database© Index Page


© 1996, Yann Saunders and the Cadillac-LaSalle Club, Inc.
[ Background image: superimposed Cadillac and La Salle emblems, 1929 ]