1:43 scale
BROOKLIN, UK
Brooklin Models is one of the world's leading manufacturers of scale, collectible white metal model
automobiles and trucks. Dollar for dollar, Brooklin is the best value in white-metal models.
Designer Bill Mitchell's gorgeous 1938 Sixty Special is a Milestone design. Many examples of the car still exist despite low initial production of 3,695 units. Brooklin Models issued a similar number of white metal replicas in an attractive grey-green hue. Here, is the sedan BRK-86 and Brooklin Factory special 1938 Sixty Special Phaeton, top down, BRK-FS-5. Brooklin created 750 of these handbuilt white metal models in 2005. They were priced at $10 more than a standard Brooklin. The scale model pictured below was custom built by John Roberts who re-sprayed the exterior in a darker "Royal Blue" than the original dark blue and the interior in tan. John also added chrome detailing to the windows, fenders and interior
[ Photos: courtesy GM in Miniature, Veloce Publishing, by author, Randall Olson ]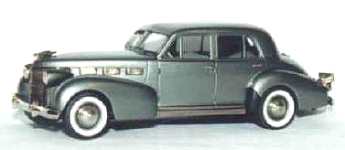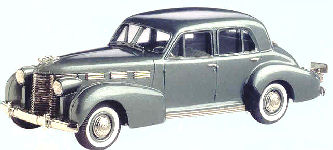 The Brooklin Models company in Britain is recognized
for its finely detailed 1:43 scale replica toys;
this one (#86 in the catalog) depicts the style-setting
1938 Cadillac Series 60 Special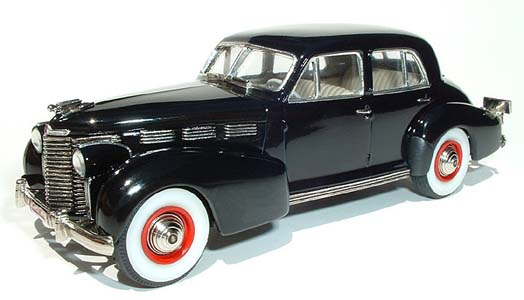 An "improved" version of the Brooklin model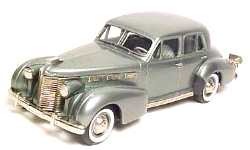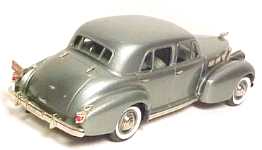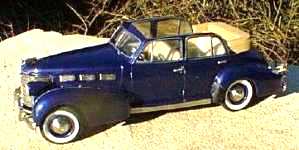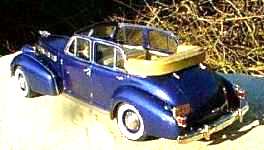 This imaginary 1938 Series Sixty Special convertible is based on the preceding model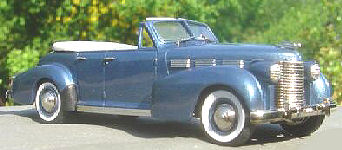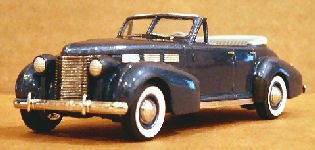 Different lighting conditions and backgrounds suggest two different colors; in fact they are the same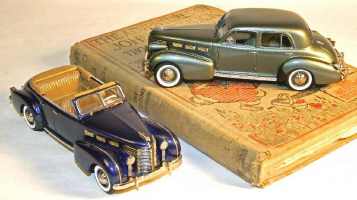 [ Photo: courtesy GM in Miniature, Veloce Publishing, by author, Randall Olson ]
BRUCE ARNOLD MODELS, USA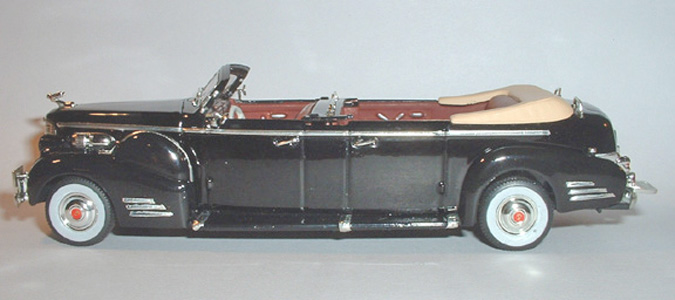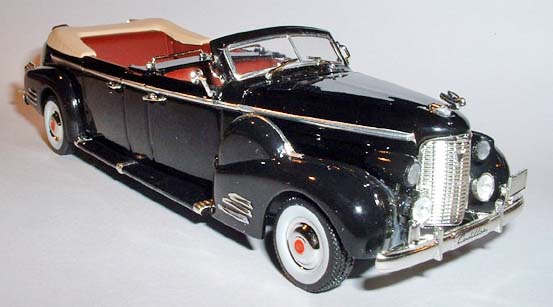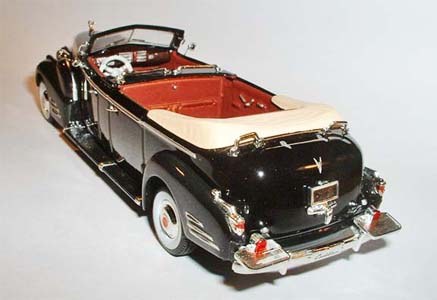 This White House security car was one of 2 built on the V-16 chassis that year;
both have survived, although converted to V8 power plants in the fifties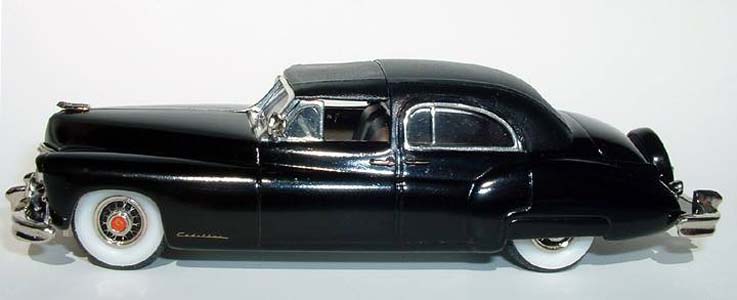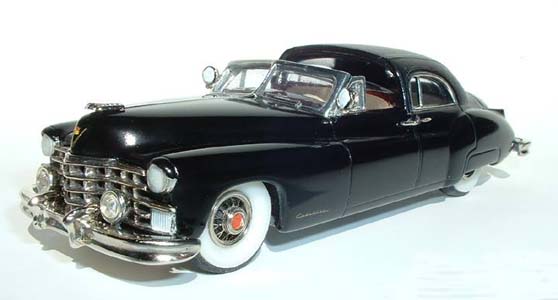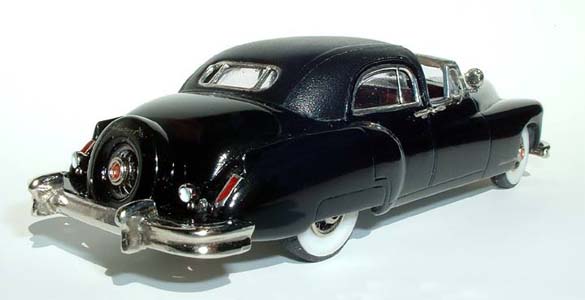 In these three rows, BAM models has created a very plausible 1942/1947 Cadillac town car
[ Photos: © 2014 and courtesy of Bruce Arnold ]
NATIONAL MOTOR MUSEUM, UK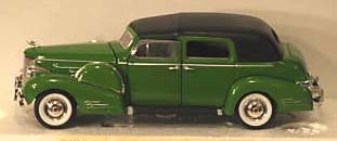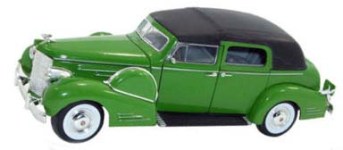 V-16 town car [Fleetwood style #9053]
REXTOYS, SWITZERLAND / PORTUGAL
Rextoys, Switzerland, is responsible for these diecast 1:43 scale models of the
1938-1940 Cadillac V-16, Series 90 cars; they depict the various body styles built
by Fleetwood in that three-year period ...including even some unlikely ones!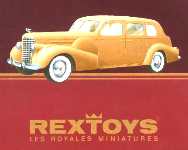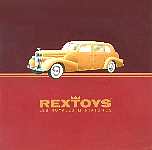 These toys were market first in 1987 by Count Antonio Giansanti Coluzzi, well known CEO of Fulgurex miniature trains. The are currently built by Vitesse in Portugal and are based on factory line drawings, measurements and original photos that I supplied to the Count from my collection. The available models include: the town car, the sedan (including three military versions, the 2-door coupe, the 2-door convertible (including the Cicciolina1 version), the 4-door convertible sedan (again including the Cicciolina version), a President Roosevelt edition [inspired by the 1938 White House security car but in this case mounted on a regular chassis instead of a stretched one]


[ Photo: AFP ]

___________________________________________
1 La Cicciolina is a former Italian porn star who subsequently got into the political arena and was frequently seen (with one or both breasts provocatively bared), in the Palazzo Quirinale (the Italian Parliament - where I had the honor to work briefly, in 1971, as a translator/précis-writer for the Inter-Parliamentary Union - IPU); la "Ciccio" was seen also at the launching of these Rextoys replicas ...again with a breast or two bared!

:
The "Vatican" version of the latter car (Rextoys #1, 1987); one of these cars was indeed donated to a Cardinal of the Roman college by the daughters of the first owner, Countess Rosario de Larrechea De Schiffner. The Cardinal kept the car in the Vatican garage and it is rumored that Pope Pius XII may have been its passenger on a few ceremonial occasions


Rextoys #2 (1), 1987, Style #9053 town car for 7 passengers




Rextoys #2 (2), 1988, had a removable chauffeur's canopy

[ missing image ]

Rextoys #3 (A), 1987, limousine, with divider, tan leather roof;


Rextoys #3 (B), 1987, as previous toy but with promotional decal
for Somajou, a toy retailer in France (limited to 150 units)
[ Photo: Argus de la Miniature - © 1988, E. Flament ]

[ missing image ]

Rextoys #3 (C), 1987, as previous toy, dark gray leather roof,
a promotional version for the press (180 units, each with its own title document)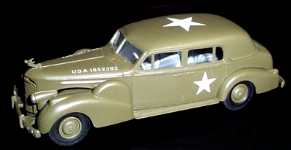 Two unlikely sixteens in military drab
(left) Rextoys #4 (1) in army olive
(right) Rextoys #4 (2) in navy blue-gray (right)
[ missing image ]

Rextoys #4 (3) with U.S. Airforce decals


Above two rows: Rextoys #5, style #9057B coupe for 5 passengers


Style #9067 convertible coupe, Rextoys #6 (1)


The (bare-breasted) Cicciolina version of the convertible coupe, Rextoys #6 (2)
The box came with the (alleged) lipstick imprint of the Cicciolina's lips


Above and below, style #9033F or 9059, formal sedans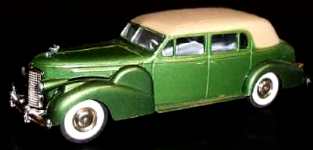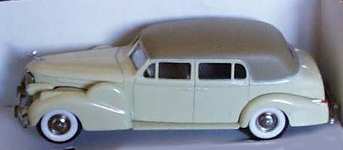 Formal sedan for five or seven passengers, style #9033F [7] or #9059 [5]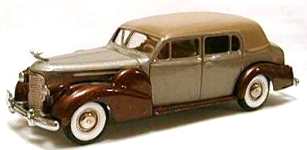 Two more version of the preceding toy

[ missing image ]
Rextoys #7, 1988, as above but featuring La Cicciolina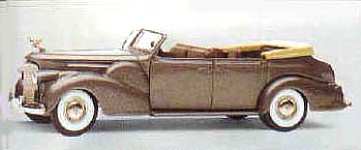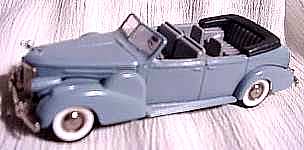 Style #9029 convertible sedan for 5 passengers, Rextoys #12(A)
[ missing image ]

A limited run with La Cicciolina aboard was made in 1988 for the Japanese market, Rextoys #12(B)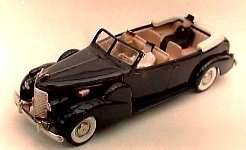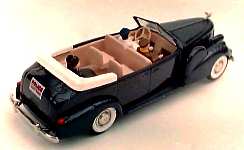 Rextoys #12 (R) is supposed to depict Fleetwood job #9006, one of two White House security cars;
however, for that purpose it should have been considerably lengthened between the two side doors
ELEGANCE, FRANCE
(Claude Thibivilliers)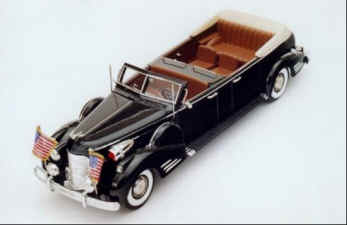 For the sake of comparison, here is the equivalent White House security car, also in 1:43 scale,
from master of precision in miniature, Claude Thibivilliers of Elegance models
[ to view more Elegance replicas, click here ]
[ UNKNOWN ]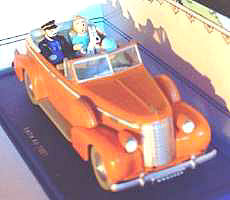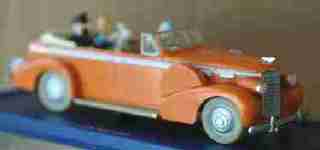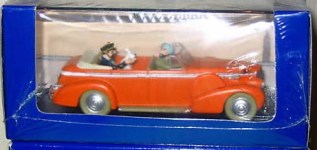 Renowned Belgian illustrator/cartooinst, Georges Rémi, aka "Hergé" (or the initials "RG" in French) is best known for his
comic strip books depicting the adventures of a young Belgian reporter and his dog "Snowy" ("Milou" in French)
- you may read about his books here; "Hergé" was known for correctly depicting cars of all makes, in this instance
the Cadillac "Series 75"convertible sedan used by the "forever young" reporter during his adventures in Tibet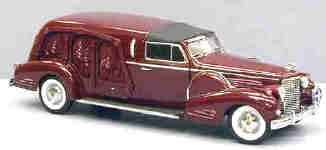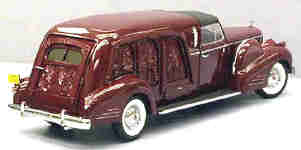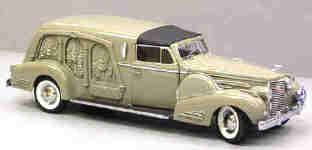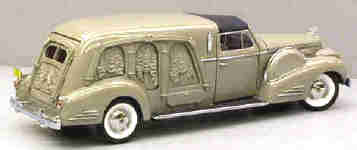 Unlikely carved panel hearse on Cadillac V-16 chassis;
possibly a conversion based on the "Rextoys" series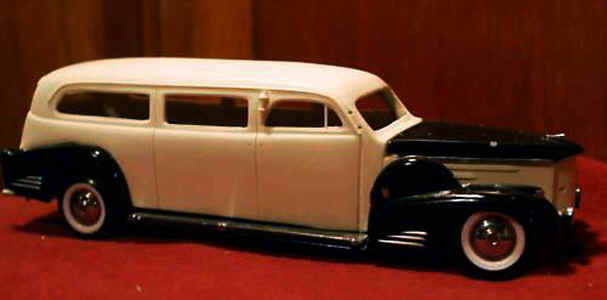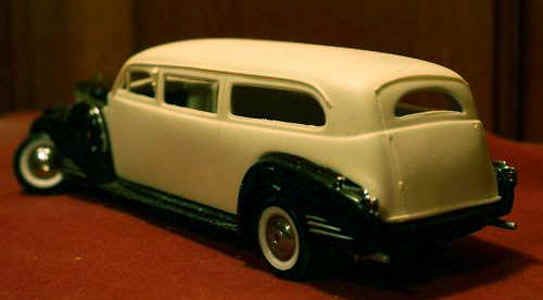 I have a feeling this unidentified (and unlikely) hearse on the V-16 chassis
is based also on the Rextoys series of V-16 models
VF MODELLEN, GERMANY


[ missing ]
#LAS001 Flxible ambulance
#LAS003 S&S Damascus carved-panel hearse by Hess & Eisenhardt