[last update: 05.26.2020] ]
The Fabulous
Cadillac Eldorado Brougham

1957 - 1960

Part 13a (1b)
Best of the Brougham Breed (1957-58)

Being a record of the Brougham survivors of 1958 [cars #401-600]
[Go to cars #601-704 of Brougham survivors of 1958]
Go to the record of Brougham survivors of 1959-1960
Go back to the record of Brougham survivors of 1957


Artist's rendering of the 1958 Eldorado Brougham - from that year's prestige color brochure

1958


[203 cars out of 304 built, i.e. 66.8%]
(excluding those highlighted in red, known to be destroyed or to be parts cars)

401, 402, 404, 405, 406, 407, 408, 410, 411, 412, 413, 414, 416, 417, 418, 420, 421, 422, 425, 427, 428, 430, 432, 433, 434, 435, 436, 438, 439, 440, 441, 442, 444, 445, 446, 447, 450, 451, 452, 454, 455, 458, 460, 462, 463, 464, 465, 466, 467, 469, 471, 473, 475****, 476, 477, 479, 481, 484, 485, 486, 487, 489, 490, 491, 492, 493, 494, 495, 498, 500, 502, 504, 505, 506, 507, 509, 510, 511, 513, 515, 516, 518, 520, 521, 522, 525, 526, 527, 529, 530, 531, 532, 533, 535, 537, 539, 540, 542, 544, 545, 546, 547, 548, 549, 550, 551, 554, 555, 556, 557, 558, 559, 560, 561, 562, 563, 564, 565, 567, 568, 569, 570, 571, 572, 573, 574, 575, 576, 577, 578, 579, 581, 582, 583, 584, 586, 587, 589, 590, 591, 594, 597, 598, 600, 601, 602, 603, 605, 606, 607, 608, 609, 610, 613, 614, 615, 617, 618, 619, 621, 622, 625, 626, 627, 631, 632, 633, 634, 635, 636, 637, 639, 640, 641, 643, 645, 646, 647, 648, 649, 650, 652, 655, 654, 656, 657, 659, 660, 661, 662, 663, 664, 665, 666, 667, 669, 672, 673, 674, 678, 679, 682, 683, 688, 689, 690, 691, 692, 697, 698, 699, 701, 702, 703, 704


____________________________________________________
**** Car #475 is a special case; initially body #2 for 1957, mounted on '57 chassis #5770-035764, it was re-painted and issued #475 in 1958, when it was mounted on chassis #58P- 014243. So, even though 704 Eldorado Brougham engines and chassis were built in 1957 and 1958, there were only 703 bodies [one of them actually got TWO separate body tags !]

Car #401 was offered for sale in Chicago, IL, in January, 1971 [no price given].

Car #402 was acquired in 1998 by Vic Brincat of the Cadillac Mailing List (CML). That car was not previously listed among the survivors identified by the former Brougham Owners' Association, in 1978. The owner says he knows the Canadian Mounties seized it from a drug dealer in 1990 and impounded the car until 1995. It was originally exported, possibly to Canada and more specifically into the Province of Quebec; the car carries a 1958 Quebec license plate. It has a reported 21K miles and still rides on air. Restoration was carried out between 2002 and 2004. Vic did the most amazing, meticulous job. If you don't believe me, check out: http://www.employees.org/~brincat/ The car now rates among the top three for 1957-58, with #230 and #273 for 1957. Late extra [2/2007]: Vic sold the car to John Campbell, a California Congressman and car collector. John is a fervent advocate of preserving automotive history; he will be showing and driving this car frequently, as it deserves.


These are the "before" pictures. Just imagine what we shall be able to admire "after" restoration is done!


The finished product: have you ever seen a Cadillac quite so beautiful ?

Car #404 was advertised on e-Bay in October 2002. Later, it was offered at auction by the Kruse group at the Auburn Fall venue in 2002. Bidding is reported to have reached $39,000. The Ebay vendor mentioned only two known defects: a crack in the driver's side wing window and an inoperative power seat ...which has since been repaired. The bidding closed at $31,400 but the car was not sold (reserve price not met). The car now resides happily in the garage of an avid Cadillac collector in central Illinois... Troy Negray [he also has car #586, below]. Troy bought #404 car after it appeared on e-bay last year. The car is in exceptionally nice shape... the green interior is especially stunning. Troy is a firm believer in enjoying his cars, and drives his Brougham whenever the weather allows. To date the car has needed nothing other than a new water pump and some heater hoses!


[ Photos: Internet 10/2002 ]

Car #405 was used for a rare factory publicity shot in color. Thereafter, it was shipped to California. It is featured on the front cover of BOA Newsletter, Vol. 12, #3. Late Extra [December 2004]: Although, initially it was believed not to have survived, I got an eMail from enthusiast Larry Ginsburg who reports that he saw the car in California, in December 2004. He says it has been repainted red but still has the original beige cloth and leather upholstery. Thanks for the tip, Larry.

Car #406 is owned by CLC member, Harry Carlson. Harry says of his car (which, incidentally, is for sale): This car is an older, not-quite complete restoration. In my judgement, it needs as much money put into it again as its current market value. Owner added detailed, honest description of vehicle: Rescued from a barn by previous North Carolina owner who did most of the restoration. Purchased from estate of former owner. Have owned for nearly 10 years. Five restorable original alloy wheels, four restorable center wheel covers - car is currently on incorrect steel wheels with incorrect wheel covers. Three small dings on left rear stainless roof. Each electric system needs to be troubleshot until electric drain is found. Currently, all fuses pulled. Three of four horns are missing. Runs rough. Stalls in traffic. Owner getting a little old to push a 5,300 lb. car through an intersection on a highway while blocking traffic. Mechanic says #2 carb needs a rebuild and he "ain't the guy to do it 'cause" he "don't want to get married to it". Driver door trim held in place by duct tape at the moment. Car stalls when wheel is turned hard left, very upsetting especially when making a left turn in traffic. Seems to be an electrical problem. Original gray carpet replaced with ghastly gray green one. Windshield has discoloration and bubbling laminations on upper right side. Broken outside driver's mirror. Needs 3 new tires. A tire unraveled from old age. Windows, electric trunk and other accessories were working when we pulled the fuses a few years ago. Running, licensed with historic Michigan plates. Clear Michigan title. Currently on springs. Bottoms out too easily. All air suspension items in a container (except, missing 1 of 3 original valve levelers). Sorry, no vanity items. The inside of the glove box with 2 trunk control switches is missing. New exhaust system with incorrect tips on end of exhaust (no louvers). Restoration leather interior in gray is not quite correct. Missing front passenger side ash tray door. Broken driver's sun visor (repairable). Missing 1 underseat rear heater. Straight body, appears to never have been in an accident or had a body-off restoration. No major corrosion or rust, except a bubble under paint here and there and superficial surface rust under the car. Believed to have spent most of its life in North Carolina.

Car #407 was owned in the late seventies by Octavio Barocio of Mexico City, Mexico. The current owner, in Mexico, is Victor M.; Victor intends to do only a partial restoration; his car will be a twice-a-month driver. Victor says he has not done much work on the car besides going over all the electrical system and changing the tires; the car, however, has given him many headaches. He also found another Brougham in a museum in Mexico City (Car #266); he also knows of three more Broughams in his country and will get information about them for the Database. One owner is a Mr. Lascurain; the other is a lawyer named Oliveros.

Car #408 was offered for sale in Australia's Unique Cars magazine (Fall 1998 - info from Allan Levinson); the car was delivered originally to California; it had a "B" rating [good], in 1978. Allan advised in June 2000 that the cart was again being offered for sale (still in Australia) for AU$35,000.

Car #411 was offered for sale on Ebay in June 2015 and sold for $60,769. The vendor's description read: finished in Black with a Black and White leather interior, is the most desirable of the post-World War II collectible Cadillacs. The car was originally restored in 2006 when the body was removed and the frame was blasted and painted. Although an older restoration, it has been freshened up with a new base coat clear coat paint and period correct carpeting in the interior and the trunk (the mouton was not available). The engine, transmission, and brakes have been rebuilt as well as the carburetors. Also the radiator has been recored. The car has the original interior from another 1958 Cadillac Eldorado Brougham (the interior needed to be replaced and a factory original 1958 Cadillac Eldorado Brougham interior was preferred as compared to a new interior). The original cigar lighters are included (cigar lighters in picture only, other items in picture do not convey). AC not checked, components are there. Most of the chrome has been triple plated. The lower front bumper has not been plated. The driver side mirror needs to be chromed and installed (see picture with parts). One piece of the passenger rear door trim needs work/restoration as well as the original wheels. You can have those or the five Sabre wheels that are on the car and the spare. The car is on springs and is not an air ride. Engine runs strong (click here to see video. This is an honest car that needs a little TLC. See pictures.

Car #412 was owned in the late seventies by Dr. James Crispen of Harrisburg, PA. Late extra [12/2005]: Kurt Berseth of Norway, wrote this : The car arrived Norway one month ago and is in exceptionally good original condition. The odometer shows 27937 miles. I will send more complete information and pictures later.


At lower, right, the original ID card shows initial delivery to Shirley Velde of Brenkman Oldsmobile Cadillac Co. There is a Velde Cadillac
dealership at the same street address as Brenkman Cadillac. Could Ms. Velde have been the owner of the dealership, back in 1958?
[ Photos: © 2005 and copyright Kurt Berseth ]

[ the rest of this page was accidentally destroyed, 1/2006 ]

[ Below is the back-up copy from 12/2005 - some data may be missing ]
[ text in black type has been added/approved since the "accident" ]

Car #413 is mentioned in (new) BOA Newsletter, Vol, 3, #1 (Spring 1991) where it is attributed to a Mr. David Taft in a letter to him from the publishers of Automobile Quarterly. David had inquired if and when AQ might do a piece on the Eldorado Brougham. AQ replied, saying [excerpt] : We do plan to feature the 1957-58 Brougham (and the 1959-60 as well) in a separate feature in a future issue of Collectible Automobile (as we promised back in August 1988). What I don't know at this point is just how soon that will be, although I believe that we have the necessary photography in hand -- so it might not be all that far off. I don't recall at this point if an article did appear in Collectible Automobile.

Car #414 was offered for sale in the CLC's "Self Starter" magazine in January 1995, for $40,000. Located in Wichita, KS [that's where it was delivered in 1958!] the odometer reading was approx. 65K miles at that time. This is one of only two 1958 Broughams originally painted Desert Bronze (copper) [code #98], from the color palette for the regular 1958 Cadillac models where it was called Desert Gold. The other car was #632. Late extra [December 2004]: the car has been offered at auction on eBay with a high reserve; it is described as a "10", on a scale of 1-10. Current mileage is 75K+. Color is described as "Persian Sand" [that hue was first offered in 1959]; in fact, in the photos below, it looks a lot like code "98" ("Siena Rose") from 1960, which is more pink than copper. Trim is described as "two-tone" leather although it appears to be beige throughout. No vanities are mentioned, nor is the condition of the air suspension (if it is still present).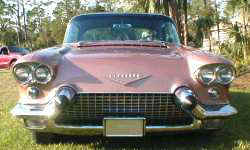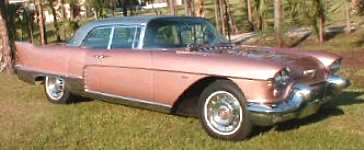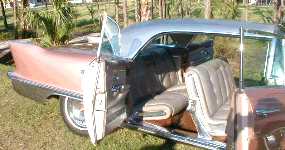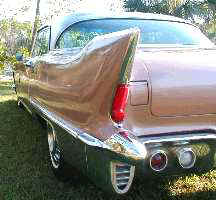 [ Photos: Internet, 12/2004 ]
Car #417 was owned in the late seventies by Clyde Herring of Bloomfield Hills, MI. I am informed by British enthusiast, Alan Kerby Jones (car #197, now sold) that this is the car below [thanks for the photo, Andy]. Late extra [June, 2004]: Alan e-mailed to say he had given this one a new home! He wrote: Just thought I'd let you know that I've purchased '58 Brougham #417. I first saw the car 2 years ago with an interest in purchasing. With one thing and another it didn't come off but now I'm glad to say it has. The car is in totally original condition and looks really nice. The good thing is it's still on working air and appears to be an unmolested car. It has all vanities except the atomizer and even has the owners handbook in the tissue dispenser. The trunk kit is exceptional and has all the jacking equipment. I'm really pleased I've managed to acquire it. I will send you some pics soon. Good for you, Andy; I know she'll be in good hands. Late, late extra [August, 2005]: The car was offered for sale on eBay and described as a 47K mile car in outstanding condition and still on air ride (rebuilt through Mastermind). All vanities are there [not sure about the atomizer top for the "Arpège" bottle]. There was a single bid at $45,000 ...which did not meet the vendor's reserve. Latest [Sept., 2008]: Andy has sold the car to a collector in Devon, UK, for $98,000 which included car #340 in part exchange. He admits that was a "big mistake" and eventually sold it on Ebay, in Dec., 2006, to Roger Johannsson, a Swedish aficionado. Roger lives about 40 mins, from Hans Emeren's "Autocraft" shop where Broughams have been and continue to be restored to perfection. Andy was able to photograph Hans' collection of Brrougham vanities.


Eldorado Brougham #417

Car #418 was owned in the late seventies by George Vincent of Penfield, NY.

Car #420 was not previously included in the BOA roster of survivors. This car was up for auction at the Barrett-Jackson venue in Scottsdale, AZ, in January 1995; it was identified in the catalog only by its engine number [#58P-002160]. It seems also that it was still the original blue color. The condition of this Florida auto was described as "very good"; it had been only cosmetically restored. German enthusiast, Martin Kresse, who lives near Karlsruhe in Germany, reported in January 2004 that this car now resides in the Technik Museum at Sinisheim, Germany. Martin also has inspected '57 Eldorado Brougham #175, which is currently in Roeschwoog, France, just a 20 minute drive across the border away from where he resides.


[ Photos: © 2004 Martin Kresse and courtesy Technik Museum at Sinisheim ]

Car #421 was owned in the late seventies by Gary Thompson of Amherstburg, Ontario, Canada. At that time, Gary owned also 1959 Brougham #50.

Car #422 was owned in the late seventies by Avery Eliscu of Chicago, IL. At that time, Avery owned also Brougham #365, above. The car was offered for sale on e-Bay; originally Chamonix White [code #112] with rare, all-white leather interior [code #858] and and white mouton carpets [code #2], it has been repainted red and has a restored interior done in red and black vinyl. Sad for an Eldorado Brougham! The vendor described the car thus: 1958 Eldorado Brougham, by Cadillac, beautiful rare car, only about 450 were produced this year [304, in fact]. About 25,000 miles, believed to be original. 12 year old restoration by famous Chicago restorer [Fran Roxas ??? ...although I seriously doubt he would put a vinyl interior in a Brougham !], looks great. Paint is near perfect, with perhaps one small ding on the passenger side rear. Chrome is fabulous except at the rear, near the lower taillights; there it is a little corroded. Three Dual Carbs, auto trans, nice interior, pretty mint. A real pleaser. On air suspension, which would probably be happier if it was converted to springs, i.e., it starts to sag after a while, the compressor works subject to whim, and the original compressor was inadequate to begin with. Stainless steel roof looks mint. Gas gauge does not work since I've owned the car. Air conditioning needs a clutch for the motor I'm told. It has worked fine in the past. New Exhaust. Automatic trunk open/close, a few vanity items including magnetic tumblers and some acrylic cases [cigarette box?], etc... . Late extra [10/2004]: This from enthusiast Ron Susser who is advertising the car on the Internet on behalf of the owner: I am enclosing some updated information regarding 1958 Brougham #422. I viewed and photographed that car today. It is currently located in Oak Brook, Illinois and is for sale. The car was originally white but is now Firemist Red Metallic. It's actually a very nice exterior color and the paint is in excellent condition. The interior is now red and black vinyl with black mouton carpets. The mileage is believed to be correct at about 21K miles. Still on air, the car drives great. Just detailed and tuned. Please click below for full details and lots of pictures: http://www.ronsusser.com/vehicles.asp?t=n&v=399. It is for sale [on behalf of the owner], via my website, for $50K. On Ron's Web page he adds that prior to the sale, the owner will replace the front diaphragms, the compressor and the exhaust. Late LATE extra [12/2004]: Ron advised that Brougham #422 has been sold to enthusiast Paul Dehnert. I'm sure that he will contact you with updates.


[ Photos: © and courtesy Ron Susser, for the owner ]



Car #425 was known to have survived but its whereabouts were unknown until now. The owner just contacted me and will be supplying photos and a short history in the coming weeks. He writes: Yann, Noticed that my Eldorado Brougham is not listed in the Data Base. In the near future I would like to supply pictures and information on #425. I have owned this car 30 years and have been quite active in the CLC in northern Ohio USA. Roger Hicks. Roger wrote again: Here is some information on my 1958 Eldorado Brougham #425. I have owned it since 1975 and have continued to improve it during the last 30 years. It was a very nice Florida car when I purchased it and never seen our OHIO winters and salt that we are so famous for. All chrome has been re-plated; I have re-painted it twice in the last 30 years. The biggest job was restoring the wheels to better than new condition. Upholstery has been redone in the correct cloth. We have bought the best lamb skins available, had them dyed to the correct color and my wife actually cut and stitched them together. Another major job was replacing the padded dash. As with all old cars they are never done and I will continue to improve it every year. In a separate E mail I will send additional pictures. Thanks for including this into the Brougham survivor list. Roger Hicks


[ Photos: © 2005 and courtesy of Roger Hicks ]

Car #426 [current whereabouts unknown] used dark gray trim instead of black; also it had specially dyed gray mouton carpeting.

Car #428 was owned in the late seventies by Al Dinan of Barstow, CA. At that time, Al also owned Brougham #469, below.

Car #430 has come out of the woodwork [2005]. It was offered for sale on eBay in January, 2005. This 2-owner car was brought to my attention by Danish aficionado, Freddy Noergaard. The car has around 57K miles and appears to be in good to very good condition. Late Extra: 01.24.05: the car was reported sold for $25,000. Sounds like a good price today, for one this nice. Late Late extra [4/2005]: the car is again offered for sale, this time by Collector Car Trader who have it on their Web sit at this URL: http://adcache.collectorcartraderonline.com/10/9/7/78514697.htm Note the hike in price to nearly $46,000 (that's almost double the previous selling [price). Also the silver side panel has been painted over the color of the rest of the body [info from Brougham enthusiast and owner, David King]. Even Later Extra [5/2005]: The car was again offered for sale on eBay with a "Buy it Now" price of $53,000. Latest Extra [6/2005]: From vendor's agent, Ron Susser: update on Brougham #430. Successfully sold on Ebay today for $49,900 Buy it Now [what was the eBay item #, Ron? I didn't see the auction]. Detective Jerry Jansson said in September 2005: EB#430 was up on eBay early August. Reserve was not met, top bid was $38,300 but there was a reserve of $54,900. Later in August the car was relisted at $49,900 but bidding only went to $36,850 so I guess it's still at Ron's shop. There are two images below that purport to showh the car's body tag; I guess one is a "celaned up" version.


[ Photos (above 2 rows): "before" ]


[ These photos : © 2005 and courtesy Ron Susser ]


Car #433 once was owned by collector-enthusiast, David Barclay; he describes it as a parts car.

Car #434 has been listed as a survivor since the early seventies but its whereabouts had remained unknown until now. David, its present owner states that : This vehicle has been in Venezuela for more than 40 years and it has had three owners including myself. Fortunately the car is complete; it has all its accessories. I was able to start the motor on Friday after fixing the three carburetors, putting some oil on the cylinders and turning the motor by hand. Apparently it runs OK although it's a little rough. I'll try changing the cables that go to the sparkplugs. I'm fixing the braking system and cleaning the gas tank. I hope I can make it stop OK without having to change the booster or the brake pump. I have other Cadillacs from the 1950´s, 60´s & 70´s but I believe this is the only one [Brougham] imported to Venezuela.

If you wish I can provide more info to complement your web page which has been very useful to me and, I'm sure to all the other Brougham owners.

As you will see, below, David still has some work to do to get the car back to its original condition. Late extra [April, 2006]: the job is done and David has supplied some more photos (second set, below). Congratulations. Good job !


Photos: © 2004 and courtesy of the owner


These two rows show some "after" pictures, supplied again kindly by the owner
[ Photos: © 2006, David Frias ]

Car #435 [NEW, 2/2008] turned up for sale unexpectedly on Ebay in Feb., 2008. It is said to be in relatively unmolested condition (other than hving been converted from air ride to coil springs). It has been sitting in covered storage for the last 34 years and the odometer reads around 39K miles. Thanks to Ron Schweitzer and Jerry Jansson, inter alia, for bringing yet another survivor to my attention. Late Extra [May, 2008]: the new owner, George Lamm of McHenry, IL, contacted me and provided this additional information: I am the latest owner of the 1958 EB #435. The pictures on e-bay are in fact the car, although they hide a number of surprises. The car has been in storage since 1972, and relatively well protected except for multiple door dings. The body is remarkably good structurally, with some minor rust behind the left Q/panel channel, and some rust in the trunk, by the battery. Stainless steel top is very nice; one minor dimple. As for being molested, it is a matter of opinion; I have 90% of the suspension in boxes, including the important pump and level valves. We are still assessing what relays ( autostart, seat, etc) still work. Engine/trans are undegoing restoration. The interior is all there but seats don't work mechanically, and the leather is all but done for. Interior is definitely a Phase II. I also have the fuel pump, but it needs total restoration. There is a corrosion hole in the lower skirt. The brightwork is all there except for the grate over the tailpipe exhaust. However it all needs to be replated. The bumpers will (must) be salvaged, but for someone new to the EB, the cost is staggering. I think Vic Brincat [formerly EB #402] said the car was the cheapest part of the process, I understand what he meant. We are hoping for a Phase I drive to Woodward this summer, if the paint and the bumpers are dry. No vanities. Enough said. The car was titled in Illinois through the early 1960's but I have not been able to identify the original owner. Your website said it was sold in NY. If you have any info as to how you know that, I would be very interested. George, that info came from the factory build sheet; the latter shows, inter alia, the city of initial delivery; it does not give any information on initial ownership. The bulk of statistical data relating to the Broughams was compiled, in the mid-seventies, by the late Cy Strickler [formerly EB #210]; it was Cy who put together the first "Roster of Survivors" upon which this section of the Cadillac Database is founded. Unfortunately I have no tips for you on how to trace a car's prior owners.


[ Photos: Internet, 2008 ]

Car #436 was acquired in March, 1999, from storage after some thirty-eight years. It was reported to be complete, with *all* the vanities [this turned out to be a false assertion]; the car has the "standard" black finish [#110] with gray interior [#130] and the regular, black Karakul nylon loop-pile carpeting [#1]. The new owner said he would restore it to #1 condition. Meanwhile, however, he sold it to my friend Lance Hirsch of Texas. Lance enjoyed the car a couple of years and reported that it never gave him a single problem. He decided to offer it up for sale again. Moral: do NOT give up hope. YOUR Brougham is out there, waiting for you! Since first posting this entry, the car has changed hands again, TWICE. It was acquired from Lance by enthusiast, Michael D. Brooks, who wanted its complement of vanity items for his own otherwise perfect, low-mileage Brougham [#123]. Michael; subsequently re-sold the car, minus its vanities, to Vincent S. Zammuto of Illinois.


Cadillac Crazy Carolyn Dippel from California visited with
Lance (and me) on her Cadillac tour of the United States, in 2001
That's her at the wheel of Lance's Brougham

Car #438 has survived; here is the info about it that I got from the owner in Norway: My Eldorado Brougham was imported from Arizona to the U.K. in 1986 And then sold to Sweden in 1987. I live in Norway and purchased the car from Sweden in 1989. I believe the car was sold new in Florida [that is correct, Kurt]. It's a very nice, low mileage car (52K) that still rides on the original air suspension. The car is undergoing a complete frame-off restoration. The dash pad was restored by Mike Rizzuto (it is perfect). New mouton carpet was also bought from Mike. I have also the following vanity items: six drinking cups in their plastic container, plastic cigarette box (with a small crack on the cover), lady's compact and pouch (unfortunately, the comb and powder puff are missing). In the rear seat armrest are also the beveled mirror and notepad (but the Cross pencil is missing - not any more Mikael it will be in the mail probably this month!) and an almost full Arpège Extrait de Lanvin bottle (sadly too, the atomizer top is missing). Mike Rizzuto can supply an excellent repro item, I believe.

Car #439 [lost info in Jan. 2005 "computer accident"; Tore Klerud kindly sent his info again, 2/2006]: Hello Yann. Just wanted to let you know that 1958 Eldorado Brougham # 439 has surfaced. It was advertised at a Norwegian Internet car ad service a week or two ago, I contacted the seller, and got some info and a few pictures of it. Will send you the pictures in separate mails. The car is owned by a Norwegian US car dealer who says he is mostly into Mopars of the late 50ies, but who stumbled across this EB in the USA. It is now in San Fransisco, CA, where it has been for a while, at least from what I understood. The car has been sitting for several years in primer, halfway thru a restoration, with many (if not most) of the chrome parts allready done. Said to be, and looks like, a pretty much complete restoration candidate, even though one would think most of the body work will have to be done again - or at least looked thorroughly over - before paint after sitting for so long. Owner has advertised it for sale in Norway to look for interest prior to shipping, but says he is also open to sell the car in California. He will not name a price, not even ballpark, but will take bids. Late Extra [1/2006] : the car was offered for sale on eBay but bidding ended at $20,165, not meeting the reserve. Vendor said: A great opportunity to own a very rare 1958 Cadillac Eldorado Brougham. Only 304 were hand built in 1958. It is a California car and is 99% rust free. Restoration began 2 years ago. The motor has been rebuilt (car is running). 80% of the chrome has been redone. Body work is in primer. Needs finishing and paint. Original color is black. In the interior, only seats, door panels and carpet partially need to be redone, as well as the air bag suspension and electrical (partially). Airbag suspension pump; however, has been restored. The car does not need much [?] for full restoration This collectors car fully restored is valued to be between $120,000 to $160,000. Car sold orginally in 1958 for $13,074! Wow!! I think the vendor is out of touch with car values, perhaps one or two perfect cars sold in the last 5 years for six figures. The going average for a good, original or restored car is more like $55-80K. Replacing the original beige leather in this car will be costly.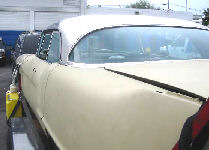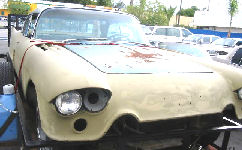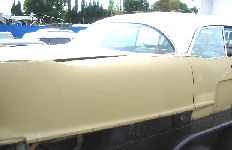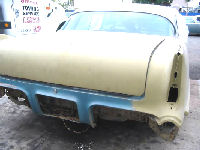 Car #440 is said to have been destroyed

Car #441 [NEW 9/2008] was offered for sale on Ebay; I did not have it previously listed here as a survivor (thanks to all the enthusiasts out there who kindly brought it to my attention). The car is located in San Francisco. The vendor says in his description (I've added some punctuation but left the original spelling and grammar: there was only around 765 of them made in 1957 and 1958 [actually 704 units] [of] which there is not to [too] many left; this one is [has] been in are [our] family for about 33 years; the body is good with no fiberglas [Bondo] on it; also there is no body damage [so] far as I know; 70% of the chrome is good; the bumpers are piting [pitting] and [as are?] the few minor moldings; the inside also is good besides a seam that need[s] to be repaired [see photo]; the carb were [was] rebuilt along with a waterpump and tune up; also there is new tires; all of this was done about 3 years ago. The body tag eveals that, at one time, the car was repainted from the original Platinum Gray to what looks like Bahama Blue.


[ Photos: Internet, 9/2008 ]

Car #442 was reported in New Jersey in May, 1997; it was said to have only 45K miles and was owned at that time by David Barclay, who also has car #294. According to Brougham enthusiast Jean-Claude Franchitti ('60EB #68), this one [#442] was for sale early in 2001 for $26,500. Late Extra (5/2005): David confirms he once owned this car; it was a very good original and is now (2005) in Florida.

Late extra [Feb. 2006]: Brougham "detective", Jerry Jansson of Sweden, kindly pointed out to me a Web page containing some photos of #442 [below] as well as this narrative text: Warren is a 1958 Cadillac Eldorado Brougham, #442 of 705 built in 1957 and 1958. He was delivered December 7th 1957 to Atherton Calif. In 1989 he was sold to a gentleman in New Jersey with just 44,685 mile on the odometer. He was garaged in a climate controlled building until 2000 when his third owner purchased him with almost the same mileage showing. The car now has a little over 49,000 on it The car appears to be an unmolested, rust free original with the exception of an original color paint job in 1989 that is still show quality. Since 2000 the present owner has been upgrading and refurbishing Warren as needed, new air ride system (does not leak down), new correct trunk upholstery, correct mouton carpet set and new fabric and leather as original. Dash pad was rebuilt by Just Dashes. Other items include, new radial tires, exhaust, brakes, shocks, rebuilt front suspension and completely rebuilt AC. Factory radio has been upgraded to AM, FM. Everything on this car works, the memory seat, "auto-start" and even the clock. This car runs and drives like new at freeway speeds or in town with no problems. If you are looking for a rare unusual very collectible car, this might be it. $64,950.


[ All photos: Internet, 2/2006 ]

Car #444 was owned in the late seventies by B. Leland Gunn of Pensacola, FL. In December 2001, I got an e-Mail from enthusiast Chris Hawkins informing me that he was one of the former owners. He had it throughout most of the eighties. He writes: I acquired #444 in the early 80's. At that time it was owned by a collector in Princess Anne, Maryland, who had purchased the car a few years earlier from a Mr. Leland Gunn. Mr. Gunn lived in upstate New York, but kept the car as his driver at his winter residence in Ft. Lauderdale. It was in outstanding condition, with only 43K miles on it. It was Nairobi Pearl (#149) with interior #1212, light bluish-gray Parisienne cloth with matching leather bolsters and mouton carpet. The only disappointing aspect of the car was the upholstery. The cushion inserts had been redone in broadcloth instead of the original Parisienne Cloth. Nice, but not correct. This is the only 1958 Brougham built with this particular interior/exterior combination. A twin was built in 1957 (#223), but it had the Karakul nyloncarpet. The car had what many people regarded as one of the better coil spring conversions done on one of these cars. It rode and handled beautifully. Since all air suspension plumbing and tanks, etc., were still intact on car, I put air shocks on the rear to return the self-leveling feature. I drove the car as often as I could for more than 7 years. Weekend trips of 400 miles or more were common and were made in confidence because the car never let me down, save for an after-market electric fuel pump one hot afternoon. Quite a testament to the quality of these cars, despite their complexity. It was a superb vehicle and the Asian photographer in San Francisco who bought it in 1989 got an excellent car. I know it survived the big earthquake, because a friend saw it a few years ago when it pulled in front of a theatre for a glamour movie opening gala. The driver matched the description of man I sold it to. He was a knowledgeable owner, having owned a Brougham before, so it appears to have been receiving fine care. Chris Hawkins. I wonder if this is Phil Toy, the same photographer and Cadillac enthusiast I met at the 1999 CLC Grand National in San Jose? He showed me some great photographic art of his.


[ Photos: courtesy of Chris Hawkins, former owner ]

Car #445 was owned in the late seventies by Robert Crane of Toms River, NJ.

Car #446 was owned in the late seventies by Dr. Rick Zeiger of Indianapolis, IN. At that time, Dr. Zeiger owned also Broughams #338, 516 and 531.

Car #447 was owned by Hubert Lennart, of Sweden. This car (engine. #58P009605) was delivered first to New Mexico. In September, 2000, it was reported in Sweden where it is owned by the son of the late Bo Tidstrand, Bygatan 8 Möjensgården, SE 793 40 Insjön, Sweden. The car was undergoing a 100-point restoration by Hans Emeren of AUTO-CRAFT [to find out more about this top-notch, Swedish auto restorer, visit their home page]. The brushed, stainless roof was done in 2004. The foregoing info was supplied kindly by Jerry Jansson, a Brougham aficionado from Sweden. Thanks Jerry! Late Extra [Nov., 2008]: the restoration is complete and probably is one of the finest ever undertaken. Sadly the owner passed away shortly after the work was completed; the car is now in the ownership of his son. The Tidstrands have a number of other Brougham projects under way, including 1958EB #569 [below] and 1960 EB #95. They own some amusement parks and wildlife theme parks in Sweden.


EB #447 made the cover (and inside story) in a recent issue of Sweden's Nostalgia magazine:
The late Bo Tidstrand stands beside the completed masterpiece

Car #450 Was reported still in existence, in April, 1999, by Lance Hirsch of the BOA. It arrived in Houston, TX, after a lifetime spent in Mississippi. The car subsequently turned up for sale on e-Bay, in July 2003. It found no buyer. Here is a summary of information previously posted here: The vendor described it as an excellent project car for restoring ... does have small areas of dings, dents and light pitting on some of the chrome ... BB type hole in passenger's side window ... excellent candidate for restoration ... car remained in CA until 1974 when it was purchased at circa 39K miles and driven to Mississippi ... engine locked up in 1975 ... car garaged from 1975 to 1992 ... third owner bought from family of 2nd owner ... stored again until 1999, when we purchased it ... bumpers and some chrome removed to start on the body ...discovered engine was badly re-assembled, resulting in bent push rods ... Late extra

[June, 2004]: This from enthusiast and Eldorado Brougham owner, Steve Kirkwood (#563): The car sold on eBay in June 2004 for $22,600. However, the buyer had a heart attack and wanted out of the sale. The seller (in Houston, TX) let him off the hook and re-listed the car. CLC member Thomas Barnard then bid successfully on the (July 11, 2004 - $19,000). Even Later Extra [11/2004]: After many mishaps the car has finally reached its destination in New Jersey. Here is some additional information from Tom (summary): a) both the heat and a/c controls do not move, along with missing air ducts in the engine compartment. b) the wipers, radio and gas gauge do not work, c) there's a musty smell in the car (I suspect a leak over the back window), d) the white leather on the back seat is very dry and brittle and has also separated at the seams, e) all jack components are missing, f) gas pump keeps on running when battery is connected, g) gas leak underneath the car. I am planning to have the car restored and to retain its original exterior color (Chamonix White) and its interior trim (white leather, trimmed in black leather). I have attached the latest picture of EB#450 parked in my driveway. I will periodically send a picture to you after major areas of restoration have been completed. Thanks Tom, and good luck with the restoration.


[ Photos: Internet, August, 2003 ]


In front of her new home in New Jersey
[ Photo: © and courtesy the new owner ]


Car #451 was is in the hands of customizer emeritus, John d'Agostino of California, in Feb. 2002; he made a mild, if breathtaking custom out of it. That custom job is called Emerald Mist. It was exhibited at the Seattle Roadster Show in 2003. An advertising flyer tells us that 400 of these 1958 Broughams were built (in fact, only 304) and that they were built in Italy (the writer presumably got the '58 confused with the '59-60 models, assembled there by Pininfarina). The custom body work was commissioned from Oz's Kustoms of Oroville, CA; it incorporates a modified front end, resembling the regular Cadillac front clip for 1958. Doors are electrically activated by remote control. Gene Winfield applied the Mint Pearl and Platinum Pearl paint job blended with Candy Emerald and highlighted in Ice Pearl. Bob Devine of Martinez, CA did the interior which is a combination of 1-inch pleats and 4" biscuits; the white pearl vinyl is offset with sea foam green velvet imported from Egypt and there is an emerald Persian carpet. John has also car #33 and is planning a more radical custom conversion of that one. The work may take him another 3 - 4 years. Late Extra [Jan., 2009]: the car was offered for sale by its current owner, who was selling it owing to some health issues. The asking price was $185K.




All photos courtesy John d'Agostino, through Sweden's greatest Brougham fan, Jerry Jansson
At lower left, the program of the 2003 Seattle Roadster Show, autographed by John

Car #452 [correction - 2/2006]2 is NOT in Norway as was previously announced. If anyone has CORRECT information about this one, please contact me. I'm not even sure, now, if it is a survivor. Someone obviously sent me erroneous information.

Car #454 was owned in the late seventies by Richard Serino of Woodside, NY. In (new) BOA Newsletter, Vol. 2, #4 (winter 1990) the owner was listed as Louis Popovich of Farmindale, NY. He told the story of his car as follows: 1958 Brogham #454, originally sold to someone in Florida, was found buried in a storage garage of a mechanic friend of mine in Astoria, NY, in February 1987. It was last registered in 1975 [to Richard Serino?] and had an engine rebuild started that same year. The mileage was 32,535. The engine was well preserved with all three carburettors removed as well as the accessories. They were all in the trunk with unlabeled cans of hardware. Bumpers and front end (hood and fenders) were off and stripped of paint. Most of the chrome was painted white for preservation. At that point, the best part of the car was the stainless steel roof. The upholstery was the beautiful - in its day - light grey Paerisienne cloth with light gray leather. After much research I was able to find an almost perfect match. Exterior is Chamonix white. Once purchased, the car was transported by flatbed to my garage in Farmingdale, Long Island, 40 miles east of Astoria. It was a sad sight and I wodered how the car could be so neglected all those years. After my retirement, in March 1989, more attention was given to the Brougham and it ran again in August 1989. Once some additional mechanical items are made functional, the car will be repainted and re-upholstered. Meanwhile it is running and I drive it around the block occasionally. It does draw attention! It was my long-range plan to "play" with my cars after retirement and I started with five: 1931 Buick, 1948 Chrysler (sold October 1990), 1958 Brougham, 1967 Olds "98" convertible (show car) and 1971 Olds Cutlass (every day and newest car); all run. The cars plus my 20-foot inboard boat that I operate on Long Island sound keep me well occupied and content. For the next 13 years I heard nothing about #454. Then, in March, 2003, this info came in from Kjell Kraakmo of Norway. He said, I owned body #454, but sold it to a friend of mine 4 years ago. It is now owned by Mr. Sigmund Brun, 6683 Vågland, Norway. This car is undergoing a total frame-off restoration and is being converted back to air suspension. A fabulous restoration.

[ no pics at this moment ]

Car #455 was owned in the late seventies by Bill Woodman of Nathrop, CO.

Car #458 was offered for sale at auction on eBay in 2004; reported to be all original with a full history, it carries Connecticut tags. Vendor said: I have known the previous 2 owners and have the entire history. The car is in perfect running order. The only blemish is a slight tear in the back seat which can easily be repaired. You will never see a better Eldorado Brougham! Late Extra (Nov., 2010): it was offered for sale on the web site www.autocollections.com (lots of photos there, but that visitors to the site are not allowed to download them. Price on eunquiry.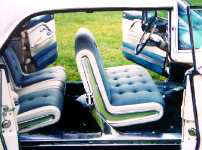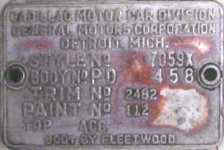 [ Photos: Internet 10/2004 ]
Car #460 was owned in the late seventies by Duncan Emmons of Rancho Mirage, CA. Duncan was an active member of the BOA under the presidency of Cy Strickler. At that time, Duncan owned also the following 1957-58 Broughams: #41, 114, 115, 154, 288, 348, 367 and 525.

Car #461 [current whereabouts unknown] had specially dyed blue mouton carpeting.

Car #462 had disappeared from view since the seventies. According to Swedish Brougham sleuth, Jerry Jannson, the car is currently awaiting restoration at Autocraft, in Vikarbyn, Sweden. According to collector-enthusiast Bill Wetzel of CA, this is one of SIX Eldorado Broughams sold by the Gene Winer Cadillac dealership in Bakersfield, CA. The others were #s 154, 277, 284, 323 & 686

Car #463 was owned in the late seventies by George Graddy of Martines, CA. It was offered for sale in 1997-98 by its fourth owner, the late Allan Dowling, former president of the Brougham Owners Association, who had it since 1985 [sadly, Allan passed away on February 22, 2003]. The original owner apparently was traced to Ricky Nelson, but that has not been documented - in my opinion Ricky Nelson was way too young for this car, in 1957! The car is restored both inside and out at a claimed cost of over $60,000.00. The selling price is $40,000, OBO. The bumpers on the car were redone, as was the interior, including the dash pad. The body paint is Sickens' Carbon black urethane; all glass and the top are near perfect; the upholstery is new and is as close to the original broadcloth [???] as could be found at the time; the carpeting is silver [???] mouton; the car needs a trunk liner. The engine is not original, but a remanufactured 390 CID with a single four barrel carburetor; the transmission also is remanufactured and a mechanical fuel pump has been installed. All of the options are working but the auto start solenoid has been disconnected as it did not function; all the gauges are working as are also the telltale lights; the car is on coil springs. All the vanity items are there, but for the silver Cross pencil and the cigarette case; it has the rare Arpège atomizer; the compact still has all the goodies; the cups are perfect and in their original holder; the original owner's manual is still in the glove compartment. The car comes also with an original shop manual, in mint condition [the vendor claims that the accessory items themselves would run at least $8000.00-10,000.00 if they could be found!]. This car had 76,000 miles on it when Allan bought it, and has done less than 2000 miles since restoration; it has always taken 1st place at shows. In the last three years it has remained in heated storage; it has been driven only infrequently from storage to Allan's home and back. The air conditioning works but does not hold a charge for more than a year or so; the original heater core was in bad shape and was replaced with a standard '58 Cadillac unit, so the rear seat heaters had to be eliminated (these had a tendency to leak). A five-speaker stereo system with a CD player is installed (!); it is hidden from view and no modifications were made to the interior appearance of the car, which has a stainless steel exhaust system. This car comes with a new mild aluminized steel system ready to go in, including the stainless wrap for the front pipes; there is also a set of window frames, some trim and miscellaneous other parts. Allan also owned Brougham #544. In the (new) BOA Newsletter, Vol. 2, #4 (winter 1990), Allan said: You will soon be seeing #466 in the S.S. Nathan's TV commercial to air nationwide shortly. The spot - hosted by Morton Downey, Jr. - will feature cars from around the country and will also feature yours truly and #466. For three hours #466 was taped from every angle, inside and out. I'm confident that what you will see will speak well of the Brougham and help the publicity we need. When you see what Liquid Brilliance does, I hope you will consider ordering a bottle. You can have the shine you see in the ad - give it a try, you will be sold too. Since then, the car changed hands twice; first it was bought by Bob Snodgrass, who later sold it to Bill Warner, Chairman and founder of the Amelia Island Concours d'Elegance in Florida. Bill contacted me in May, 2001. Welcome to the Eldorado Brougham family, Bill. A photo of your new car would be welcome.

[ no photos at this writing - July 2009 ]

Car #465 was mentioned to me, first, by aficionado Jerry Jansson of Sweden [EB #284], in March, 2001]. He mentioned the sale of the car reported to have been owned at one time by singer-comedian Frank Sinatra. It was reported to be "all original", yet photos, below, show non-original sabre-spoke wheels [like 1957 Brougham #336]! It had "documentation" presumably authenticating its Sinatra heritage. Among he accessories, wre a "sliver [silver?] compact" and "six stainless steel cups by fabrege [the writer probably meant Fabergé]" ... which, of course, is b/s. The spelling mistakes and hype suggest that this might be a Kruse ad. The advertised price was $85,000 but the actual selling price is not known. This car was featured in the 70s in Cadillac Connoisseur, the magazine of the Cadillac Club International of Palm Springs, CA. At that time it was owned by a Mr. Neal Gann. As you can see from the photos, the car appears to be painted Maharani Maroon; in fact the original color was Platinum Gray [code #116]. Late Extra [7/2009]: The car came up for sale again at a Bonham's & Butterfield's auction held at Quail Lodge, Carmel, CA, in August of 2009. The car had been owned previously by Sid and Jenny Craig who, according to the B's&B's brochure, had assembled "a small but select collection of automobles mostly associated with celebrities." Inter alia, they owned also an armored 1930 V-16 Cadillac limousine that had been the property of noted gangster Al Capone. That car too was sold at the same auction. Sinatra's car was estimated between $275,000 and- $325,000; it sold for "only" $117,000. In the B's&B's catalog, its third owner, Neal Gann, recounted this story: In early 1958 while on traffic patrol duties as a California Highway Patrolman. I was coming onto outbound Interstate 10 at Towne Avenue in Pomona, California … on a Friday afternoon late. I observed a 1958 Cadillac Brougham eastbound in moderate fast traffic; the car was passing using several lanes. No license plate was displayed, which was not unusual for those years; temporary dealer plates frequently came off. I executed a traffic stop near Ontario Airport. Upon approaching the drivers side I immediately recognized Mr. Sinatra, as I had been a fan since WWII. I advised as to why he was stopped and he said curtly, "You must have the wrong car Officer." I replied, "Mr. Sinatra, you don't see many Broughams at one time," This elicited a grin and a reply of "No, I guess not". I asked for his drivers license and registration. He produced his billfold and had a difficult time finding his license among the many photos and miscellaneous papers. I noted that most of the photos were of Ava Gardner …. [after reflection] I considered how unfair [it was] to cite him just because he was a celebrity. About this time, Mr. Sinatra got out and came back to my position and said "Could you hurry up with the ticket. I'm running late." I then told him … that I was just warning him to slow down and display the registration. I could tell this caught him off guard. He replied with a few expletives and "This is the first time I ever got a break from this kind of situation. As soon as someone finds out you're a [expletive] celebrity they shove it to you." His whole attitude changed from indignant to friendly ...Years went by and I had put this on the back burners of my memory. Then my half brother, who was an avid car collector called me and said, "Years ago you told me about stopping Sinatra in that 58 Brougham! Well, I just bought it at auction." One day he called me and said, "L'il brother, I'm going to give you the Brougham if you will drive and enjoy it." Thus I acquired the car and the documentation. I entered the car in many car shows and it won Best of Show at the Cadillac Club International car show in Palm Springs, California.


[ Older photos of the car from around the 80s ]


From the sticker on the windshield and the badge on the grille, one can tell
that the owner was a member of the Cadillac Club International of Palm Springs, CA
[ These photos from the Bonham's & Butterfield's auction listing ]


"Ole Blue Eyes" car comes with all the vanities

Car #468: enthusiast Bruce Reynolds of Hobart, Tasmania, has located a car similar to this one; he is trying to get the numbers for the Database.


A "finless" Eldorado Brougam, abandoned in the woods ?
[ These three photos, courtesy of the current owner, through enthusiast Bruce Reynolds of Tasmania ]


The picture on the right was formerly identified in error as car #704; however, if you compare
the damage to the front of the car in the first photo (top row), you'll see it's car #468

Car #469 was owned in the late seventies by Al Dinan of Barstow, CA. At that time, Al also owned Brougham #428, above. It is the only car of the 1958 production to have been painted Eton Gray, a medium to dark gray hue. This was not a regular Brougham color but was included, nonetheless, on the palette for the regular Cadillac models of 1957 [code #16].

Car #471 was owned in the late seventies by Larry Muckey of Muskegon, MI. Larry is a long-time Brougham enthusiast. He owns (or owned at one time) cars #2, 241 and 271.


Would the person who sent me this image
please identify himself for due credit

Car #473 was owned in the late seventies by Mrs. C.A. Buerk of Fort Lauderdale, FL. She had it for sale at that time for $5,000.

Car #475 of the 1958 production began life as car #2 of the 1957 production run [see that entry]. This was the THIRD Brougham ever built [chassis #5770-035764]. It was painted "primrose yellow", a special color [code #0 on the original body tag] that was not included in either the regular color palette for 1957 or the special color palette for the new Brougham models. Later, it was re-worked, re-painted black, mounted on 1958 chassis #58P-014243 and sold in 1958 as Brougham #475. The late Cy Strickler had it recorded in the late seventies as belongiong to Larry Muckey of Muskegon, MI. At that time, it was reported to be still in fine condition. Larry owned also car #471 (he was of great help to me in piecing together the story of the 1956 Eldorado Brougham town car, special, Motorama model). Late Extra [8/2002] I got this message in the Cadillac Database "Visitors' Book" from enthusiast Glen Durmisevich: I owned this car from 1978 to 1984. In addition to Cy Strickler's info, Body #2 had a 1958 VIN #58P014243. Door panels were labeled #475 [which fits the 1958 chassis number]. Previous owners include Francis J. Novak, Larry Muckey [noted above], Dr. Rick Zeiger, and myself. The car rode on springs. I sold it in 1984 to Fred Collins in California. I have photos after I painted this car and used it for my wedding. Latest [2/2010] Glen provided some photos of this car, which he once owned, after the body had been removed at the factory and put on 1958 Brougham chassis #58P014243. Glen pointed out that the structure in the background is not Meadowbrook Hall, he was told it was more likely the stone-built mansion of one of the Fisher brothers, located in the Sherwood Forest/Palmer Woods Subdivision in Detroit.


Here is 57EB#2; this color photo always intrigued me; it was featured on the rear cover of a 1957 Cadillac "mailer" brochure entitled, "You and your Cadillac"
[the emphasis actually appears on the cover title]. Factory records show the paint code for this car to be "0" [i.e. special order]; the only 1957-58 Brougham to have
been painte

d a special order color is #2 of the 1957 production run; this photo is believed to have been taken in front of one of the stone-built mansions belonging to
one of the Fisher brothers and located in Detroit's upmarket Sherwood Forest / Palmer Woods subdivision; the body was later removed from the chassis, repainted
black and installed on 1958 Brougham chassis #58P014243 [ photos below, © and courtesy of Glen Durmisevich, a former owner ]


The story of EBs #2 and #475 begs the question:
how many 1957-58 Brougham bodies were effectively built?
Was it 704 or only 703?


Car #476 was owned in 1999 by a WW2 submarine veteran in N. Michigan. One of the previous owners (not the original owner) was TV/screen personality, Mary Tyler Moore. The car is on springs and is described as being in "show" condition (attended Meadowbrook in 1999); it is the car featured in the Nicky Wright book, "The Enduring Legend" [photos below]. Some of the vanity items are there ...but no Arpège atomizer! The "memory seat" has been disconnected but it has a 6-way power front seat. Painted black (#110) when new, it has been repainted a gray-mauve hue, similar to the original color of our 1960 Eldorado Seville [code #99, "Heather" metallic]. The car changed hands [1/2001] and went back to southern California, its original destination in 1958. Aaron Weiss, the new owner, added this in the Cadillac Database "Guest Book" in Feb. 2001: I am now the owner of 1958 Brougham #476. The car is not exactly in "Concours" condition. The paint is fading out and the interior too is tired. Mechanically the car runs, however many of the accessories no longer operate or have been circumvented with "after-market" toggle switches, etc. A bit of a project car. I am currently interviewing various restoration shops and hope to start work by May 1, 2001. It may take at least a year to get it back together again. In November, 2002, Mr. Weiss wrote: Since I last contacted you, the car has undergone a complete frame-off restoration by Harry Nicks of Nicks Old Cars, Redlands, CA. The car has been taken off air ride, but except for that, everything else has been restored to its original glory. Since he last wrote, the restoration of Aaron's Brougham has been completed (March, 2003). Since that time it has been entered in many shows, It won 1st place in its class at these Concours d'Elegance : Huntington Beach, Thousand Oaks and Hillsborough. It was also awarded the "Most Elegant" prize at Palos Verdes.


After restoration in March, 2003
[ Photos: © 1989, Nicky Wright ]

Car #477 was owned in the late seventies by Kent Kenneth Kenney of Atascadero Colony in CA.

Car #479 was purchased 4/2002 by Brougham enthusiast Jean-Claude Franchitti [60EB#58 and #68]; this one was last mentioned in a list of survivors more than 25 years ago. He bought it from Kent Lacy who owned the car for 30 years, and had it safely stored for 21 years. The odometer shows 21K miles, which appears to be original mileage based on the overall condition of the car. It is Gun Metal Gray [Deauville gray, code #118] with a Blue Grey interior [trim code #141 - originally had the mouton carpet, code #2]. He says it is in good condition, needing only some freshening up. This one has an original Evans vanity case that Jean-Claude found on e-Bay in 2003.

Car #481 [NEW, Jan., 2009] was up for sale on Ebay in January 2009. Located in New York state, it was described as a : 1958 Cadillac Eldorado Brougham - Style 7059X, Body 481, Trim 2322, Paint 122. Very Rare Car. Color Bahama Blue [factory records show the original color to be Lake Placid Blue - perhaps it was repainted]. The asking price was $19,900. Vendor said he may part out the car, which has no title. Thanks to Michael Brooks for the tip.


If the condition of the body tag [above] reflects the actual condition of the car, then this
"survivor" may join the ranks of the rare Eldorado Brougham "parts cars",


[ more images to come]

Car #484 was owned in the late seventies by David Barclay of Colts Neck, NJ. At that time, David owned also Brougham #294. Late extra [2/2006]: the car apparently sold in Boca Raton, FL [at an RM Auction] for close to $178K. A record.

Car #485 was owned in the seventies by Dr. C.S. Gonstead of Mount Horeb, WI. It was described as a collector's item, in the late seventies; it had a reported 32K miles; at that time, the owner wanted to trade it for a '77 limousine (!) This car is one of only four 1958 Broughams painted Maharani Maroon [code #152]. This car was spotted on a classic car lot in Sarasota, FL, in 1992, by Dr. Alan Lease of Atlanta, GA. For more information, he gave the name of Paul S. Edenson, as well as this phone #: (813) 365-1940. A second Brougham also was offered for sale on the same lot : #246. The car was subsequently offered for sale in the "Self Starter" in January, 1995, for $40,000 [a Phoenix, AZ phone number was listed - possibly the Barrett-Jackson group of Scottsdale, AZ]. Note that there were only four 1958 Broughams painted that color: #424 [which is not believed to have survived], this car [i.e. #485], car #548 [definitely not this car, since this one had the small back light by Derham] and car #591which was previously in California and is now in Illinois (see below). This car may have been owned by Ken Gimelli of Saratoga, CA; it is described on p.44 of the 30th Anniversary issue of the the "Self Starter" (1989); at that time, the Gimelli car had a reported 44K miles and included the vanity set, the notepad and the cigarette case. Wayne Meadlin of Fort Worth, TX, informed me on March 8, 2000 that a Maharani Maroon 1958 Brougham was currently owned by Lee Sicilio, a Fort Worth neighbor of his and an American Airlines pilot. The current owner told Mr. Meadlin that he had found the car in California about 8-10 years ago, which might indicate it is the one formerly owned by Mr. Gimelli. Late extra, July 2004: Brougham owner Kent Steine is familiar with this car. He wrote: While going through your pages I noticed that you do indeed have the Gonstead (#485) car on the Database. When Dr. Gonstead owned the car ( 1962-1978-9?)....it was painted Desert Bronze. He drove the car every day, year round; during the winter of 1965 he ran into a snow plow...there was damage to the entire front clip, and frame. The Doctor was always at our house to have my dad look at, or fix this car (my father was an electrical engineer, and knew the Brougham like the back of his hand). This was during the time my dad had purchased numerous new parts, and ended up trading with the Doctor his banged up bumper for my nice original and $250.00. I still have the Gonstead bumper. The car ended up being a "putty-box"'; it had serious rusting problems even back in 1965. It was also in rather poor mechanical condition and had over 60,000 miles on it at that time. This car sat outside the doctor's chiropractic practice, unattended, until around 1980. In 1974 I attempted to purchase the car from him, and had another good look at it. It was not running, and Doc Gonstead said he hadn't driven it in years, but wanted $2K (which was more than I felt it was worth at the time). I would have been purchasing it solely as a "parts-car". It was stripped of vanities, air-cleaner, hubcaps, etc. I believe the car was ultimately sold through his estate.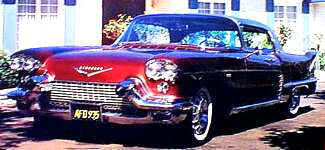 This is NOT #485 [one of four painted Maharani Maroon], formerly owned by CLC member, Ken Gimelli
Car #486 was owned in the late seventies by Bill Markel of Denver, CO. At that time, Bill owned also Brougham #379, above. In Dec. 1999 I got this message from, T. Beard, a Database reader: "I am a recent new member of the Cadillac-LaSalle Car Club and a fan in search of a Brougham to own. I wanted to update you on #486 (1958). I just saw it today at Ragtops Motorcars in West Palm Beach, Florida. It survives, but in sad shape. Been neglected for many years now. They are trying to sell it, but I found it too sad to take on. Stored outdoors with right rear window down, trunk won't close, held off the frame by wooden blocks. Air suspension appears to be intact, but non-functional. Lots of wiring problems, chrome bumpers are very bad, carpet ruined, most accessories don't work, but it still runs. Appears to be 99% complete except for zero vanity items. Someone added cruise control from a '59." In October 2000, I got a message from the person who bought this car and will begin to restore it. In February 2001, I got also this note from friend and Cadillac aficionado, Sal Darigo in PA: According to the seller, a gentleman named Ty Houck of Ragtops Motorcars in West Palm Beach, Florida, the car was originally delivered to a member of the Marriott family. Mr. Houck said he first bought the car from the Marriotts in the 70's and then sold it to a Cadillac dealer in Florida as a traffic builder. When the Cadillac dealer defaulted on the payments, Mr. Houck repossessed the car. It then apparently sat for a while before Mr. Houck did some minor work on it a few years ago. He was selling it for "under $20,000" which was as detailed as he got since I wasn't a hot prospect to buy the car. Overall, it's pretty solid and about 90% there, but it needs a lot of cosmetic work. I don't know how it is mechanically as the owner wouldn't start it for me. Late Extra [Sept., 2004]: And now this just in from the new owner, Herbert Sarwin: as for my 1958 Eldorado Brougham #486 it has been repainted Lake Palcid blue (code #122). It looks great. One of the prior owners was Bill Marriot of the Marriott Hotel chain. My next project is to fix the air suspension. I have a lot of input from GM and from those who make air bags for low riders and SUVs. If anyone has any input about air ride for the '58 Eldo I would be happy to hear from them. Write HERBSAR-at-AOL.COM ...but replace -at- with "@".


Brougham #486 [Photo: courtesy Sal Darigo, PA]

Car #489 [NEW, 11,2007] was brought to my attention by an American collector living in Hungary. Thanks for another great find, Tom. Eldorado Brougham sleuth, Jerry Jansson, found it advertized on this Swedish Web site. I have copied [and slightly edited] this information about it: Eldorado brougham 1958, same owner for the last 35 years, car is rust free always garaged inside and very little used, all matching numbers car, engine runs perfectly starts immediately but has not been moved in the road since long, tranny works fine too, car has been repainted long ago but paint is still strong and good exept for very little dots in and there, medium blue metallic very elegant, air ride no longer mounted, has normal shocks, typical conversion, all original interior in very good condition [so far as I can see from the published photos, the interior has been retrimmed, albeit in the wrong pattern - the door panels appear to be original], not 1 single thing damaged, all tinted glass is original and in exellent condition, not 1 scratch anywhere, all electrical inside works (windows, seats with 6 memory and so on), radio works too, NO vanity kit NO trousers [not sure what the writer means???], headliner in great condition, carpet is NOT original, front end is all intact, complete, needs work on a side spear (broken), small detail on rear bumper, original tailights are cracked but in 1 piece, has 5th wheel in the trunk with original rim, hubcaps are in so-so condition (used but not perfect), underneath clean overall, the odometer shows 1119 miles only, no idea if these are original, has factory-mounted A/C, stainless steel top in perfect condition, doors close very smoothly and tight, without any effort; this car has been carefully preserved for the last 35 years, a great fully running car. Has all the paper work.


The car was repainted from black to this dark blue color


The seats have been recovered (left) but the door panels appear original (center)

Car #490 was owned in the late seventies by Jim Hansen of Alta Loma, CA. At that time, Jim owned also 1959 Brougham #41.

Car #491 [NEW, 6/2008] was not previously listed in the roster of survivors. It came up for sale on Ebay, in June 2008, by Michael Rizzutto of California, the well-known "Brougham guru" among the fraternity of Eldorado Brougham owners/admirers. He says the car has been sitting at his shop for 7-8 years since the previous owner passed away. The white-on-white car belonged originally to Mrs. J.L. White, of the White Supply Company, in Waterbury Connecticut [hence the color choices, no doubt]. Since it has been in Mike's care he has done some $35K of work on it; he rebuilt the complete air ride system [Mike's specialty], the brakes, automatic starting system and carbs; he has serviced the fuel and cooling systems, changed the fluids, tires, etc. The car is mostly excellent except for some typical bumper and wheel imperfections. As to its value, Mike is expecting around $110K, which is less than the current investment in it; as a pointer, he mentions an Ebay sale in April 2008 for $125K of a car he had worked on but was not perfect [what was the body number, Mike?] and a sale by RM in Florida for $225K, again for an imperfect example with nice paint [again Mike, what body number?]. He says: It would be very hard to find a better un-restored Brougham than this one. This is about as good as it gets without doing a complete restoration. This car can be made drivable within a week or so. (Currently the fuel system is all rebuilt, but disassembled, along with one rear air dome, and a few other minor mechanical parts) If you bought this Brougham it should be relatively easy to get back on the road. You would not have to do a complete restoration to drive it. You could simply assemble the mechanicals and drive it as is. To be perfect, he admits it would need new paint, some chrome, a dash, trunk lining and the leather trim dyed.

Mike does not mention any vanities; I assume there are none.

Late Extra [9/2008]: the car is again up for sale on Ebay. I did not follow the prevous auction so I'm not sure how far the bidding wentm, first time around. I'll keep a better eye out for this one.


[ Photos: Internet web site ]

Car #492 was offered for sale in the late seventies by Robin All of Hanahan, SC, for $4,000, then by Henry C. Davidson of Bluffton, SC, for $5,500. He said it was a one-owner car, converted to springs, with a rust-free body and original interior. Late extra [thirty years later, June, 2004]: according to enthusiast John Stott of Santa Clara, CA, the car is again being offered for sale, this time at auction by Kensington Motor Group, Inc., P.O. Box # 2277, Sag Harbor, NY 11963 (tel. 631-537-1868). The car is a repaint from white to red and has been converted from white leather to red leather trim.


[ Photos: Internet, June 2004 ]

Car #493 was re-discovered in a warehouse in San Francisco. This just came in [May, 2008] from enthusiast-admirer, Stephen Adams of Carmel, CA:

I recently discovered the location and owner of #493.

It's been in storage for more than 20-years, in a warehouse on the south side of San Francisco.

The owner operates a chain of car washes in the

San Francisco Bay Area

, and lives in

Sausalito

.

He has no plans to restore or use the car, and the way it has been placed in his warehouse, it would be difficult to extricate – though not impossible with wheel dollies. The car appears to be intact, is still on air, and is up on blocks.

The current owner purchased replacement diaphragms when they were available, but never installed them.

All but one vanity item is long-gone.

The previous owner lived in

San Francisco

, and reputedly the owner before that lived outside

Sacramento , CA

.

Good work, Stephen.

Car #494 was listed in an earlier roster of survivors [1977-78] as being in excellent condition. In July 2000, Vic Brincat of Canada (Brougham #402, above) reported it to be a parts car. It has no bumpers and is missing much of its trim. The engine block is still there and possibly the air ride components. The interior is devastated, but the seat frames and dash are still intact The car was offered for sale at auction on eBay in April 2005 and found a buyer for a tad over $2,000.

It was described thus: Here is a rare find.... not only is it a 1958 Cadillac, but it's even a Brougham. It has factory suicide rear doors, and a stainless steel roof. As you can see by the pictures, this is being sold "as is , where is" meaning you get what you see and it is your responsibility to pick it up. This vehicle is suitable as a donor vehicle, with many good panels and trim pieces. I would not recommend buying this with the intent to restore it, unless you have some finely honed restoration skills. The Internet photos below show the "remains" of this one-time beauty [four down, 700 to go!] Late Extra (4/2005): Enthusiast David King has acquired the car (lower photo); his plans at this time are not known but I am sure he will keep us informed. Additional info (5/2005): former owner, David Barclay says he sold this one as a parts car. Unless David King informs me to the contrary, I shall continue to consider this as a "parts car". Latest (4/2008): David has not yet had the nerve to throw away the remains of this car; he tells me he got it from the person who restored EB#627.


Photos (above two rows) : Internet ad


Above photo: Enthusiast David King prepares to tow his prize home


Car #495 was owned in the seventies by George M. Jackson of Sanford, N.C.; it came with the original owner's name engraved on the key and a special key-holder featuring a stylized Cadillac El Camino dream car1.

[new photos - Ebay 2008 ]

Car #498 was owned in the late seventies by Marshall Horn of Tulsa, OK. He offered it for sale for $6,000 saying it had been reportedly owned by an "international celebrity"; your guess is as good as mine!

Car #502 was owned in the late seventies by Harry Grant, Jr. of Lebanon, PA. At that time Harry owned also Brougham #253. This car is mentioned in the Barrett-Jackson auction catalog results for 1996, where it is identified only by its engine number [#58P-022059]. Originally painted "Deauville Gray" with gray cloth and leather upholstery, it appears to have been repainted "bronze/brown". The odometer reading shows 54,322 "original miles". The BJ results state that the car has working air suspension and includes the following "front and rear vanities": "magnetized silver tumblers, cigarette and tissue dispensers, lipstick and Arpège cologne." The beveled mirror and the Evans special Brougham compact are not specifically mentioned.

Car #504 apparently may have survived; here is the message I got from Brougham enthusiast Michael D. Brooks : I talked to a guy today who owned 1958 Brougham # 504 (not listed as a survivor); he sold it about 8 years ago (1994). He said it had "most" of the vanities and was in wonderful condition. The selling price was $35,000 at that time. He knows of your database and I encouraged him to write you and give all the details. This was an "Export" Brougham, Michael. We now await more info and, possibly, a photo or two.

Car #505 is in Australia where it was converted to RHD in 1978.

Car #506 was owned in the late seventies by William Winner III of Boulder Creek, CA. At that time, William owned also Brougham #555, below. In late 1999 it was offered for sale for $40000 by Mike Rizzuto, who said he had $60000 invested in the car. It had a reported 40K miles, a new engine and transmission and it was "partly disassembled". This car is in Sweden where it is being restored for a mysterious "Mr B" by Hans Emeren of Autocraft in Vikarbyn.

Car #507 was owned in the late seventies by Keith Deen of Brisbane in Australia.

Car #509 was located in September 2005, in Birmingham, AL, by a Cadillac enthusiast who calls himself "Jimmy". Jimmy writes: By sheer coincidence, I stumbled upon the first Eldorado Brougham I've ever seen in person. It was parked in the back lot of a local Cadillac dealership here in Birmingham, AL. It is in rough but seemingly restorable condition. It appears to be 90% complete as far as everything being intact goes. The vehicle has 1979 AL plates on it and, according to your records, was also originally delivered to AL.


This one is not for the faint-hearted. It certainly looks almost complete and restorable
[ Photos: © 2005, "Jimmy" ]

Car #510 was reported recently in the possession of a Mr. Jermone Wright; further details are sought. Car #511 [NEW, 2/2008] was reported to me as a survivor, by the son of the owner, in February, 2008 >>>>> [more to come]

Car #516 was owned in the late seventies by Dr. Rick Zeiger of Indianapolis, IN. At that time, Dr. Zeiger owned also Broughams #338, 516 and 531. This dark blue car with white leather upholstery currently was offered for sale for $50K by the Volo Museum of Indiana in May, 2003: http://www.voloautomuseum.com/showroom.html




Car #518 was owned in the late seventies by Richard Wallace of Greenwood, SC.

Car #520 was owned in the late seventies by Rudy Stahl of Toledo, OH. At that time Rudy owned also Broughams #155, 167 and 241. An article on one of Rudy's car's was featured in C&P. Feb. 1979, pp.10-15 (that car may have had all the vanity items). Enthusiast Claude Walker reported in December 2002 that car #520 currently is in the Oberhaus Museum collection in Archbold, OH, which is about 70 miles west of Toledo. The museum also had a parts car but no one seems to know of its present whereabouts [possibly car #155?]. Thanks for the info, Claude. This from the museum, in May 2003, in reply to my inquiry: Oberhaus Enterprises has a 1957 Eldorado Brougham, VIN NO. 5770102030, Style: 57-7059x, Body no. 155, Trim No. 1380 ["138" = light gray Bayou cloth upholstery with white leather; final "0" corresponds to special order carpet, being Karakul nylon [imitation Karakul wool] in the front compartment and white lambskin ("mouton") in the rear]; Paint 118 [Deauville gray]. We also have a 1958 Cadillac Brougham Fleetwood, VIN NO. 58P021928, Style No. 7059X, Body No. 520, Trim No. 2122 ["212" = medium blue Mojave cloth upholstery with medium blue leather; final "2" corresponds to white mouton carpets], Paint No. 110 [black]. This car may have been owned first by the late Geroge W. Ritter, a prominent Toledo attorney and philanthropist, long associated also with the Willys-Overland Motor Co. He died in June 23, 1979 at the age of 92. Late Extra [4/2009]: the car was listed in Hemmings for May, 2009, by Troby's Memory Lane.


Car #521 [current whereabouts previously unknown - 1974-2008] Late Extra (Jan. 2008) : The owner contacted me to report that the car had survived and is in the process of being restored. he wrote; Yann, I would like to inform you that serial number 58P021440 [car #$521] belongs to my 1958

Cadillac Eldorado Brougham

which I've owned since 1983. The data base shows it as being destroyed, I believe. Good news, It Lives!!! Restoration was started on it 25 years ago twice but both restorers relocated so it sits unfinished in my garage. It a Deauville Grey car with Medium Blue and White Leather [these are the original colors and trim according to the body tag codes]. Please update your database reflecting this info [done!]. Thank you for the meticulous work you do on the Cadillac Registry. Naif Makol. This car had "special order" black Karakul nylon carpeting in lieu of the white mouton usually associated with its color combo (this is shown by the "0" in the trim codes). Thanks for saving one more Brougham, Naif! Later [Feb., 2008] Naif sent this complementary information: 35,000 mile car, Duvall [Deauville?] grey / medium blue & white leather interior, unsuccessful spring conversion [using] Duncan Emmons kit, I purchased the car in 1983 in Providence RI, perfect body, needed paint, interior just about perfect; in 1983 my restorer started on the car then quit; the car is in primer with chrome off, gauges restored; in 1984 another restorer disassembled the interior, removed hood, stripped engine compartment but for engine then quit restoration and moved away; the car has been sitting under dry storage ever since. Later still [Dec., 2010] Naif wrote again: Since I last contacted you regarding car #521 new developments have occured. I have given title and the car to my very close cousin Don Ghareeb (now new owner) to do with it as he may. He contracted Impatient Creations a restoration shop in Alabaster, Alabama, near his home, to complete the restoration that was started by two previous restorers who decided not to finish. They will be doing a highly detailed comprehensive frame off restoration on this low mileage, great specimen car and hopefully will be complete for participation in the National Cadillac show in August 2011. Another one comes full circle ! I will keep you posted so you may add all this info to the database pages. Latest [Feb., 2010] Naif added this information: …I gave my 1958 Brougham to my very close cousin, Don Ghareeb from Birmingham, AL, in November 2010. I had no immediate plans to restore the car so I thought it best to take that action. Don, with my help, will fully and correctly restore the car immediately to a high standard, as we are both avid purists. We commissioned "Impatient Creations", a restoration shop in Alabaster AL, 20 miles from Don's home, to complete the restoration that I had started 25 years ago. They began the restoration in early December [2010] after transporting the car to Alabama from Connecticut. The car will be completed in time to be shown at the Cadillac Nationals, held in August 2011. Attached are some pictures of the progress of the restoration to date (1/25/11).

http://impatientcreations.com/Current_Projects/58_Cadillac_Brougham_2.htm



[ Please note that the foregoing Web site is outside the control of the moderator of the Cadillac Database ]

Car #522 [NEW - 4/2007] was brought to my attention by enthusiast Doug Folsom who saw it advertized for sale on the Internet by Midwest Muscle Cars for $59.5K. This one like many others has been converted to coil springs; it shows just over 89K miles on the odometer. It was NOT previously on the survivor roster so it is one more welcome addition.

Car #525 was owned in the late seventies by Duncan Emmons of Rancho Mirage, CA. Duncan was an active member of the BOA under the presidency of Cy Strickler. At that time, Duncan owned also the following 1957-58 Broughams: #41, 114, 115, 154, 288, 348, 367 and 460. Late extra [Dec., 2008]: the car has been advertised for sale as an "unrestored 95% original car" by Matt Garett of Dallas, TX. Any interested buyers or potential buyers may contact Matt here: Cadillacman@mcsmk8.com. Latest [Feb. 2009]: the owner has just written to say there has been an error; the car is NOT for sale. He writes: My name is Jim Hailey and I think you do a fantastic job. I go to your sight several times a month for information and curiosity. I am also a CLC member and have been a Grand National judge as well. Please allow me to point out of couple of mistakes on the update of car #525. The car is mine, paid for by me, titled to me, and owned and cared for me. Matt Garrett is a fantastic friend of over 20 years and is as deeply into cars as I am. We share storage and help each other with our classics. The car is not owned by Matt Garrett, although he does have many fine Cadillacs. The car is the best preserved, original, 50 year old car I have ever seen. All original except for a quality repaint due to lacquer checking from age and not neglect. When I read Jim's note, I thought perhaps Matt had played a prank on his friend, but Jim later added [Feb. 8, 2009]: Matt has around 40 cars and maybe he just got mixed up, heck I can't even keep my 10 collector cars straight. Please don't call him a prankster, he is too good a friend for too long for that. Car #525 is still riding on its original air suspension that has been maintained and works well. It also has all the original vanities, not reproductions like so many we see now, original spare, and all original and mint chrome and stainless. It also has the mouton carpet option. It was the nicest original I could find after a long multi-year search. The quality of these cars is impressive to anyone familiar with any make of automobile. Thanks for everything you do!


[ Photos: © 2008 and courtesy Matt Garett ]

Car #527 was owned in the late seventies by David Horchler of Milford, MI. I saw it offered for sale also by Tony Grimaldi of Pontiac, MI, for $6,000.

Car #529 is in Sweden; it was imported there from Sacramento, CA, in 1989. It is being restored by the owner [this info from Jerry Jansson, Sweden]. He writes: Regarding EB58#529, I just got an OK from the owner to have you add his name to the info. It's Mr. Tomas Misjujev of Gavle Sweden, he has not started the renovation yet and has a 58 Olds and a 59 Biarritz to finish first! He is also the one bidding for the two EB59's on Internet. He is bidding for his brother Henrik Midendal who also owns EB60#28!

Car #531 was owned in the late seventies by Dr. Rick Zeiger of Indianapolis, IN. At that time, Dr. Zeiger owned also Broughams #338, 446 and 516. Late Extra (5/2005): the car has been acquired by Joe Rubert of Memphis, TN who says: I recently acquired my third Eldorado Brougham. #531. Suspension converted, no vanities; hope to start rebuild in September '05. Well, good luck Joe and do send some pics as the work progresses.

Car #532 was offered for sale on Ebay in July 2014 with a Buy it Now price of $149,000 and did not sell. The vendor's description read: This car was purchased from a long time Brougham collector whom purchased it in 1971! The car was essentially INDOOR stored for all these 45 years. The car has been cosmetically detailed, top to bottom this year. The paint is old and with flaws...it was color sanded and polished, but remains VERY presentable. The hood reflects yourself like a full length mirror! REALLY! There is or was NO RUST! Zero rust repair. This car was NEVER under coated, the underside was only RED OXIDE finished originally ..and that's EXACTLY what we duplicated. There was ZERO rust repairs done anywhere, NONE! THERE WAS NO RUST! No floor rust, no rocker rust, NO RUST! ZERO RUST. The floor (spare tire well ect.) was dented from failed air suspension. All new brake system hydraulics, original engine #58P028297, all new exhaust system (car still had its original exhaust, but very poor condition) 4 new shock absorbers, 4 new tires (had vintage gold stripes), engine cleaned and regasketed, rebuilt tri power carburation and fuel system, (this car STILL had original intank fuel pump), cooling system radiator service, new waterpump, hoses, belts, freeze plugs all fluids and much more. The all electric power trunk fully functions, open and close! The trunk lining is all original and mint as well! The autronic eye works too! The electric windows were lubricated and ZIP effortlessly both up and down. Power door locks work, Fully automatic Power antenna and fully transistorized radio (industries first) work. Functioning lighting, ie. fog, parking, turn, back up, dash, idiot, brake, headlight, courtesy, glovebox ect. ALL dash gauges and idiot lights work to some degree (consider them as 'just a suggestion' !) including fuel level and low fuel light. Horns function too. Memory seat remembers EXACTLY where it stopped working in 1959, however all components seem intact. The motor does operate... but seat does not move. All doors open properly without broken assist springs (common problem). The air conditioning system was NOT serviced, compressor is free and does turn. The v-belts were removed to prevent damage. The heating system has not been reconnected to a water supply. The cooling system was stored with ample antifreeze and virtually no corrosion was found. The original radiator was tested and found to without any issues! The steel coolant lines under car (to heating system) are still very sound and serviceable with out any rust out. Drum style clock WORKS! Henley 6/4/58 hand written on the clock case, Oct 57 is stamped on it. 2) Vacuum Windshield wipers WORK! And work well! 23,600 odometer, miles not 'titled' or recorded as actual. Vehicles over 10 yrs old "miles exempt" NEAR FLAWLESS ORIGINAL WINDSHIELD! Warehouse INDOOR stored since 1971! Always RUSTFREE! Outstanding original chrome! Amazing! The all black interior still has all its ORIGINAL leather! Original dash pad. Perfect original headlining ect. Runs absolutely great! Very Nice driver! Not on Air suspension anymore. FRONT glovebox includes ALL VANITY items: 1) Kleenex dispensor 2) full length mirror that folds out to a shelf for drink cups 3) 6 magnetized drink cups with clear acrylic case 4) ladies compact, leather and stainless bound A) clear Acrylic comb B)embossed square metal lipstick holder C) spring loaded coin holder (nickels for pay phone) D) loose cigarette holder E) metal covered face powder cavity F) Evens powder puff G) mirror 5) clear Acrylic cigarette pack holder. REAR ARMREST includes ALL VANITY items: 6) 1oz bottle of Arpege Extrait de Lanvin 7) gold finish atomizer (screws on top of bottle) 8) leather bound note book and mini cross mechanical pencil with paper 9) leather backed hand held beveled mirror. See pictures. Car #533 was located in New York City in March, 1999; the owner contacted me after seeing the Cadillac Database on the Internet; he says the car is original, with a black body, white leather upholstery and the black Karakul nylon (Code #1) carpeting. The owner rates his car as a "5", on a scale of 1 [poor] to 10 [perfect in all respects]. It has been converted to coil springs; it has none of the vanity items. Late extra [12/2007]: thanks to owner-enthusiast Michael Brooks for bringing to my attention the fact that this car would be auctioned off at the Borgata in Atlantic City on February 28, 2008 [Hemmings Motor News ad]; I did not get the results of that aauctikon. Latest [03/2009]: The car popped up on Ebay with a $50K starting bid. The vendor admits that it is not a perfect car as it is in need of final restoration, though it has some very good chrome.


[ Photos: Ebay, 3/2009 ]

Car #535 was listed as a survivor, already back in theseventies but I had no idea of the car's actual whereabouts ...until December, 2008, when the current owner, CLC member Jim Hailey, contacted me and provided this information about it: I am a collector of classic Cadillacs and have, since about a year ago, had #525 among my collection. Indeed it is the crown jewel of my collection. This is a very well preserved original with nothing more than maintenance and one good quality repaint. It is still on the original designed air suspension (works great) and I have all the original vanities. I am currently refurbishing the interior with the correct black mouton and correct all white leather. It was the best preserved 50 year old interior I have ever seen, and still very presentable, but I want the car to be like new so I am sparing no dime and getting all the absolute correct materials. I will try to find out from Jim if he was able to get any information about the car's history, prior to his acquiring it in 2007.

[ images to come]

Car #537 [NEW, 6/2009] belongs to Peter Krell, in Texas. It was brought to my attention recently by owner-admirer, Michael Brooks; his information was confirmed, also in June 2009, by another enthusiast, Jon Crissman. Peter had intended to bring the car to the annual J.C. Leake auction in Tulsa, OK. An unfortunate power failure prevented him from making the trip. Black with white leather interior, the car has been repainted from white. The vendor's description reads: Resto rod- powered by a 1976 Cadillac 500 motor, 400 turbo transmission, subframed from the firewall forward to include front power disc brakes. Later rear end assembly. Other modifications include a stereo and after market auxiliary gauges, new wide white radials on Sabre wheels with new center caps and NOS medallions. Only 3,000 miles on restoration with 84,000 original miles on car. Late extra [7/2009] the car was offered for sale on eBay. At the time of this update, a full set of photos were viewable here: http://www.petesclassiccars.com/1958eldorado/default.htm. Latest [3/2010] this came in from the current owner, Martin Bock, who bought it from Peter around the beginning of 2010: I sent an email to you earlier, but am not sure you received it [actually, Martin, I have a considerable backlog of eMails and photos to be processed; unfortunately, this is a single-handed undertaking and as you can imagine it takes a lot of time to keep up-to-date an information resource comprising some 8,500 screen pages and over 39,000 images!] I purchased #537 on eBay from Peter Krell in Dallas about 2 months ago. It still had electrical problems as you had posted, but I drove it the 900+ miles to Colorado Springs anyway. The only problem during the trip was a failed fuel pump, which was replaced, along with the carburetor. I have since been able to purchase a broken front license plate bracket from Mike Rizzuto, Masterminds, and I believe it was the only missing exterior part, except for all of the Cadillac badges, which were removed during the resto-mod restoration. The bracket has been repaired and will go on the car, which is getting the electrical issues resolved at this time. I have no plans at this time to change out the drive train and expect to just drive the car and enjoy it. I hope you receive this update on #537 - Martin Bock, Colorado Springs.


The body tag (center image) appears to have some extra numbers at bottom, right; what are they?
[ Photos: Leake Auction Co. catalog, 2009 ]

Car #539 was owned in the late seventies by Al Tauriello of Las Vegas, NV. Late extra [4/2006]: this just came in from collector-enthusiast William Link: I have just purchased Eldorado Brougham #539 in Arizona, vin # 58 P035234. The car was purchased from Las Vegas in 1/84. It is rust free, so I will assume for now it had always been a Nevada car? The Database reports that 2 Broughams were sold in Nevada in 1958. My seller reports #539 was black in 1984 when purchased. Data plate however is stamped 112 (white) with a black and white leather interior. The prior owner had disassembled all chrome for a total repaint in black in mid 1980's and never reassembled. Rear bumber was re-plated. Painting was actually completed in lacquer...and is now again lacquer checked. I would certainly repaint the car in its original white color. A NOS windshield, with gasket was scored and installed in the '80's, having broken the original attempting to replace just the gasket. Loose vanities are reported and presumed missing. The right rear fender trim is known to be missing (i.e.: I need one!) and the grille may be 'missing' as well (also needed). The car is on coils. The drive train and dash are intact, the car runs. Miles are 049k. Thats what I know to date and will know more as I prepare the car for the move across town.

Car #540 currently [April 1999] is in Venice, CA; it has a couple of vanities left. Originally white [paint code #112] it is currently painted Candy Apple red [uggghhhh!] but the paint is cracked and spidered from too much exposure to the sun; the engine too shows neglect. It is not running (the tri-carbs are missing) and the air bags are leaking (...duh!) With around 66K miles showing on the odometer, it is being offered for sale at $30,000 [check out car #436 for the same price!] Thanks to enthusiast Jamie Tosi for passing along this information.

Car #542 was offered for sale in Texas in the first quarter, 1998 and in summer 1999, for $20,000; this car has only 37K miles; it is rust-free and still on air springs. Owner: Peter Krell.

Car #544 was owned in the late seventies by Allan Dowling, current [1999] president of the Brougham Owners' Association (BOA). Allan currently [2000] owns Brougham #466.

Car #545 [new, 9/2007] is a new addition to the Database. It was brought to my attention by a number of CLC members and Cadillac enthusiasts after it appeared for sale on Ebay where it was advertised as quite possibly the lowest mileage 1958 Cadillac Eldorado BROUGHAM on Earth (43,700mi). The vendor acquired the car "some years back" from an elderly gentleman who owned it for well over 30 years. It still has the original air suspension and tires! Apparently it found a buyer for $1 short of $80,000. Late extra [9/2007]: apparently there was no sale; the car was back on eBay at the end of September with a new starting bid a dollar short of $70,000. Later still [10/2007]: the car is now in safe hands, in the care of owner-enthusiast, Michael Brooks. Michael will bring it back to its original splendor and then probably sell it as he has already in his possession one of the finest survivors out there. Latest [May, 2009]: Michael has put the car on Ebay with a starting bid of $75,000. IMHO this car will one day fetch a RECORD price [between $150-200K]. But perhaps not in the current economy. For the Broughan enthusiast who would like to add to his archives a set of highly detailed photos of an authentic and near mint Cadillac Eldorado Brougham, I recommend downloading them NOW from Michael's "Ebay" ad, as they will not remain there for more than a couple of weeks.


Looks good ...even though the magnetized tumblers are non-authentic


[ Photos (above 3 rows): © 2009 and courtesy Michael Brooks, owner ]

Car #546 [new, 10/2004] is a new addition to the Database. There was no earlier indication that this car had survived. I got the information from Peter Straathof, owner of the Amsterdam Auto Museum in Holland. Peter writes: I would like to inform you that I acquired a very nice collection of Cadillacs for my museum, Het Amsterdams Automuseum (www.amsterdamsautomuseum.nl) . If you are interested you can take a look on our website, a lot of great pictures of Fifties Caddy's, we currently have 17 Cadillacs for sale. One is this Eldorado Brougham from 1958, number 546 (not previously listed on the Database), paint #132 (Jamaican Green), trim #636 green cloth/leather throughout. The car is in good condition, complete, but missing the vanity items. The asking price is 30.000 euros. I believe this is the car that was pointed out to me in February, 1998, by another Dutch friend, Rik Gruwez, administrator of the Cadillac Mailing List (CML); he said there was a green 1957-58 Brougham in the collection of Jacques Bruynooghe, who lives close to Roeselare, in Holland. I'll ask Peter if this is that car. Late Extra [9/2005]: Jerry Jansson, "our man in Broughamland", says this car was recently sold for $32,105. Latest [1/2007]: The new owner is Frederic Puren of Miami, FL; he contacted me in January, 2008 and sent the three latest pics, below. Frederic did not paerticulrly like the original green color and has decided to repaint the car more suitably black; he is also carrying out a full restoration, even though he says the car was in very good, overall condition when he recovered it from Belgium. He hopes it will be ready to be driven to the Keys later this year.


Indeed, a very fine looking survivor at a reasonable price


[ Photos: © 2004 and courtesy Peter Straathof ]


Before and during the restoration and repaint process in Miami, 2007
I wonder if the "gold" front "V" and "ELDORADO" name plate are factory original?
[ Photos: © 2007 and courtesy Frederic Puren ]

Car #547 was owned in the late seventies by Charles Daout of Chesapeake, VA. At that time Charles owned also 1958 Brougham #353, 1959 car #3 and 1960 cars # 1 and 95. Its present whereabouts are not known.

Car #548 was modified by the Derham Coach Corporation; a beige canvas top was added and a small back light installed [note: at least two Broughams were thus modified by Derham]; the car was owned by the Rockefeller family; it has survived and is currently in Sweden. This car may have been owned in the seventies by Robert Mannino of New York City [apparently Robert had some serious problems with the law !]. It is one of only four 1958 Broughams painted Maharani Maroon [code #152], the others being #424, #485 and #591. Late Extra [3/2007]: Enthusiast Jim Jordan of Oklahoma City adds this: While researching my 1956 Derham Limousine with the Rockefeller Foundation, I discovered that 1958 Brougham Body #548 was indeed owned by John D. Rockefeller Jr. and his wife, Martha Baird Rockefeller. I found that she traded my 1956 Limo plus another matching one, along with 1958 Eldorado Brougham VIN 58P032044 [i.e. body #548] for a Derham modified 1962 Park Avenue Sedan de Ville (possibly the one shown in the dream cars for 1962 section of the Database?). The 1956 Limos brought $1,900 each and the Brougham a whopping $3,200 trade in value.

Later still [10/2008]: According to Swedish Cadillac enthusiast, Rikard Sternberg, this car may be currently (2008) in Sweden.


I wonder if this is #548? Note the gold anodized (painted?) hub caps and the smaller, oval rear window
[ Photos © 2008 and courtesy Giovanni Ribichesu - 58EB565 ]


Artist's view - from a Concours d'Elégance catalog

Car #550 was owned in the late seventies by Jack Anderson of Lakeland, FL. Its present whereabouts are not known.

Car #551 was not previously listed here; the car is located currently in Melbourne, Australia. The picture was kindly sent by Tim Stevens who says that both cars are roadworthy. Tim is from Melbourne but lives in Belgium; he is familiar with this car (as well as with 1957 Brougham #185, 1959 Brougham #41 and 1960 Broughams #32, #70, #73 and #99, all owned by the same person). Late extra (3/2006): This from Australian enthusiast Allan Levinson, the "hearse whisperer": an update on 1958 EB #551, it is currently advertised by Auto Art P/L in Melbourne in Just Cars mag April 2006 "requiring full restoration" $59,999AUS. They state they also sold #316 (mentioned on your database). Further, the same car dealer has advertised 1960 EB #32 "for a complete restoration" $18,950. Thanks Allan ...and thanks for all the fine pics of your hearses, complete with "bodies". Latest [4/2006]: I just got this from the new owner, Guy Obren, in Australia: I have just purchased # 551, and will be restoring it at the same time as we do # 316. Both cars will have a full chassis off restoration.


Left: 58EB#551; right: 57EB#185

Car #552 was owned in the late seventies by Gerald Miller of Albermarle, NC. The car is currently is in Australia [owner: Keith Dean?]. It is the only car in the 1958 production run to be painted Gleneagles green (called Elysian green for the Brougham); this was not a regular Brougham color although it was included on the color palette for the regular 1958 Cadillac models [code #96]; it is a very pretty, light green, tending towards turquoise. When more information is available about this car, I will add it here. The interior trim is #6361, i.e. medium green Bayou cloth with contrasting medium green leather. The carpets are no longer Karakul nylon, they are now Medium Green Loop! Dean currently has the interior out of the car, and is waiting for the green Bayou cloth from SMS Fabrics in the USA. The whole interior of the car, except the headliner, is being redone. This car was sold new by Hedrick Auto Company to a Mr. Charles Brady of North Carolina. It was subsequently purchased by Mr. Billie Roscoe, on June 19, 1959. Then it was bought by a Mr. Otha Corriher, in August 1960, who later sold it to his brother, Fred Corriher.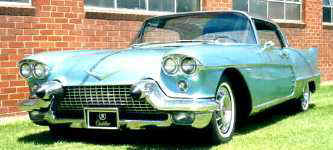 [ Photos: courtesy Cadillac-LaSalle Club of Australia ]
Car #554 was owned in the late seventies by Skip Duncan of St, Claire Motor Co., Santa Clara, CA. According to a story in the CLS Self Starter, 2/2006, this car was purchased by racing legend Dale Armstrong from CLC member Jim Zanardi. The car had only 29K miles at that time and came with a trunk full of spare parts. Dale restored the car in part and sold it quite a few years ago ($85,000) to drag racing star, John Force. At latest news, it resides in John's museum at Yorba Linda, CA.

Car #555 was owned in the late seventies by William Winner III of Boulder Creek, CA. At that time, William owned also Brougham #506, above. Its present whereabouts are not known.

Car #556 was owned in the late seventies by Dan Distl of Mansfield, OH. Its present whereabouts are not known.

Car #559 had a special trim option consisting of black cloth with a silver crest motif; this car too is on the list of survivors.

Car #560 has been located [ http://www.cars-on-line.com/58cad12615.html]; notification was received from enthusiast Ron Susser. The "For Sale" ad reads: Cadillac Eldorado Brougham. #560 out of 704 made, rare suicide 4-door, original mouton sheepskin floor coverings, all stainless steel roof, power everything, rebuilt original 365 motor and trans. Nearly 100% original restoration. Very hard to find and in beautiful condition. E-mail or call with questions or inquiries. Price - $59,900. I contacted the owner, Tom Gianetti, in September, 2003, and got this complementary information as well as a few more detailed photos: I've had the car for about 1½ years. I'm selling it because I'm building a new house and - at least temporarily - my priorities have changed. It has been converted to springs. The vanity mirror is in excellent shape as well as the tissue holder and other compartments, the crystal [?] pieces are missing. All five original wheels are present. I have some records, not a lot; the engine and transmission have been rebuilt and the car runs very well. Bumpers have been rechromed and the rest of the chrome is excellent. Stainless roof is flawless. Trunk interior is in good condition with some slight damage around the battery holder. Interior upholstery and headliner are excellent with all leather and vinyl [?] dyed to original factory colors. Power ["Memory"?] seats move forward and back. I have wiper linkages to convert back to vacuum from electric. I have newly built fuel sending unit to be installed. All power windows work - driver's vent window needs a little nudge to start. I will entertain serious reasonable offers (Tel. 651-264-3388). Late extra [January, 2004]: I believe this car has been acquired by enthusiast, Ray Cruise [see Guest Book entries #1905 and corrigendum at #1907]. Even later [March, 2006]: I saw this ad on the Web page of the Imperial Palace collection: Cadillac Eldorado Brougham. A rare black beauty indeed. Almost too nice. Completely restored in 2003. Naturally pampered since. Fly in and drive her home or I will help arrange shipping anywhere in the world. The pictures speak for themselves. PRICE REDUCED $ 58,000. Latest [3/2006]: Here is the latest info I got from the buyer of #615: The car for sale for $58,000 is Ray's [Ray Cruise] 1st car #560 and it's for sale currently. #316 had already been sold and shipped when I purchased #615, so I never saw it. I have talked w/the man who bought it and he said it's a better car than what he thought.

Car #561 was owned in the late seventies by Lawrence Greenwald of Wyncote, PA. Its present whereabouts are not known.

Car #562 was brought to my attention by Jim, Jordan who describes himself as a 'certifiable Cadillac addict' who regularly visits the Cadillac Database. He says: I wanted to let you know that I have located 1958 Eldorado Broughams body numbers 702 and 562 and both are in excellent original condition. Number 562 still wears original tires and has been maintained, but not moved from a climate controlled garage since 1962. Currently, the owners wish to remain anonymous but hopefully the great stories behind these two cars will be able to be told. Jim added this in August, 2002: This car was purchased new by an Oklahoma Oil man and was parked in a climate controlled garage when he died in 1965. It is in excellent original condition, still on original tires and air ride. The widow recently passed away and the car is tied up in an estate. It is not known at this time if it will be for sale. I will keep you updated as details become available. I am counting on you, Jim!

Car #563 A former owner contacted me in March 2000 to inform me that the car was in his possession. It was sent originally to Nebraska where it stayed until he acquired it and brought it to Colorado. It is one of only two '57-58 Broughams painted Olympic White [code #90]; the other is car #577; that one is not known to have survived. The car is converted to springs but all the air suspension parts are still on the car (except the diaphragms). The chrome is original. The transmission has been re-built. Late extra [June, 2004]: The car has changed hands and will be going east to the Washington D.C. area; a full restoration is planned. Later [August, 2004] This from the new owner: I just had the front end rebuilt and aligned. I had the engine and transmission rebuilt and balanced. Thankfully, I have all the trim, and am re-chroming various parts. An auto electrician is getting thoroughly confused by the driver's door electrical switches (problem with the 6-way seat system), but is slowly making progress (the electrician claims the actual switches and wiring are more complicated than the what is shown in the service manual wiring diagram). I'm having a new trunk liner installed, and must do something about the driver's side carpet (very worn, but the all other carpet in the car is good and I'd like to keep original wherever possible). Might have to contact MasterMind for the carpet? Have not tackled the issue to putting it back on air ride, but I have most of the parts to do that when the time comes. Even later: [6/2005]: Saw this one offered on eBay with a "Buy It Now" ticket price of $75,000. My guess, based on the vendor's honest description and considering his own list of the work that remains to be done, bidding might reach $25-30K. Latest [12/2007]: The car is still in gthe D.C. area and carries "VA"tags; the owner has sent three more recent pics (bottom row).


Top row: during initial restoration in Colorado
Lower row: just before the sale to the current owner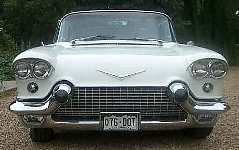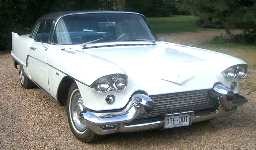 These two recent photos were supplied kindly by the current (2004) owner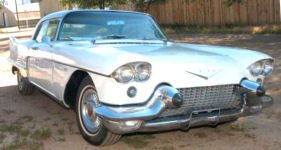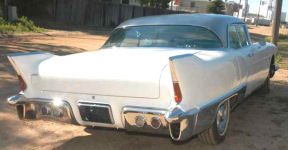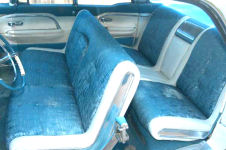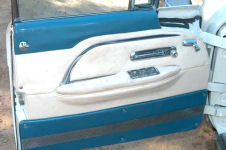 Photos (last two rows): Internet, June 2005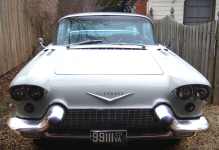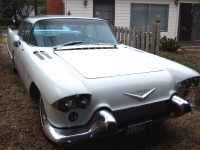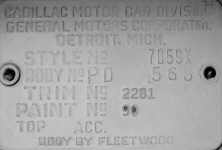 Car #564 [NEW, 2/2010] This one (body only) came up for sale on Craig's list. If anyone has a good chassis, engine and transmission, this could be a great deal for $20K. Late Extra [2/2010]: The car was listed on eBay with this cursory description; I have a 1958 Cadillac Eldorado Brougham project vehicle available for sale. It has all of the all of the chrome pieces, stainless steel pieces and bumpers. It also has new windshield glass. This Cadillac Eldorado Brougham's body number is 564 (see attached picture). Missing items: Radiator, Engine, Transmission, Drive Shaft, Gas Tank, Sun Visors.. I guess this is possibly a restorable car...but lots of cash will be needed to complete it: For the time being, I am listing it as a parts car ... unless someone decides to tackle a full restoration. Late Extra (Jan. 2011): the car has found a new owner.


[ Photos: Craig's List and eBay, 3/2020 ]

Car #565 was owned by an acquaintance, Mr. Selaudoux, near Fontainebleau, France (1993); this is one of the cars I almost bought in the seventies, when it was owned by Gordon Bately, of Vancouver, Canada. He sold it to John Miller, in Natick, MA, who in turn sold the car to a French collector, Mr. Valsimidis, of Paris. Mr. Selaudoux had the car for sale again in 1997; it had a reported 70K miles then. When I had looked into buying it in the mid-seventies it had some bumper peeling but the stainless top was like new. Late Extra [11/2007]: the car has found a new home, in Turin, Italy. It is believed to be the only Eldorado Brougham in that country. The new owner is Giovanni Ribichesu, an operatic tenor from Turin and an avid collector of convertible Cadillac cars. Among these are a 1956 "Series 62", a 1960 "Series 62"and a 1974 Fleetwood Eldorado. He also has a 1956 "Sedan de Ville" that his father bought from the owner of the "Negresco" hotel in Nice, France. Giovanni has his own Web site (click here). There is a video clip on YouTube showing this car being loaded onto a truck (in Paris I guess), then on the back of the truck being driven through some tunnels along the Seine and, towards the end, inside a garage or storage hangar. The French girl doing the commentary says, "...he's already made enquiries about getting all the spare parts; his friend that he gets parts from [Roger Z?] says he can find anything for it. At one point, the driver, Nino, operates the automatic trunk mechanism (open and close) and the girl is totally blown away! The driver's side vent window appeared to be recalcitrant. Late Extra [3/2009]: Yes, my friend Roger Zimmermann [57EB#230] of Switzerland apparently has been helping Nino to find parts, as has also Mike Rizutto of Mastermind, Inc. in Califormia.
Car #567 is currently (March, 2001) in Norway; it is owned by Kjell Gilje who writes: "Just surfed in to your very interesting and informative site! I could not find my Brougham listed here. I imported car #567 to Norway several years ago. Very original, air suspension survived all these years! Original interior in good condition! Last US registration in California "58BROHM", owner William Woodfin Jones (1987)." Sorry I omitted your car, Kjell. If you care to send me a good digital image, I shall be glad to include it here.

Car #568 is owned by new [1998] BOA member David France of Palm Springs, CA; no other details are currently available about this car. Late Extra (1/2005): this from the current owner, through Brougham aficionado, Morgan Murphy in Alabama : At the moment I have no intention of selling the Brougham, however, one can never tell what the future will hold and I will keep your name in the Brougham's file. To my knowledge, this automobile has never spent any time in GA [Morgan may have been referring to car #210, a long-time Georgia resident, currently owned by Al Haas of Detroit]. I am the third owner, having known the second owner and this machine for over 20 years. The Brougham was delivered through a dealer in Northern California (San Francisco Bay Area) then stored in the San Jose (southern Bay Area) until sold to the second owner, also in the South Bay area. This machine has 37,000 miles and is 95% original, on air with all other systems functioning. It has most of the accessories (glasses, compact / cigarette case, note pad, and mirror). I have a new windshield on order [which suggests that the car may have a cracked or broken windshield !] and hope to get it soon. I love to drive it and do. On the Russo & Steele auction site the car was described like this: With just over 37,000 original miles and just two enthusiast owners over the last twenty-seven years, this lifetime California car sports most of its original paint, all original chrome and a fully-maintained original air suspension system with many new parts - an incredible rarity on this model as most were converted to springs early on in their lives. Its mechanical fortitude is unquestionable; driven up from Palm Springs for this sale, its original engine was resealed just over two thousand miles ago and its original 4-speed Hydramatic transmission was completely rebuilt at that time. All new brakes, new tires with the correct whitewall width, a new exhaust system from front to back and most importantly new suspension airbags, a rebuilt pump and front leveling control valve round out the car's underpinnings. Naturally, all the Brougham extras from memory seats to original cold air conditioning work flawlessly; just two dash gauges have 'failed to proceed' in the intervening years.




Car #569 had disappeared from view since the seventies. Brougham sleuth, Jerry Jannson, told me the car had undergone a full restoration at Autocraft, in Vikarbyn, Sweden [for more information on this top-notch Swedish auto restorer, check out their home page]. Late Extra [9/2005]: "Triple J" Journalist Jerry Jansson said the car is now restored and was shown at Sweden's annual "Power Meet" where it got a 1st in its class !


[ Photos: © and courtesy Jerry Jansson ]


Far right: meticulous restoration of glove box and individual vanity receptacles


Photos, above 3 rows: courtesy Autocraft web site and Hans Emeren, Sweden


Fully restored and first time shown in public - ULTRA gorgeous
[ Photo: © 2005 and courtesy Jerry Jannson ]

Car #570 was owned in the late seventies by John Fleck of Brownsville, PA. Its present whereabouts are not known. Car #571 was featured in the Boa's Newsletter Vol. 14, #3 (Fall 2002). The car was seen recently (summer 2002) by friend and Brougham enthusiast Stephen Nadon in his home town of London, Ontario, Canada. Stephen supplied the picture (below) for the newsletter. This car is reported to have been owned first by comedian Bob Hope. Indeed, it was first delivered to California. Bob is also rumored to have owned car #114. The current owner is Steve Plunkett, a well-known Canadian collector.

Car #574 joined the BOA [Brougham Owners Association] in the Summer of 2002. I hope to hear soon from its owner, Bill Olsen of Santa Fe, NM. Bill says he has had the car since 1989; it still has the drinking goblets, the vanity case, note book, mirror, atomizer and owner's manual. He sent the photos below, in October 2010.

Car #575 is a parts car located in Quincy, MA; it is owned by Rich Laretano who advertised it in the Winter 2000, BOA Newsletter. Phone (617) 847-4817 or (617) 688-4837 Paul Dehnert of Austin, TX (cars #59 and #241).

Car #577 was offered for sale at annual Barrett Jackson auction in Scottsdale, January 2005. It was seen again for sale by Hyman Ltd. for a cool $105,000. This is a one-owner car; it was bought new by John C. Swift of Swift Packing Co. in Chicago; John kept it for 47 years. Note that when BJ had it for sale, all the vanities were included. The new vendor does not mention them. Does he intend to try to sell them separately! BTW, the Hyman ad describes the Brougham as the first pillarless sedan ever built in America. Aren't they forgetting the 1956 Cadillac Sedan de Ville ? The odometer reading stands at just under 17,000 miles but it may have 100K miles more (I wonder if the service records are available?) Late Extra [9/2005]: from our favorite Brougham "sleuth", Jerry Jansson : At Pebble Beach, the auction firm Gooding & Co traded off this car for $79,750.






[ Photos: Internet, June 2005 ]

Car #579 was owned in the late seventies by Robert Ross of Studio City, CA.

Car #581 was owned in the late seventies by Frank Lund of Arvada, CO.

Car #582 used light gray instead of black for some of its trim. Late Extra (5/2005): collector-enthusiast, David Barclay, tells me the car was (and perhaps still is) owned by Dale Woods of California. This is the car illustrated on the front page of Milestone Car issue #9 (Autumn 1974); previously, I had it listed among unidentified Broughams. Later (8/2006) I have been contacted by the owner, yes, it is still Ms. Dale Woods, in California. She wrote: I was surprised to look through your website and discover my car # 582 was there! My late husband, Dale, and I purchased the car from a pharmacist in Lake Tahoe in the early seventies. We moved to Grass Valley in 1977 and the car has been garaged here since that time. Dale passed away in 1999 and I am just now considering selling it. I have been approached several times since he passed away but never even heard an offer price. The car is still is good condition but does need to be repainted, needs rechroming and new leather on the seats to bring it back to great condition. I believe it has around 42,000 miles on it. It is parked so tightly in a garage with other cars that I can't open the door without moving the others out. I believe Dale said he thought it had been repainted once and the color is a little more silver than original. Interior is original, stitching is just coming loose. The airbags were replaced with coil springs. The glasses [metal tumblers] and make-up case with a [flannel] cover are there. I don't recall ever seeing an atomizer. What else came in the glove box and arm rest? The car was driven into the garage but has not been started/driven since he passed away. Would you be willing to give me some ideas about where to look for its value? I saw one on Ebay that had obviously been restored just recently. The highest bid was somewhere around $75,000 but didn't meet the reserve. Later still (12/2006) The car is on its way to a museum in Hungary. If I can get clearance from the last but one owner about the last couple of transactions, I shall certainly post it here. Latest extra [May, 2007]: This was received from an Australian enthusiasts currently residing in Budapest, Hungary: Some background info. I run a car restoration business here, I am an ex-Aussie living here, enjoying the Hungarian life and culture. The two EB's came recently to

Hungary

, bought in by an avid collector of American cars. This gentleman has also through his love of these cars, built and has opened Hungary's first privately owned museum of American cars. The musuem "Dream Cars" is centrally located in

Budapest

and is open to the general public. Mr Farkasdi Karoly and his family, have now in excess of some 75 collectible american cars on display in the musuem. The musuem was officially opened by the US ambassor and is now a central point of interest to car enthuiasts, here in

Europe

. The two EB's info's are: #132 and 582. Since arriving in my workshop four weeks ago, both cars are been completely disassembled and are in process of a full 100-point restoration, side by side. You can rest assured, they are being lovingly looked after. Tom, thanks for helping to "save" these two cars. We are looking forward to adding further pics as soon as restoration is completed. I believe this You Tube video shows one of the two "Hungarian" Broughams under restoration.


This beauty was owned in the early seventies by Mr. & Mrs. Dale Woods of Union City, CA.
[ Photo: courtesy Cy Strickler and the Milestone Car Society ]

Car #583 was offered for sale in December, 1995, in the CLC's Self Starter, for $35,000 (OBO); at that time it was located in Ohio. In 1996 and 1998, it was for sale again, this time in Florida.

[ have a drawing by Stephen Nadon ]

Car #584 [NEW, May 2009] was brought to my attention by enthusiast, Jon Crissman. It is presently owned by Peter Krell of Dallas, TX. I am unaware of the condition of the vehicle at this time. I do know that Peter has/had some parts cars at his disposal in the past. Jon syas the car is black with black and white leather; it was originally sandalwood with beige trim. Peter may be contacted at 7211 Valley View Pl., Dallas, TX 75240. Ph (972) 458-2004, or at www.petesclassiccars.com.

Car #586 was listed initially as a parts car; in fact it is partly restored. Late Extra : In November 2003 I had a brief e-Mail from the owner, Troy Negray. He added: I bought #586 in March [2003] from Chicago,IL. It was started as a restoration, then for whatever reason it stopped. All the chrome was removed and interior. Floor pans have been already painted and the underside of car. Most body work is finished and car is in gray primer. It has been sitting in my garage in central IL. Not sure if I will have time now to finish it. I am considering selling it. I also have car #404. You may add that the power seat operates perfectly now. Thanks for your reply. If you know anyone interested in car #586 you may give them my email address. For those who may be interested, Troy's e-Mail is eldoboy7@yahoo.com. Late late Extra : Enthusiast Dirk Van Dorst of Belgium told me in July 2004 that Troy had given up restoring the car as too many hard-to-find pats were missing. I still believe the car to be worth restoring [see photos below - as well as a more complete selection at this URL]. So I am not listing it yet as just a parts car.

Car #587 was in Germany for a few years; it was exported from California in 1996 by its present owner, Volker Meerkamp [volker-at-classiccars.de ... make sure to replace the "-at-" with "@"]. He supplied the following information. The car is white [Paint #112] with matching white trim [#8582) and in near perfect condition with only 55,000 mi. Everything is original except for new leather and a partial new paint job. The original mouton carpet and most of the vanity items are still there! Everything works including the troublesome air suspension, which was restored with new parts from MASTERMIND. You may view more images of the car at this URL: http://classiccars.de/Oldyrent/images/brghm.jpg Volker informed me, 12/1999, that he has sold the car and it is returning to the USA. This could be the white/white '58 Brougham that was advertised for sale in Cars & Parts, Jan. 1988, for $17,000; at that time it was in California, with 49,000mi. In March, 2003, I got this message from enthusiast, Michael D, Brooks [car #123]: I was at the shop of Dale Armstrong the other day, in Temecula, CA. He is working on my Brougham and is an incredible mechanic. He has a technique using lathe turned steel inserts for the air domes that provide a superb seat for absolute sealing (which is better than my sheet metal internal ridges). He has a 1958 Eldorado Brougham which I inspected. I looked at the body tag carefully and it said #587. He is doing a frame off project and has converted the car to a Northstar engine. Because of his racing heritage his work is first class. Because he could not acquire original air diaphragms (or repros) for the rear, he worked with Firestone engineers and has installed a beautiful modern replacement system in the original domes. He also said that his first Brougham [#554] was Deauville gray with dark/light gray leather interior. It was completely restored and he sold it to drag racing legend John Force for $85,000 several years ago. It currently resides in Force's "Museum" in Orange County, CA. I will work on getting more information. I will keep in touch with Michael and Kjell to determine the origin of the body number error.


So many Brougham photos - not sure if this one is Volker's car ?


#587, as restored in great detail and with a Northstar engine (right) by master restorer, Dale Armstrong, CA


Dale changed the original color from white to black and the trim from white leather to an
authentic combination of gray cloth and gray leather; center and right: all vanities are there
[ Photos: Self Starter, ©2005, Dale Armstrong ]

Car #589 is believed to have survived although its current location is not known. It is the only car of the 1958 production to have been painted Buckskin, a beige hue. This was not a regular Brougham color but was included, nonetheless, on the palette for the regular Cadillac models of 1958 [code #44].

Car #590 is owned by Charles Barnette of Texarkana, TX; it is one of the few survivors to have the full complement of vanity items and personal accessories. Charles wrote an article about his car for the Cadillac-LaSalle Club magazine, the Self Starter; that article is reproduced in extenso, courtesy of the CLC, as Part 13b of the section of The (new) Cadillac Database© devoted to the Eldorado Brougham. This superb Brougham appeared on the front cover of Classic Auto Restorer, Vol. 7, #3, in August 1995; an article entitled Brougham, Sweet Brougham, by David Temple, was published on pp. 14-21 of the same issue. Mr. Barnette's car was selected also in a photo as the winner of the first Higher Standard photo contest that appeared in the Spring 1996 issue of Cadillac Higher Standard, published by the Cadillac Motor Car Division of GM. Update [7/2012]: Rick Payton mentioned that he purchased the car in June of 2011. The car won the peoples choice award at the 2011 Cadillac Grand National. The car is still on air and still has its complete set of vanities. Rick has redone the fabric and the carpets to original.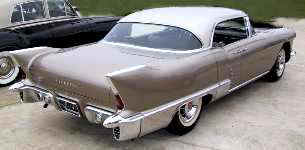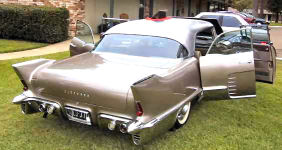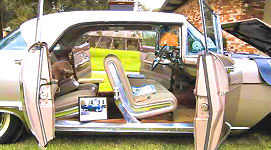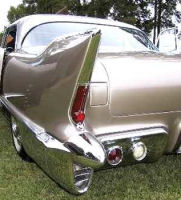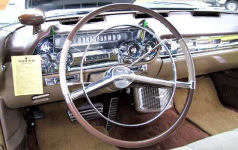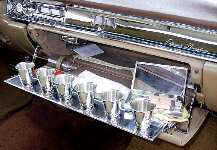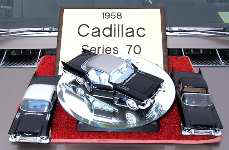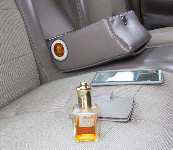 Thank you, Mr. Barnette for sharing these photos of your car with us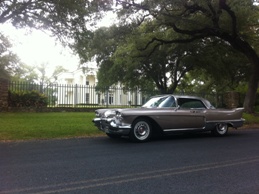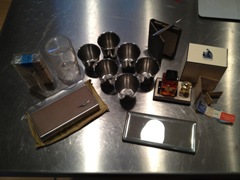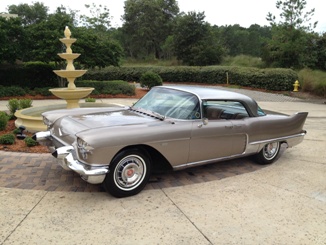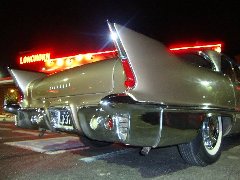 Thanks to Rick Payton for sharing recent pictures of his car

Car #591 was owned previously by George M. Panattoni; he sold it in 1979 to a Mr. George Snewiess [spelling?] of New Lennox, IL; it is believed he still owns the car. This information was received June, 2001, from George P. Thanks George! Late Extra: (Oct., 2010): the car was offered for sale on eBay. The description mentions: This car has been owned by current owner since 1979 and has not been running since 1983. Car was parked in 1983 due to a leaking gas tank. In order to settle the estate, car was removed from storage this past spring and was brought to running condition. A proper gas tank could not be located, so sheet metal screws were used to plug holes. Brakes and exhaust were rebuilt. Car runs and stops, but I would not plan a cross-country trip. I am not an expert, but I do know these things are missing: Tri-power and air cleaner, air ride suspension, radio antenna, vanities. These things are not working: windshield wipers, power seat, radio, hi-beam lights, air conditioning, interior lights. At some point, the body was hit on the dirver's rear quarter panel, at which time car was repainted. Paint and bright work at tired. You could get away with a professional buffing of paint and brightwork, but paint has cracks and checks. Interior needs carpet. Dash is unbroken. Door panels are worn. Seats will also need a professional cleaning. The glass is good, and frame and floor boards are solid. This would make a solid entry-level car for a restorer, or invest some time in mechanical and cleaning work, and you would have a nice driver. Car is located 40 mile south of Chicago and can be shown with a few hours notice.

( images to be processed)

.

Car #593 [Had a low-compression engine - whereabouts were previously unknown] Late extra [3/2006]: Turns out this might be the "John Wayne" car1; the owner, Bryan de Paul from New Jersey, contacted me and had this to say about it: I recently inherited 1958 Cadillac El Dorado Brougham #593. I'm told that the car was originally a movie prop in a film starring John Wayne. The car was damaged in the movie and subsequently auctioned to my grandfather who owned a body shop in NJ at the time. I am looking for the newspaper article that authenticates the story. I'm told it is in the family somewhere. Anyway, It is here in my garage partially restored and not yet running. Not sure where to go from here but I thought I'd drop a line so that you could add it to your site. Thanks Bryan; we will look forward to learning more about the car and your plans for it in future. From the pics you sent, it seems there is a lot of work needed if you want to bring it back to original. Originally, the trim was light gray leather throughout [code #151] with gray-white lambskin carpets [code #2]. It appears now that the inner door panels are vinyl, top to bottom, with non-original, apparent attaching studs. Are the seats vinyl-covered too, or are they still the original gray leather?
___________________________________________________________________
1 Brougham enthusiast and owner, Lance Hirsch from Texas [car #436] recalls hearing a story of how John Wayne wrecked his '58 Brougham while filming Daktari in Africa. Lance found it hard to believe that Wayne ever would have had the car shipped to Africa. He thinks it more likely that the actor wrecked the car while filming The Alamo; the timeline would fit better. Interestingly, the first Brougham that Lance bought had been sold in Los Angeles and was titled in the early '70s in Carrizo Springs, TX, not far from the filming location of The Alamo. He tried to contact the John Wayne Estate and even found a fellow Brougham owner who knew the son, Michael Wayne (sadly now deceased), and lived near him. Unfortunately he did not get the information he sought. Perhaps Bryan will rsolve the mystery ...starting with a close examination of his car to detect any obvious damage repairs.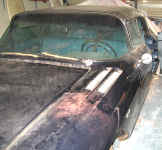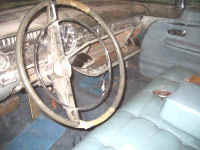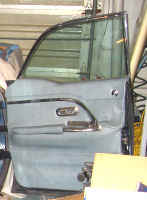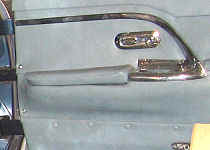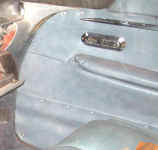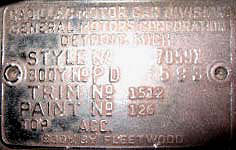 Car #594 is one of a group of five EBs acquired in 2005-06 by enthusiast Robert Titone, most of them in "less than perfect condition". These are #222, 325, 594 [this car], 648 and 697. This one was involved at some time in a major collision and is missing the LH rear fender. I believe it would qualify in collector circles as a "parts car".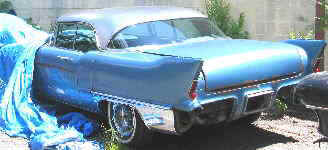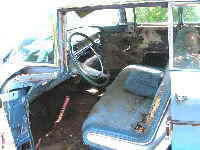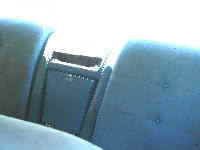 This blue car is #325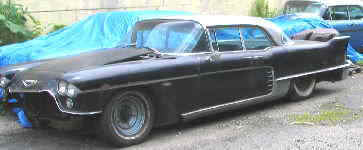 I believe The car in the foreground, LH photo] is #648, shown also at right
[ Photos: © 2007, Robert Titone ]
Car #597 Thanks again to Victor M., our Brougham "agent" in Mexico; he has got the facts on one more survivor for the Database. In March 2001 he wrote that this Brougham was shipped first to Missouri and had disappeared from view until now; it is located in a museum in Puebla, Mexico. Victor says: The current owner, an architect with very nice cars in his collection, is Fernando Garcia-Limon. Mr. Garcia told me it still has its original blue interiors. Car is painted some shade of medium blue metallic. I have not been able to go see the car, but he told me the numbers and scanned the plate for me. Mr. Garcia gave the paint code as #120 but there is no such paint code number listed for the 1957-58 Broughams; factory records show paint code #126 [Fairfax blue] and, in fact, the car is blue so perhaps the owner misread the plate. According to my files, however, the interior trim code is #110, corresponding to gray Mojave cloth and dark gray leather, so it appears that the car's upholstery may not be the original one after all.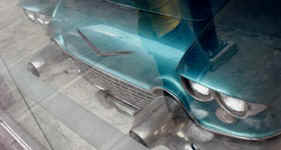 These views were shot through a museum window, hence some "ghost images"
[ Photos: © 2001 and courtesy Victor M.)
Car #598 is still around; it is reported [12/1998] in "unrestored condition" and most of the vanity items are gone. It has working, rear air suspension but the front air domes are gone, replaced with coils. The paint is very good (black) as is also the white leather. The car is probably in # 2 condition with a total mileage showing as 72,548 [thank you, Rudy, for this update]. In January, 1999, Rudy added that the car was for sale in excellent unrestored condition for $30,000 [you can e-mail him at: rudydeb@hotmail.com]. In January, 2002, enthusiast Jean-Claude Franchitti ['60EB #68] said that this car apparently was sold once since 1999 and may again be on the market.
For 1958 cars #601-704, and production statistics, Click here
Go back to the record of Brougham survivors of 1957
Go to the record of Brougham survivors of 1959-1960
© 1996-2020, Yann Saunders, DLM Group, and the Cadillac & LaSalle Club Museum and Research Center Inc.
[ Background image: a fine survivor from 1957, car #198, Phoenix, AZ ]