[ last update: 01.24.2015 ]
The (new) Cadillac Database©

Photo Pages
Cadillac

1959

Return to The (New) Cadillac Database© Index Page
or go back to the Cadillac photo index page to pick another year
Unless otherwise specified all photos and illustrations are from Yann Saunders'
collection of Cadillac photos, advertisements and product catalogs,
reproduced courtesy of the Cadillac Motor Car Division and the Cadillac-LaSalle Club
The bulk of the artist's drawings below are from the company's superb product catalogs for 1959 which are described in detail in the section of the Database devoted to Cadillac sales and merchandising literature.
Additional information and photos of the 1959 models and the related sales literature may be found in The (New) Cadillac Database© sections entitled "Descriptions and Specifications of Cadillac Cars 1956 - 1965", "Cadillac and La Salle Sales Literature 1955-1959" as well as in the appropriate "Dream cars" section. Further recommended reading includes:

Standard Catalog of Cadillac, 1903-2000 edited by James T. Lenzke, © 2000, published by Krause Publications, Inc., 700 E. State Street, Iola, WI 54990 [ISBN #0-87341-925-1, Library of Congress #91-61301]. An updated version covering Cadillacs through 2005 was edited by John Gunnell that year.

These You Tube videos are a poor rendering of the commercial prepared by the firm in 1958 to advertize the new models. And here are some 1959 Cadillacs from another You Tube video. Unfortunately, I have no control over such video clips on the Internet, so this one may not always be available for viewing here.

Drawing board, clay, testing, seat bucks and production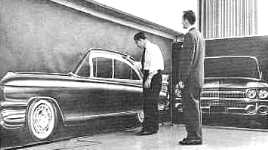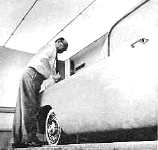 Looking on (LH image), long-time acquaintance and friend,
Charles "Chuck" Jordan, who headed the 1959 designers with the late Dave Holls




The Cadillac Styling Studio at GM's design center in Warren, MI,
where many of the finest and "wildest-looking" Cadillac were born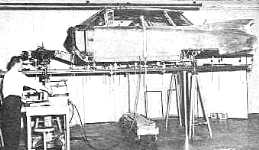 Some testing procedures under way (bodies and engines)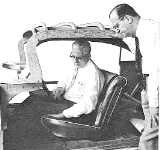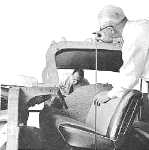 Designing and measuring interior seating (these are called seat bucks)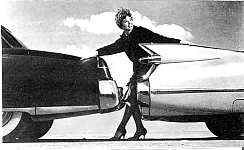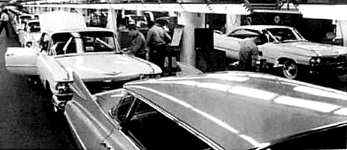 The well-known factory photo on the left shows what ten years can do for the evolution of the
Cadillac tail-fin. On the right, the new 1959 Cadillac models go down the assembly line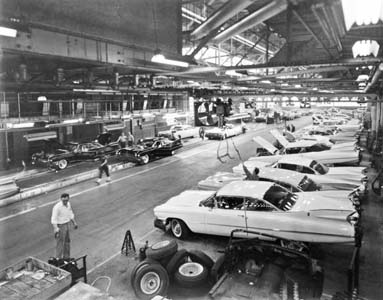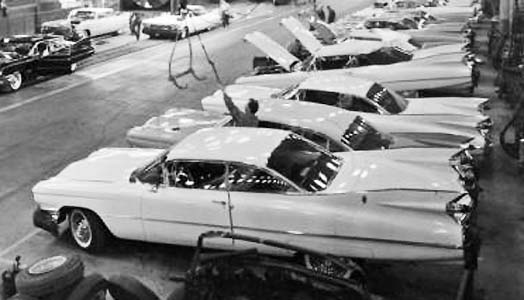 More Cadillacs proceeding down the line at the Clark Street plant; is YOUR car one of these?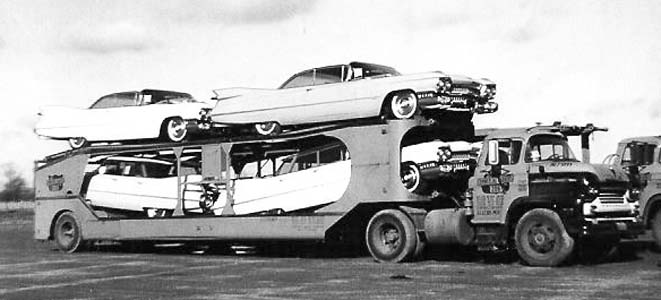 A truckload (FOUR) Cadillacs getting ready to grace a dealer's showroom, down the road

This [lilac-colored] Series 62 convertible was on display
at the 1959 GM Motorama in NY, in October 1958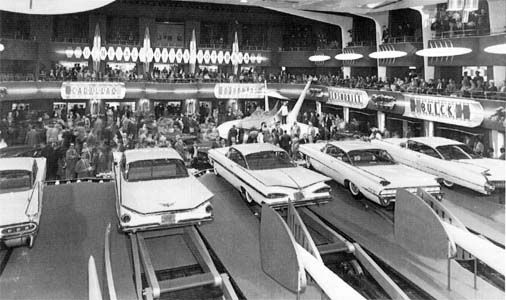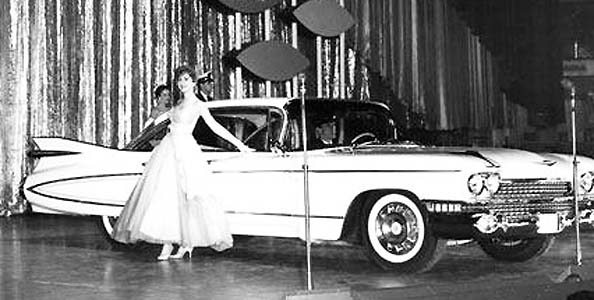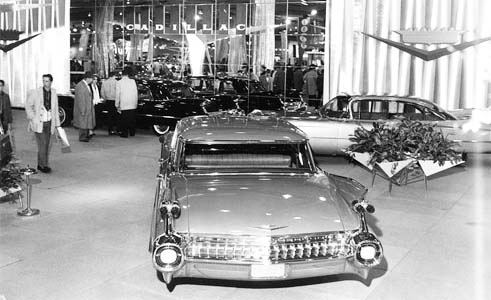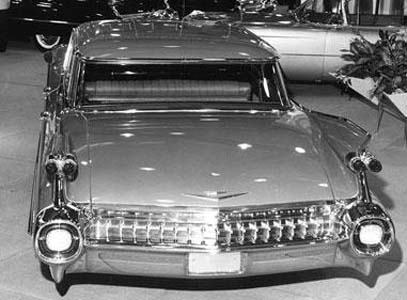 Partial views of the Cadillac stand at the 1959 Auto show, Chicago venue; (top row) Series 60 Special sedan in gleaming white; in the background, parked beside
the mirrored wall, the Series 75 limousine; behind it, possibly the 6-window Sedan de Ville; in the foreground (and the enlargement, right), tail of the 4-window Sedan de Ville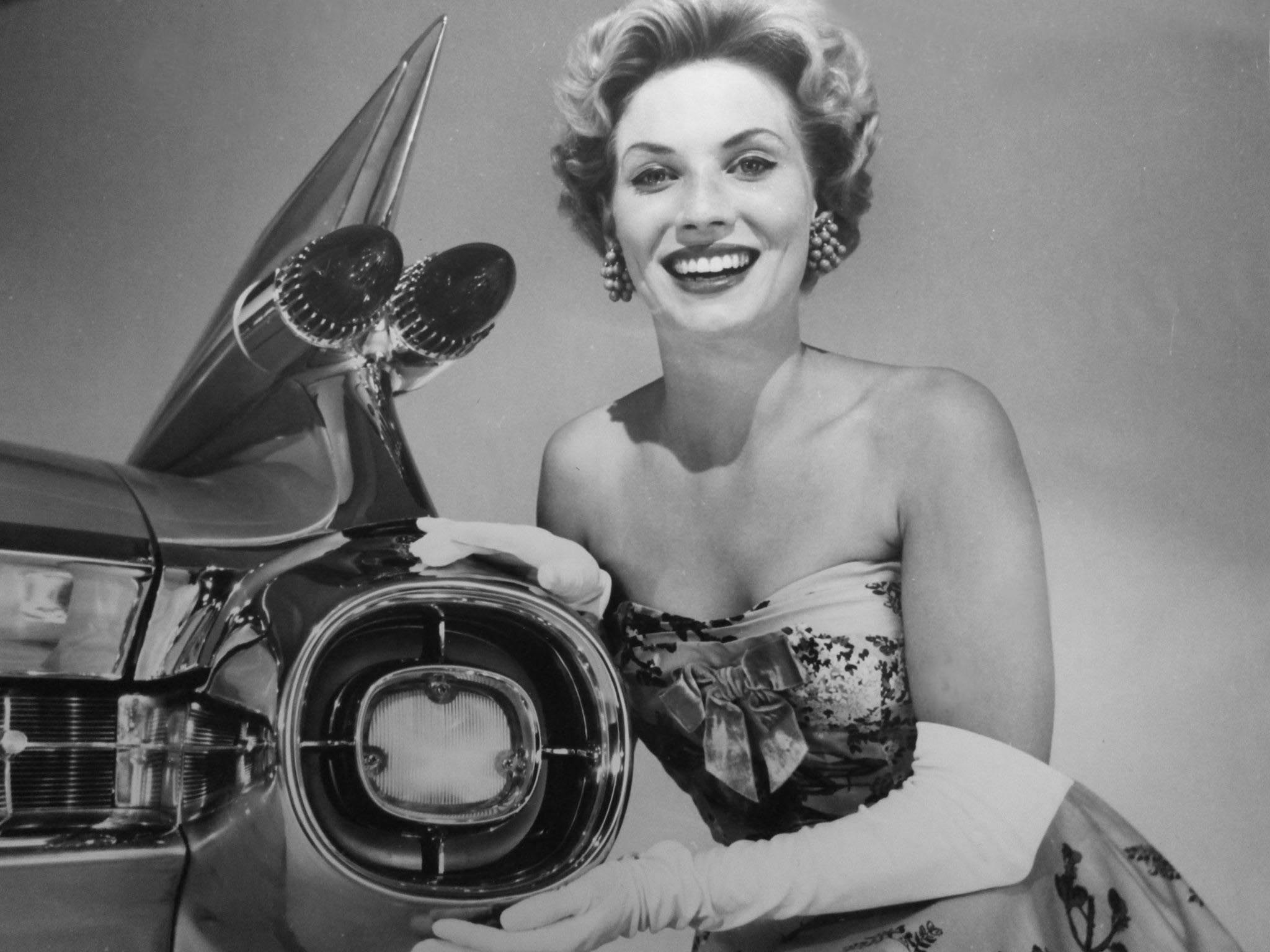 Smiling model poses for '59 rear clip
In 1959 I was studying hotel and catering management at the Scottish Hotel School (now part of the University of Strathclyde) in Glasgow, Scotland. Regrettably, much of the training I got was wasted since I moved away from the hotel industry and into an office job in Paris, after a bout of ill-health, in the late fifties and early sixties ...but, at a push, I can still cook up a cordon bleu meal.

In 1959, the new Cadillac models were the least of my worries; up to 1960 I was still riding a push-bike to and from Ross Hall, my place of study. Nonetheless, when I saw a 1959 Cadillac for the first time (near Barraland, in Glasgow, in March 1960) I knew I wanted and would have one before too long.

I only had to wait twenty-five years!

As to the history and styling of these particular models, I have nothing much to add to what has been said already, either good or bad, by automotive writers far more competent than me. Production was down slightly from the 1956 and 1957 banner years that would not be equaled, even surpassed, until 1962. Nineteen fifty-nine, may not have been the greatest year in the history of the U.S.A nor of the Cadillac Division of General Motors, but it will forever be remembered as the year when Cadillac stylists went overboard.

As a matter of interest the rocket-ship styling of the new, 1959 commercial chassis presented a challenge to the designers of the normally staid funeral vehicles and the like; yet (as you will see in the "Dream Cars" section for 1959) they succeeded in creating some quite distinctive yet perfectly dignified so-called professional cars.

Photos of the finest surviving cars in each series, below, will be added later. If you think your car deserves to be featured here, please send some glossy 8 x 10s (cars only, no people please) to:

Yann Saunders
114 Seafarer Lane
Columbia - SC 29212.

Series 62
The 6-window coupe





Series 62 style #6237 coupe, A classic achievement in elegance
and majesty of styling. Of this basic style, Cadillac built 21947
units out of a total of 142272 cars for 1959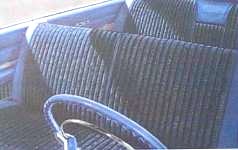 The 6-window sedan




Series 62 style #6229 six-window sedan A modern masterpiece of automotive sculpture.
Of this basic style, Cadillac built 23461 units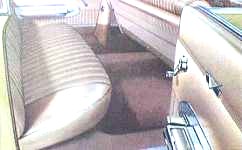 Here's a short You Tube video showing off this model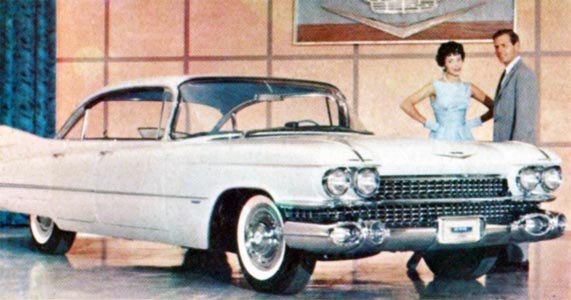 Factory promotional photo
The 4-window sedan




Series 62 style #6239, the basic four-window sedan style. To take
command of this newest Sixty-Two sedan is to experience a new measure of
motoring satisfaction. Of this style, Cadillac built 14138 units.
The convertible
I have no control over You Tube video clips on the Internet,
so this one may not always be available for viewing here
[ 1954 Cadillac convertible clip also included at the start ]


Series 62 style #6267 convertible. Cadillac's magnificently
new design and craftsmanship are dramatically displayed in the Sixty-Two
convertible. Cadillac built 11130 of these superb cars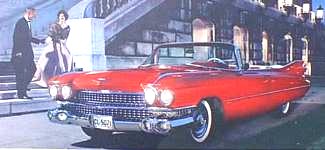 This photo appeared in a 1959 product catalog entitled
That New Car in your Dreams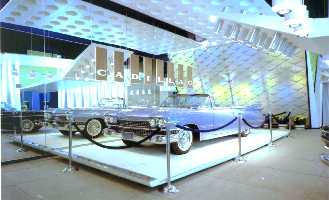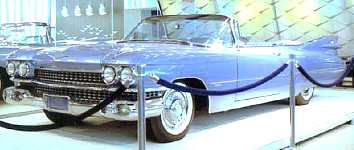 These 2 rows: Views of the Cadillac stand at the 1959 GM Motorama
[ Cropped photos: © 1959, GM/Cadillac; Jean-Michel Roux collection ]


I have, somewhere, the B&W version of this factory promotional photo


A pretty survivor, sporting the more expensive Eldorado, turbine wheel discs
[ Photo: Self Starter annual, 1998 ]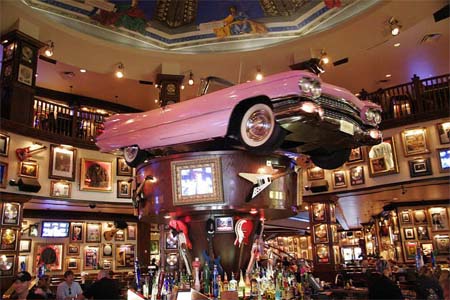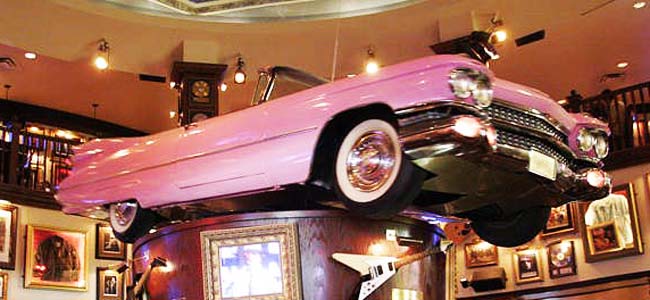 A 1959 Series 62 convertible "hanging display" in a Florida drinking establishment

Here is an unusual "bird's eye view" of the 1959 Series 62 convertible
Series 63 De Ville
The Coupe de Ville




Series 63 style #6337 Coupe de Ville. Inspect it from any viewpoint
and you will discover a rare discernment and imagination by its designers.
Cadillac built 21924 coupes like this one ...and I actually had one of them!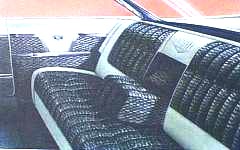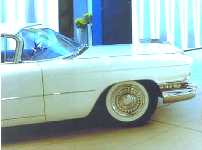 Right: This partial view is from the 1959 GM Motorama
[ Cropped photo: © 1959, GM/Cadillac; Jean-Michel Roux collection ]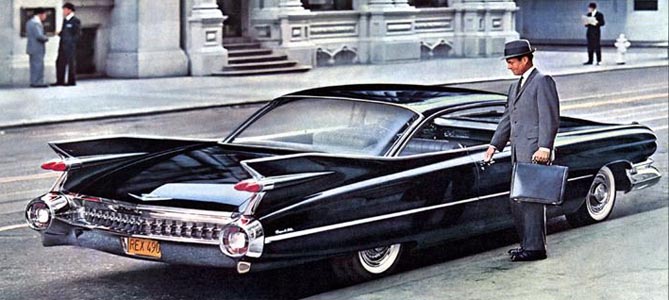 [ Cropped image: © 1959, GM/Cadillac - from a merchandising brochure ]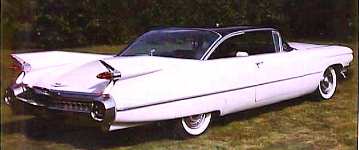 (Left) our former 1959 Coupe de Ville when she arrived in Geneva, Switzerland, from Portland, OR, in 1983. Right, our
kids, Kelly and Jamie [today they are much older!]; they were keen fans of this "rocket ship"; below, two other views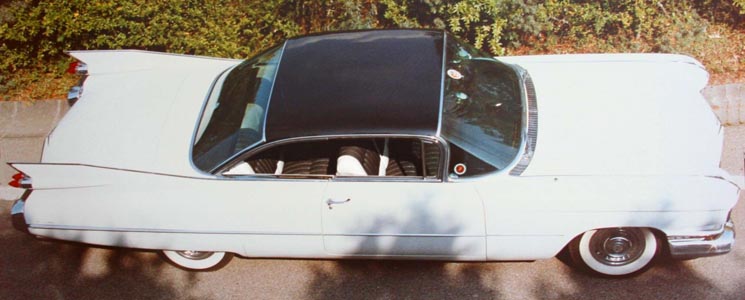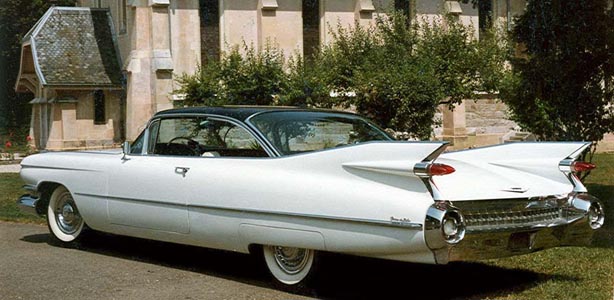 Here's a You Tube video about a pink Coupe de Ville for 1959
The 4-window Sedan de Ville




Series 63 style #6339, the four-window Sedan de Ville style. This
year - with an entirely new roof line - its aristocratic flair is especially dramatic
and pronounced. Cadillac built 12308 flat-top sedans like this one
The 6-window Sedan de Ville




Series 63 style #6329, the six-window Sedan de Ville. And here, too,
are all the elegant luxuries that have won for the Cadillac de Ville
models the admiration of motorists everywhere.
Cadillac built 19158 sedans like this one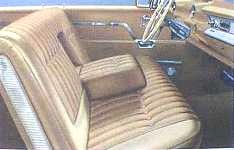 Here's a You Tube video of this model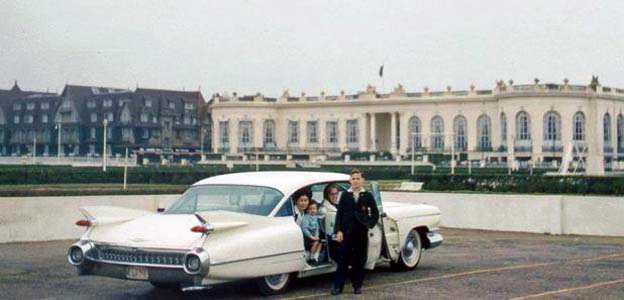 Who is THIS happy family in a 6-window Sedan de Ville?
Is that the Deauville casino (France) in the background?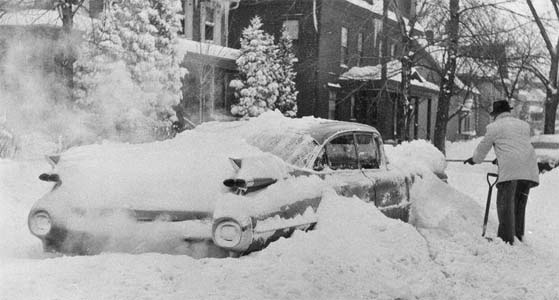 The same model (?) ... somewhere further north, and in winter!
Series Sixty Special
One model only - the sedan




Fleetwood Sixty Special sedan, style #6029. This year will surely add still greater lustre
to its noble reputation. Cadillac built 12250 luxury sedans like this one in 1959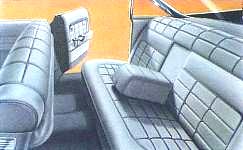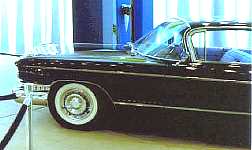 Right: This partial view is from the 1959 GM Motorama
[ Cropped photo: © 1959, GM/Cadillac; Jean-Michel Roux collection ]


[ Factory publicity shot ]

Unknown origin - possibly GM Heritage Museum


Here's an interesting view of a spelndid Series 60 Special; I wonder where it was taken; in the foreground
(left) I can see two small brazilian flags; at top center the red&white pennants seem to be from Indonesia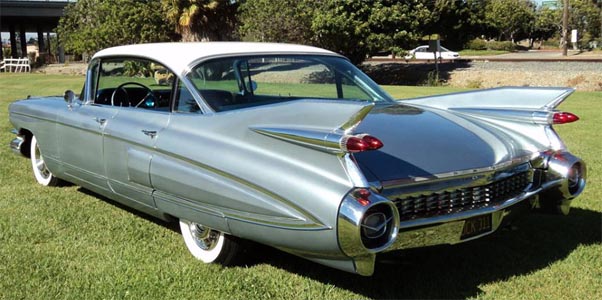 This one is believed to be (or to have been) the property of Formula I magnate, "Bernie" Ecclestone; his fortune was estimated at $3.18bn in January 2014


Two gorgeous survivors seen on the Internet
Series 64 - Eldorado
The Eldorado Biarritz




Series 64, Eldorado Biarritz convertible, style #6467. Luxurious
beyond description, it offers spectacular performance and handling ease.
Cadillac built only 1320 of these absolutely gorgeous convertibles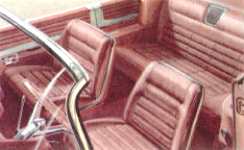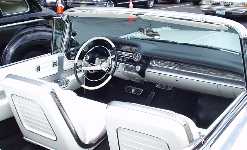 Catalog illustration (left) and surviving bucket-seat model (right)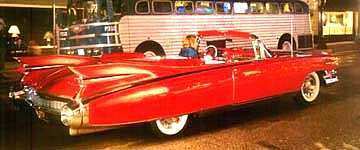 Not since the early to mid-seventies had Cadillac used former successful models to
give a boost to its more recent ones. This beautiful 1959 Eldorado convertible was
featured forty years later in a promotional video clip for the 1999 Eldorado models.
Currently [2004] it is owned by Georg Pfeiffer, a Cadillac collector in Germany
Trivia:

Enthusiast Steve Andrews wrote [July, 2002]: There is a guy who claims to own THE FIRST '59 Biarritz off the line; chassis#10, body#1, tri power, buckets, etc., unrestored, $100.000. Tel.: 719-577-0003, Colorado.

One of these (in Persian Sand with white upholstery and trim) was sold in February, 2008, at an RM Auction in Fort Lauderdale, for $198,000 !
Owners/admirers of the 1959 Cadillac Eldorado models should visit this fabulous photo site...
The Eldorado Seville




Series 64 Eldorado Seville coupe, style #6437. A veritable wonder-world
of luxury - with rare beauty and harmony of color ... flawless Fleetwood
coachcrafting ... perfect convenience of appointments.
One of my favorite post-war cars, Cadillac built only 975 of them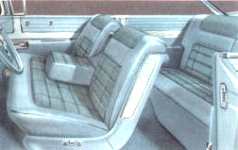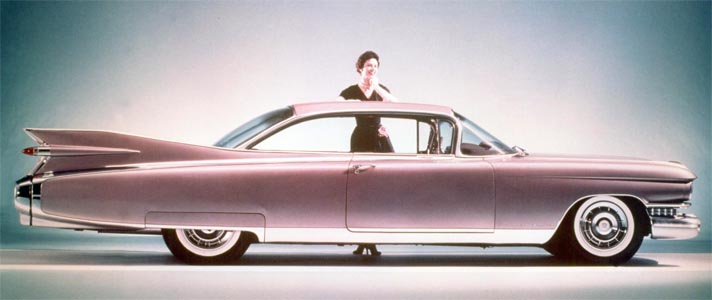 Factory publicity shot of the new Seville
in that year's favorite color, Persian Sand
Trivia: a black '59 Eldorado Seville was sold new, in France, via GM's operations in Gennvilliers, near Paris. We do not know who ordered it, initially; what we do know is that it was sold in 1964 to a Dr. Gérard, a pharmacist, in Auxerre, France; I had the pleasure of neeting him in 1983. When he bought the car, in 1964, Dr. Gérard had it professionally repainted in white. When he passed away, it was kept by his son, under the same registration number, until around 1998-99. The 2nd registered owner sold it in 2001 and it was acquired by a buddy of mine in 2005. He has undertaken to restore the car back to its original specs, including the fully operational air suspension system. It will be painted back to the original color (Black - code #10) and will get a new ivory vinyl roof covering. Photos will be posted here.


Dr. Gérard shows off his Eldorado Seville to me [in blue shirt] in 1983


...and here is the same car, 30 years later, fully restored by my friend Gilles Dreux of Paris
(time flies, doesn't it!)
Series 67
I have no control over You Tube video clips on the Internet,
so this one may not always be available for viewing here

Two models: a sedan and a limousine
[ the latter with partition and division glass ]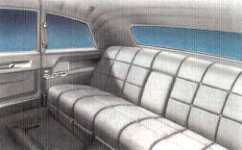 The Series 67 (more commonly known as the Seventy-Five) comprised
two models: a sedan (style #6723), of which only 710 were built, and a limousine with a partition and division
glass (style #6733); 690 units of the latter were built. In Cadillac's own words, Never has the Cadillac crest
adorned more impressive or distinctive motor cars than the Fleetwood Seventy-Five models for 1959



The factory stock version of this model (above) had the regular wheel covers, no chrome on the bullet pods,
a single row of bullets in the rear clip grille and no "V" trim piece in the tail-light housings;
some restored examples (like those below) include one or more of these non-original features

This one has the tail-light "V"s and chromed bullet pods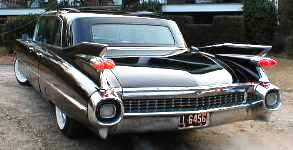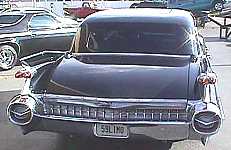 The one on the left has the triple row of bullets in the rear grille, but no "V"s
The one on the right has the "V"s but the regular rear grille


From the collection of King Caddy Daddy comes this pair of mildly customized "75"s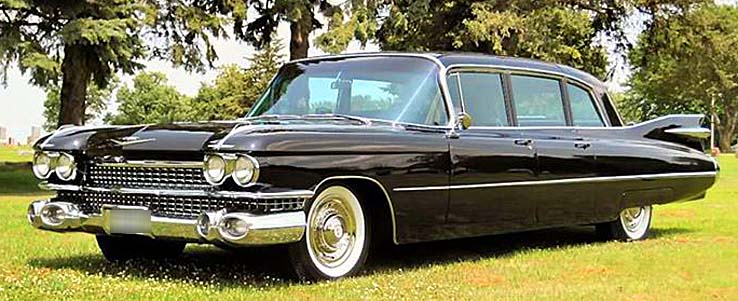 A beautiful survivor
[ Photo: Internet ]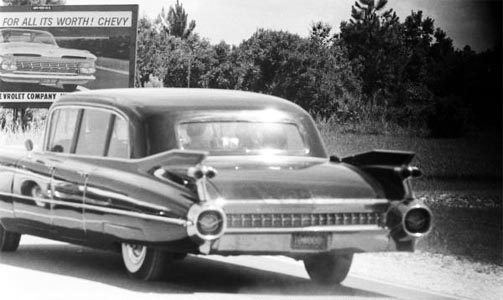 Here's an unfortunate billboard for the '59 Chevy models !
Series 69 - Eldorado Brougham
One model only - the Sedan




With its distinctive, subdued fin treatment (a preview of fins to come), the bespoke Series 69 comprised only this single,
exceptional model, a refined four-door sedan named the Eldorado Brougham. Designed by Fleetwood,
it was assembled in Italy at the Pinin Farina coach works in Turin. You can read more about it in the section of the
Database devoted to the 1959 Cadillac Eldorado Brougham. Only 99 such cars (style #6929) were built in 1959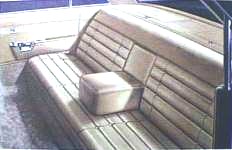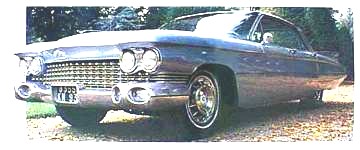 This fine survivor [car #57 of 99 built] resides currently in the Robert Keyaerts
Cadillac Museum, in Langeais, France. It formerly belonged to my Parisian friend François Laurent
Details & Misc.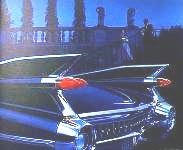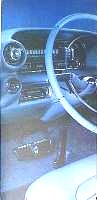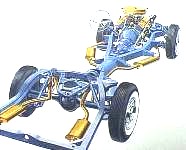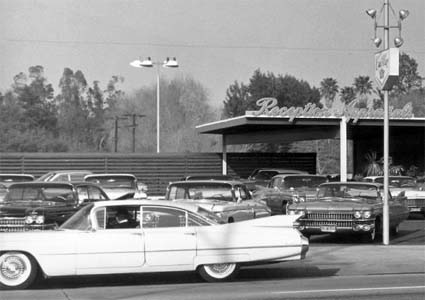 Image cropped from an old 1959-60 Cadillac-Olds dealership photo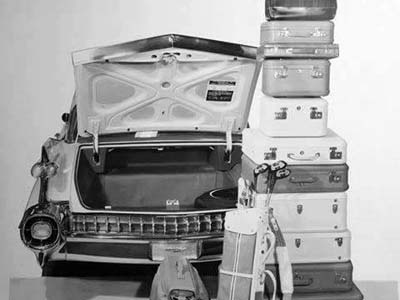 Luggage complement ...with the spare tire in place ???
Return to The (New) Cadillac Database© Index Page
or go back to the Cadillac photo index page to pick another year
© 1996, Yann Saunders and the Cadillac-LaSalle Club, Inc.
[ Background image: fabulous fifty-nine fins from the 1959 product catalog ]