1.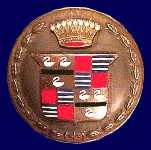 2.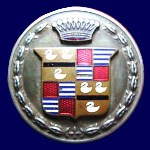 3.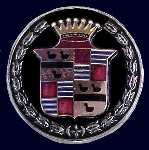 4.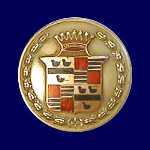 (Images 1 and 2) radiator badges from 1916-1918, with 9-pointed crown and swans in lieu of merlettes;
(Images 3 and 4) insignia used from 1920 through 1927; it had a German silver backing and reverted to a 7-point crown
The laurel or tulip wreath disappeared from the radiator badge with the 1925 models;
in 1926 the badge was placed on a shield-shaped rather than circular background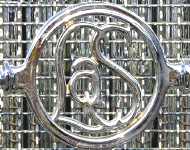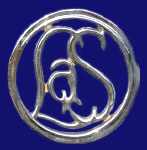 La Salle radiator badge of 1927-28
[ the image at left is "spoiled" by the chromed stoneguard in the background ]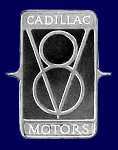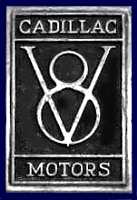 Grille badges of the late twenties
and early thirties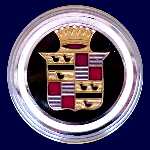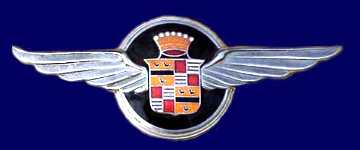 Left, radiator grille badge from 1928 Cadillac; right, 1932 model with "wings"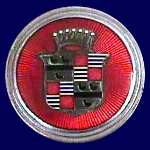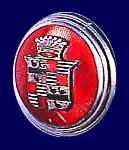 These circular badges were mounted on the center of the
radiator casing of V8, V12 and V16 models of 1930-32
[in fact, all are the same size - circa 2½" in dia.]
Only the sixteen (red) had the rays emanating from the center out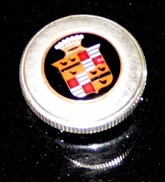 These knurled knobs with Cadillac crest are found on the metal cover
between opposite banks of 8-cylinders in the V16 engines from 1930-1937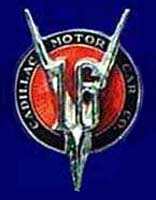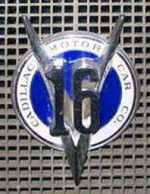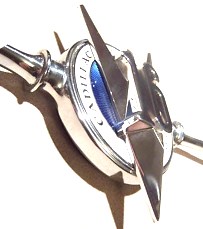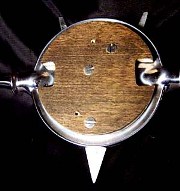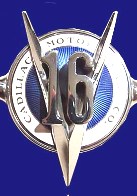 Exception: this custom made "V-16" badge on a blue background;
it belongs to a custom "V-12" job fitted with V-16 trim

The multi-cylinder cars of 1930-31 had this type of radiator badge
mounted on a cross bar, stanchion between the headlights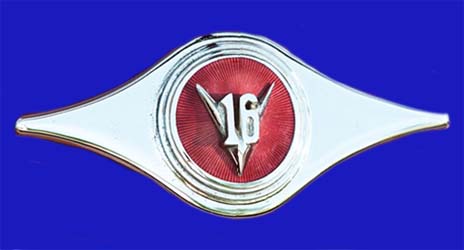 Series 452-452A, V-16 rear splash apron emblem

The multi-cylinder cars of 1932 got this "winged" crest
on the radiator shroud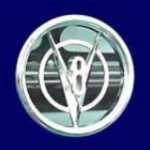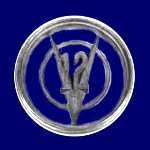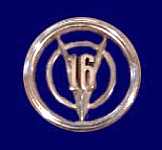 Left: trunk emblems off 1932 Cadillac V-8, V12 and V16 models; these are
"see through" emblems, which may not be obvious from these images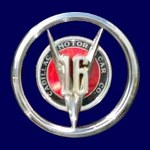 This one is a puzzle as it seems to combine a
1932 trunk emblem (outer ring) with a 1930-31 grille emblem (inner ring)
Could it be a wrongly restored item

Trunk badge for 1933 V12 models


Radiator badge of a 1933-1935 Cadillac (starting in 1934, the crest was detachable)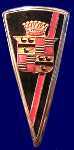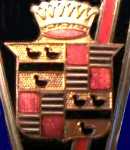 1936-37 grille and trunk emblems (V-8 cars)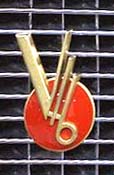 (left) V16 grille badge for "Series 90" cars from 1934-1940
(right) Same badge on 1937 V16 "Aero" coupe, in "gold" finish


1938 (with detachable crest), except Series 60 Special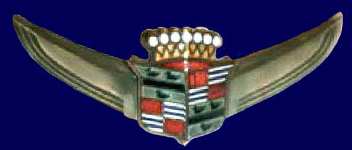 1939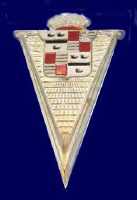 1939 and/or 1940 Cadillac trunk (left) and 1939 La Salle radiator (right);
I thought the 1939 Cadillacs used a trunk badge similar to the La Salle
(but with a Cadillac crest), combined with the 1940 radiator badge shown below;
CLC member Mike Simmons of California has thoroughly researched the topic
and has uncovered some contradictory information [see "Late Extra", below]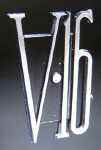 Sidemount emblen,
from 1940 Cadillac V-16

Late Extra [Dec., 2007]: Yann, I was just trying to correct a seller on eBay who is offering a "1939 trunk emblem" for a Cad, when it is obviously the one-year only 1940 sunburst style [above]. I told him about the mistakes on p.361 of Hendry's first edition. I was going to cite your CLC Cadillac Database, but thought I ought to pinpoint the location of the emblem info. There, I was surprised to find an error similar to Hendry's. You picture the LaSalle version of the sunburst (1940) [above] and state that it is the same as the 1939 Cad, only with a different crest. At this point, I began to question my sanity- so I checked with the CLC authenticity manual for 38-39 and 40 Series 75 cars [unfortunately, Mike, I do not have a copy of that manual]. In section VI, page 8 , it illustrates a V8, V-shaped emblem and states it is for the 1938 grille and trunk, and the 1939 trunk [an image would be useful, Mike]. The 1940 sunburst emblem is illustrated to it's right. In addition to my own 40-75 (with the sunburst, or rays or whatever it is called), I own a 39-61 coupe, and it shares the same 39 V8 emblem with the above-mentioned 39 Series 75. I believe the 37 Cads and LaSalles used the same V8 emblems on their grilles (though not on the trunks), and Hendry says they were even used on 36 grilles and trunks. Cad got a lot of life out of that emblem, it would seem. Happy New Year ! [now I'm hopimg Mike will lend a hand to draft the captions correctly for Cadillacs and La Salles from that period].


1940
[1938 Series 60 Special is similar]

1941 trunk lid "winged"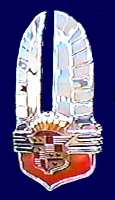 1941 and 1942 hood crest
[some 1942 badges have red painted, fine horizontal stripes each side of the crest]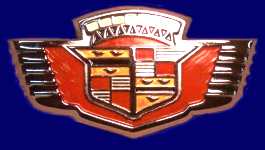 1942 trunk lids sported this winged emblem


Front hood name letters, 1941-42
[used also as fender ID letters in 1946]