1959

Barnett Coach Company (USA)




The caption reads: J.Cowan Whitley (?), Douglassville, Georgia, owner of J. Cowan Funeral Home, and president of the
Georgia State Board of Funeral Directors and Embalmers, accepts delivery of the first Barnett Coach Company 1959 Cadillac Combination

Cadillac (USA) The Fleetwood 75 limousine and the four models below it appear in the 1959 Cadillac professional car catalog; they are identified as being typical of the independent coach builders Eureka, Miller-Meteor, S&S (Hess & Eisenhardt) and Superior.


Fleetwood 75 limousine



Eureka (left), Miller-Meteor (right)



S&S (left), Superior (right)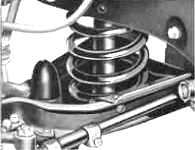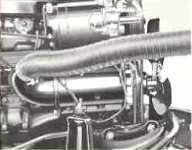 Improved suspension (left) and heavy duty generator (right)

Eureka (USA) Various commercial vehicles including those below


Eureka Landau, above was offered in six different versions;
prices ranged form $11,251 to $12,881

Eureka combination ambulance/hearse with regular roof treatment;
the price ranged from $11,006 to $11,224


This is the Eureka combination with optional, "full view" styling;
prices for this model ranged from $11,006 to $11,224;
the end-loading funeral car with electric table cost $12,636


This is the Eureka ambulance with optional, "full view" styling; it cost $11,552;
note the roof-mounted tunnel lights and the optional Federal siren/light combination




This restorable ambulance does not have the optional, "full-view" styling introduced by Eureka this year and
consisting of bulbous, wrap-around rear corner windows; this vehicle was fully restored by a member of the
Professional Car Society (PCS); photos taken during the restoration mat be viewed on this Web page
[the foregoing images were picked up on the Internet]


This Eureka Flower car appears to need restoring
[ Photo: © 1994, Yann Saunders ]

Fleetwood (USA) Custom "bubble-top" limousine for the Royal visit to Canada, in June 1959, of HM Queen Elizabeth II. Photos below were supplied kindly by Swiss enthusiast and friend, Jean-Michel Roux. Others may be seen on this page of the Database, that I devoted specifically to this car.


Two bird's eye views of the passenger compartment, with bubble-top removed
The British royal standard was affixed to the front of the roof


Two-man operation to remove the Plexiglas "Bubble" top
Köng, Walter [Basel, Switzerland] ambulance conversion on stretched chassis; non-Cadillac from the cowl back. Köng built similar ambulance bodies on the 1960 and 1963 chassis. This car carries a special order body tag : #SO 002923 and the [commercial] chassis number is 59Z101265. On the Swiss title, it is given as a "6-seater". It was owned for many years by Heinrich Kaech who operated an ambulance/taxi service out of Dornach, near Basel, in Switzerland. The vehicle was first registered as an ambulance on April 14, 1960. Its gross weight is over 7000lbs. This custom ambulance was acquired in the summer of 2003 by a French collector who decided (lightly) to drive it to Paris (nearly 400 miles) on one of the hottest days of the year. Result: he blew an engine gasket at the halfway mark and all but destroyed the motor !


Sorry for the poor image quality; these are stills from video footage I made in 1984
of the International Cadillac meet I organized that year in Geneva, Switzerland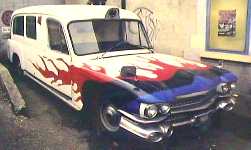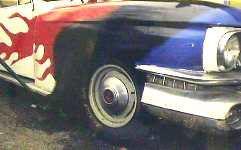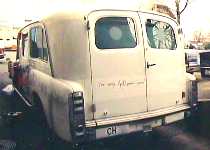 [Above two rows]: These photos were taken in Geneva. by my son, Philip, in 2003; the
customized Köng ambulance was acquired by my friend Christian Vaney who subsequently sold it
to a French collector; on the rear LH door, an inscription reads "I'm only 40 Years Young..."

Miller-Meteor (USA) Various commercial vehicles including the selection, below


Here is the Miller Meteor Landau Traditional end-loading hearse, with a starting
price of $10,482. The Duplex combination model went for $10,694


The reversible floor of the "combi9nation" car quickly converted
the vehicle from hearse to ambulance, at the flick of a switch


Manual or electric-powered rear and side loading (left or right) capabilities;
the manual version cost $ $11,516 and the electric version was $12,079


This (unlikely?) two-tone job depicts the Miller Meteor Futura limousine/ambulance;
the Futura models have small, wrap-around corner windows in the rear;
prices started at $10,474 and rose to $11,865 for the 3-way model with power casket table


This is the Miller Meteor Classic funeral coach
prices started at $10,474 and rose to $11,865 for the 3-way model with power casket table


The Miller-Meteor flower car for 1959; roof styling appears borrowed from the Superior line;
this model sold for $10,799 with the hydraulic, stainless-steel flower deck; a cheaper version,
with Chicago-styled flower trough was also available


This is the model with the Chicago-styled flower trough
[ Photo: © and courtesy Phantom Coaches Hearses Club ]


Miller-Meteor's Sentinel ambulance:
this version, with 42˝" roof height, sold for $10,600;
the version with the 48" roof height cost $10,962


Left: the Volunteer, right: the Ambulandau
[ Above three photos are from a period ad supplied kindly by the owner of the MM Sentinel survivor, below ]


This is the 42" headroom, straight ambulance model


Despite its sorry state, this survivor is such a rare
model as to be worthy of a total restoration
[ Photos: Internet, 2008 ]


Here's another restoration project
...but not for the faint of heart!

This Miller-Meteor Futura-styled ambulance was offered for sale at auction on eBay in December, 2003. According to the vendor, tens of thousands of dollars went into restoring this car ...even though he said the gauges, wipers, blinkers and A/C were o/s. Note that the leather front bucket seats are from a 1964 model; the steering wheel from a 1965; the wire wheels are from the nineties, the boat horn is non-authentic, as is the upper chrome side trim running from the front door to the rear bumper. Late Extra, 4/2004: According to Sarah, my young friend and professional car enthusiast from Cleveland, OH, the base vehicle is a Miller-Meteor Sentinel model; Sarah is right! The car was acquired by an enthusiast in England for less than the $25K asking price. Corrigendum 5/2004: At first I thought those rectangular roof-mounted tunnel lights, blue lens siren and curved chrome side trim were not authentic, however, the new owner has sent irrefutable proof that all these items are genuine MM issue; he sent a period advertisement for Miller Meteor's Sentinel, Volunteer and Ambulandau models (see below). He added that the vendor had repaired most of the outstanding defects before shipping the car to Europe; he found the original front bench seat and sent that over with the car.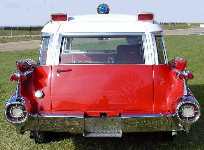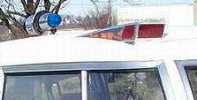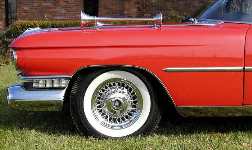 These photos from Internet, courtesy of Dan Hillebrandt
and www.motoeXotica.com


The car above was subsequently acquired by a company in England
[ Photo: © 2012, Cunningham Classic Cars, UK ]

S&S [Hess & Eisenhardt] (USA) Various other commercial vehicles for the ambulance and funeral trades, including this one:


A surviving S&S Park Place end-loading funeral car; according to enthusiast, Sarah, this may be one of
only a few combination hearse/flower cars made by S&S that feature a removable roof section; enthusiast and professional car expert,
Bernie de Winter says this was the third and final year such a car was offered;
S&S listed a price for it, but nobody knew if such a car was ever built until this one showed up on EBay


Another lovely survivor


Partial view of the Park Hill combination coach


Superline Parkway

S&S [Hess & Eisenhardt] (USA) conversions


This billboard car was offered for sale on e-Bay in April, 2003;
the base car is the S&S Kensington ambulance from Hess & Eisenhardt


This people-hauler conversion was found on the Internet, 2008

Superior Coach (USA), 9 or 12-passenger Caravelle or Skyview sight-seeing coach. Only six of these SUPERB wagons were built ['59 aficionado, Bob Waldock, believes there were eight of them but he and his '59 Cadillac collector buddy, Ted Grill, can account for only six of them]. All (six?) were delivered to the renowned Broadmoor Hotel in Colorado, to replace the aging fleet of 1955 and 1956 S&S observation coaches. These were the next generation of Broadmoor Skyview buses. Superior printed literature showing those cars with similar Pontiac models known as Cargo Cruisers, but later changed the name of the Pontiacs also to Caravelles. The Caravelle combined Cadillac's eye-catching beauty for 1959 with large seating capacity, wide door clearances and plenty of interior roof height . It was built on the heavy duty commercial chassis, on special, heavy-duty springs and heavy duty 8.90x15, 6-ply tubeless tires; it was quite similar in outward appearance to the firm's Royale funeral limousine. Wheel base was 156" and overall length 251" (just an inch short of an astounding 21 feet!). The width at the side doors was 64˝". Superior probably hoped to sell more of these to private buyers; to this effect they put out a colorful flyer (it too a rare collector's item). It boasted "special custom exterior and interior appointments to customer preference". The plexiglas observation roof panels were optional, as was also a roof-mounted luggage rack; it is believed that ALL these wagons were ordered with the observation roof, but NONE with a roof rack. Buyers were free to decide on the body color and interior layout. There was a split back driver's seat and all seats were genuine leather over foam rubber. Like the 1955 and 1956 S&S models from Hess & Eisenhardt, these cars carried the Broadmoor nameplate in gold on the upper portion of the tail-fins. There are few survivors. One of these was offered for sale in Mansfield, OH, in October, 1978; condition and price were not stated. My friend Ted Grill, formerly of Bayshore, LI (who moved later to Florida), owned one of these in the early seventies; it was in restorable condition. Bob was able to acquire one in Oklahoma, circa 1987.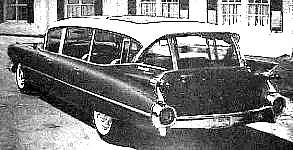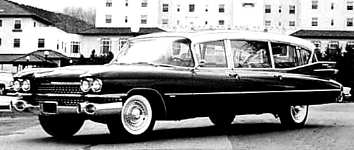 (Left) Publicity photo on location in Miami, (right) outside the Broadmoor Hotel, Colorado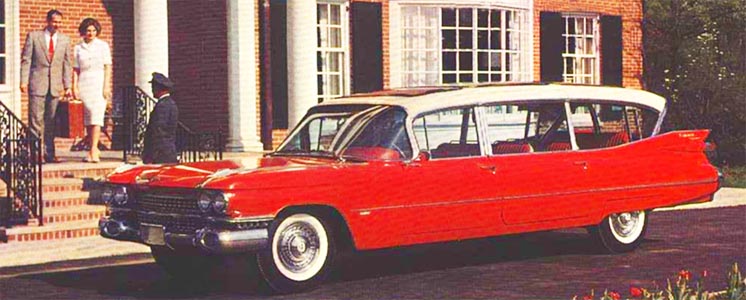 The above three color illustrations are from a Superior Coach Corporation product sheet from 1959


This is Bob's car; I photographed it in 1994
[ Photo: © 1994, Yann Saunders ]


Bob's car, now superbly restored
[ Photos: © 2005 and courtesy of the owner ]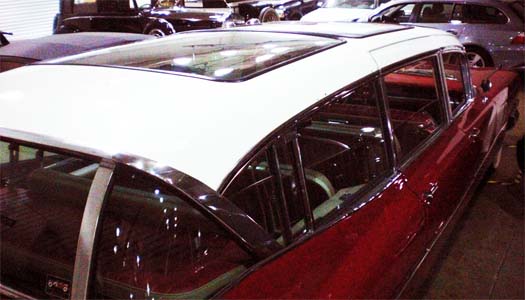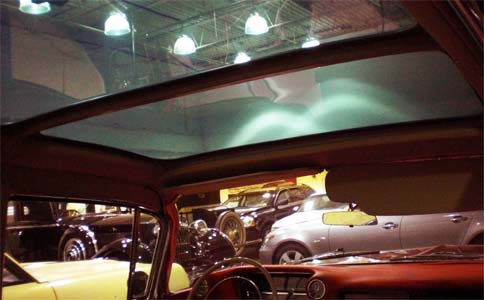 Here you can admire the Plexiglas observation windows from above and below;
the car is believed to be currently [2010] in the former LeMay collection, in Colorado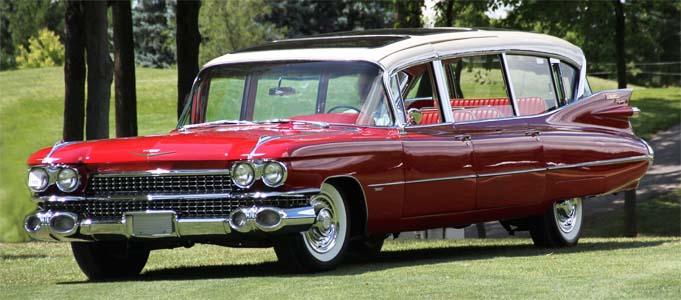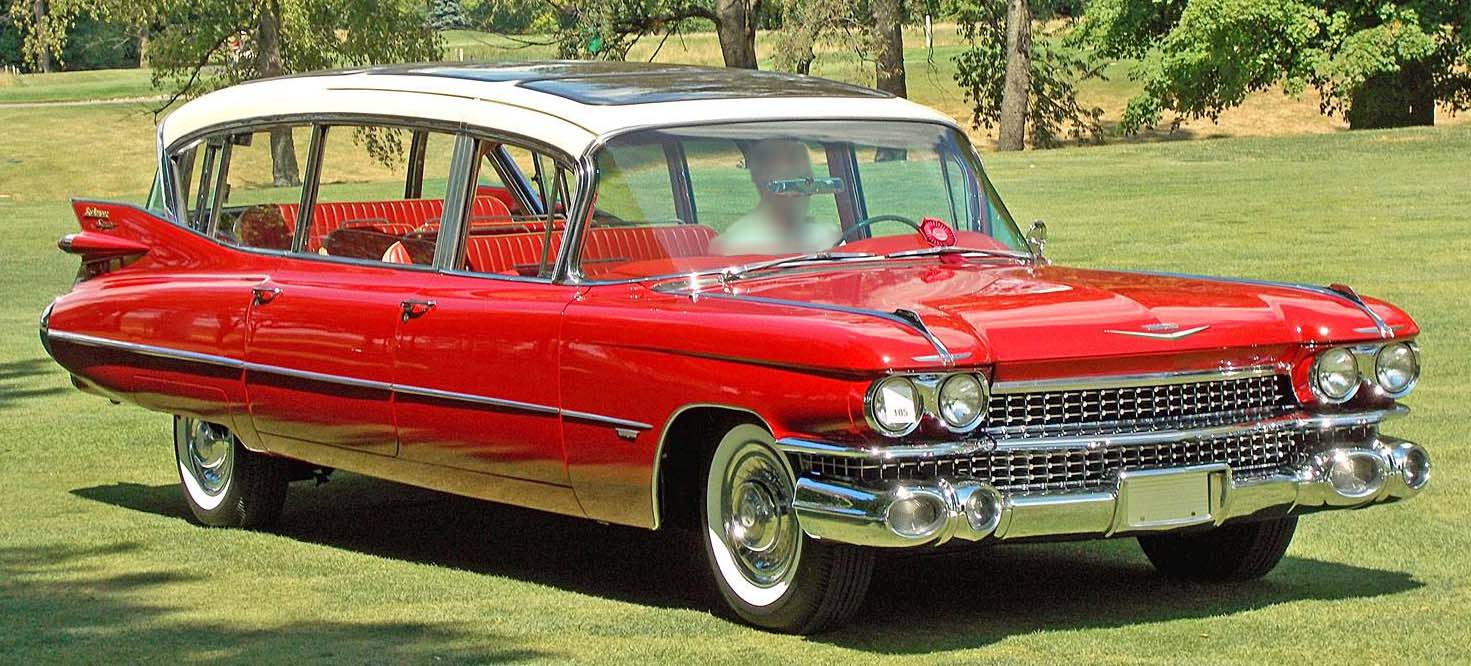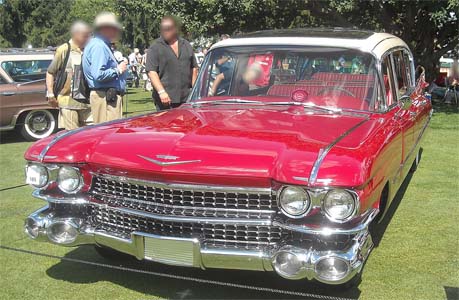 Photos in the above two rows are from a 2014 Facebook entry by Robert L. Burns in 2014
Superior (USA) Various commercial vehicles including the selection, below


Four versions of the Crown Royale Landaulet hearse, de-luxe Model DL-604 were available, ranging from $10,781 to $12,427


Royale Landaulet combination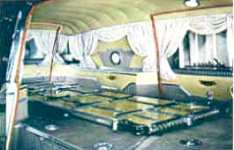 Crown Royale end loading landaulet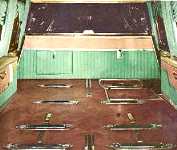 Illustrations in the preceding four rows are from a Superior Coach Corporation product catalog


Crown Royale combination car (left) could be driven away for $11,047;
Standard Royale landaulet (right) was slightly less costly


Far ritght: surviving Crown Royale Landaulet combination


[ Photo: Internet, 2014 ]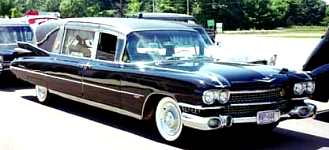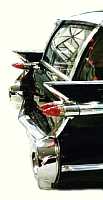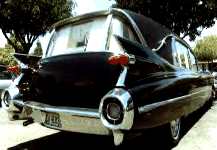 Surviving Royale Landaulet

Surviving Royale combinations (the car in color is located in France)


Surviving Crown Royale limousine combinations


Royale ambulance


Superior Royale ambulance, Model 606 [starting at $10586]
Illustrations in the preceding two rows are from a Superior Coach Corporation product catalog





Superior Royale ambulance survivor; it is owned by Dan, a PCS member from Ohio


Here is another surviving ambulance that was converted from a funeral coach
by McPeck Motor Coach of Denver, CO. It is owned [1996] by Joe Unrein
[ Photos: © 1996 and courtesy of Emergency Vehicle Owners & Operators Association, Inc. ]


[ Photo: from advertising brochure ]


This photo from (I'm guessing) the 60s, shows a "Superior" ambulance in a stunning color
(we had a 1960 Eldorado Seville in that same, "Heather metallic" hue)


I wonder if this one survived ...





Superior Royale Coupe de Fleur, Model 609 [it cost $10785 new]
Illustrations in the preceding two rows, again, are from a Superior Coach Corporation product catalog


This survivor (2 rows) is registered with the Professional Car Society (PCS),
Northland Chapter, who own copyright to the photo


Superior (?) flower cars stacked 4 x 8 deep; it's a wonder so few survived!

[Unknown, USA] Possibly a modified Superior combination coach, used for people-hauling.

[Unknown, USA]


Loading a patient into a '59 ambulance


Not recognized, but a fine survivor nevertheless

[Unknown, USA] stretched, Series 62 with rumble seat (see photos, below):




[ Above three photos © 1999, Y. Saunders ]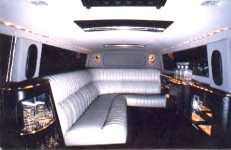 [Above two photos: © 2001, John Coyle, aka "Caddy Daddy" ]
[Unknown, USA] stretched, Sixty Special sedan


This image was picked up off the Internet. The car is
called The Great White. The owner, Justin Gibes of
Cincinnati, OH, operates the car as a rental limousine

[Unknown, USA] stretched, Series 62 sedan

[Unknown, USA] stretched, Series 75 limousine

[Unknown, USA] another "Stretch"... of the imagination, without a doubt!

[Unknown, USA] a dragster Hearse!!!

[Unknown, USA] ... Why not, indeed!

[Unknown, USA] Alleged movie car from Ghostbusters


This car was offered for sale by the Kruse auctioneers in April, 2003; according to Sarah, a young enthusiast from Cleveland, OH,
it is actually a BAD replica of the movie car; indeed , there was a bit of a scandal when the auction company found out it was NOT the movie car


The "real McCoy?

[Unknown] From the Velasquez funeral home in Trujillo, third largest city in Peru (located about 600km from Lima), comes this unbelievable hearse conversion of a 1959 Cadillac Eldorado Seville coupe. Photos show the car was fitted with a/c and Cruise-Control [although the body tag does not include code "C" for the latter item]. Thanks to my Peruvian lawyer friend, Fernando Murga, for checking this one out for me. Late Extra [July, 2008]: The car was acquired by a collector in Houston, TX; unfortunately, he decided he had too many other projects taking up his time, that he put the hearse up for sale on Ebay.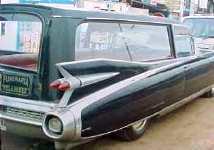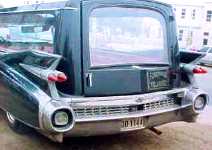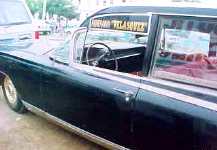 The original color of this car was Persian Sand (the most desirable color on the 1959 palette);
it featured also a white vinyl roof; interior trim was originally matching leather and cloth in the same
bronze-pink hue as seen on the photo of the instrument panel; accessories included air-conditioning and
Cruise-Control, visible in the photo; car suffers from a broken horn ring (a typical flaw in older '59 models)


Note gold-anodized "sabre" wheels; these were no longer current in 1959


[ Photos in above 3 rows are from the vendor's ad on Ebay ]

[Unknown, USA] Sorry, but I couldn't resist including this one.


[ Photo: Internet, 2013 ]

Visser [meaning "Fisher", in Dutch] (Holland) Various commercial vehicles (hearses and ambulances on regular or stretched Cadillac chassis, like this one from 1959. My friend Dirk-Jan de Jong of Holland wrote:
This is a very ugly example on a 1959 Cadillac commercial chassis. As you can see, the rear of the car has been totally altered and the fins have been shaved off. The non-whitewall tires (and the guys in front of the car) do the rest to spoil the picture. This car has a non-standard windshield. At the start of the seventies it was all over for the Cadillac ambulance as regulations (and money supply) were tightened and a switch was made to the (Chevy)van-based ambulances.


Like Köng in Switzerland [see above], Visser shaved off the '59 fins
and built an entire new upper body, including the windshield
[ Photo (left): Ambulances in beeld (1945 - 1975), courtesy Dirk-Jan de Jong, Holland ]
[ Photo (right): the same or a similar ambulance in front of a Dutch hospital - Internet, 2003 ]

Yann S. (Switzerland and USA) And here is my very own proposal for an Eldorado Estate Wagon on the commercial chassis for 1959. It is based on a technical drawing found on p. 9 of the 1959 Miller-Meteor product brochure entitled Outshining Them All. The pickiest among you will note that all I did was to add "Eldorado" side trim and tail-lights to a Miller-Meteor funeral coach design.