[ last update: 01.05.2015 x]
The (new) Cadillac Database©

Foreword


How it all began

If you are not interested in this trivia page, you may
return to The (New) Cadillac Database© Index Page


Pour accéder à d'autres informations importantes, cliquer sur le drapeau



General

The automobile has been around for a hundred years ...that is just about as long as it takes a volcano to sneeze. Ten thousand years from now some future archaeologist may dig up the remains of one of them, a vestige of our 20th and 21st century means of personal transportation. Comparing it to his own already outmoded, reverse-gravity, personal mobility capsule, he will probably consider our "cars" as something totally inane. And yet we consider them to be one of the most admirable contraptions that man ever built ...that is before the world's petroleum reserves ran out!

Among the automobiles of the world, in my opinion some have always stood out from the rest. The (new) Cadillac Database©, as you may have guessed, relates exclusively to my own favorite marque.

My purpose in compiling this electronic record has been to concentrate in one place, for convenient reference, the thousands of facts, figures and tidbits I have gleaned about these cars over the last half-century, ever since my interest in GM's leading brand was sparked off at Xmas 1955 by a colorful magazine advertisement I saw for the 1956 Sedan de Ville [picture further down].

By essence a database is up-to-date only at the time the latest changes and additions are made; that date is shown in square brackets at the top left-hand corner of each chapter, part, section or page. The accuracy of the contents also is conditional on the accuracy of the inputs. In this respect, I have noticed that "facts" from different sources sometimes are contradictory. Included here, therefore, are only those "facts" drawn from the source(s) which, in my opinion, seem the most reliable. It is for you, the user, to point out any errors, omissions or inconsistencies you may come across so that, together, we can improve the database and thus better serve the hobby.

The topics, key-words, dates and substance included in The (new) Cadillac Database© are drawn from a multitude of books, magazines, press cuttings and general or factory publications making up my vast, collection of literature accumulated since 1955 and relating to Cadillac and La Salle automobiles. They have been compiled into this vast reference work intended for hobbyists, collectors and admirers of Cadillac and La Salle automobiles. It is, in particular, for those who, like me, are more interested in the styling of their favorite marque and models, rather than in the mechanical marvels under the hood. It is also for those who write about Cadillac and La Salle automobiles and who want to be as accurate as possible in their writings. Finally, it is for all absent-minded Cadillac and La Salle aficionados who, again like me, can never remember precisely in which book, magazine or factory catalog they saw the photo of that V16 Town Car with the French body, or read that article about a special Cadillac "Dream Car". More specifically, The (new) Cadillac Database© is intended for the many repositories of what my friend and automotive writer Roy Schneider rightly refers to as:

The Sacred Heritage

Getting the bug

My interest in Cadillac automobiles and history goes back to 1955. I was in my mid-teens when I first became fascinated by the sheer size and flamboyant styling of American automobiles in general, compared to the tiny, drab cars of my forgotten childhood in Scotland's industrial west coast just after WW2.

I was born in 1939. Jock, my late father, married Maman, in Paris, in 1937; she was a 19-year old French beauty whom he had met in Vienna where both were studying German. Dad taught French and German in Scotland before he was recruited, in 1947, as a translator by the newly formed United Nations. He gave me my love of languages ...and of American cars.

In 1947 the family moved from Balloch, on the bonnie banks of Loch Lomond, to Geneva, Switzerland, seat of the U.N.'s European headquarters. Dad's only means of transportation up to that time had been his own two feet (ma ain twa feet - as he used to say) and an old Raleigh bicycle he had bought second-hand when he was still a young student-teacher in Scotland. But on a late summer's day, in 1948, he was captivated - as I would be some 18 years later - by an impressive American car on one of Geneva's used car lots. It was a 1934 Chrysler CB-6 convertible sedan. He bought it not for its gracefully flowing fenders and bullet-shaped headlights but rather for its capacity to accommodate our then 7-member family. Dad didn't know it at the time, but he had just bought himself a rare and desirable automobile, only 450 units having been built in total.
This is NOT a Cadillac !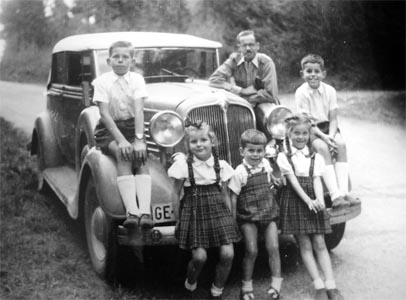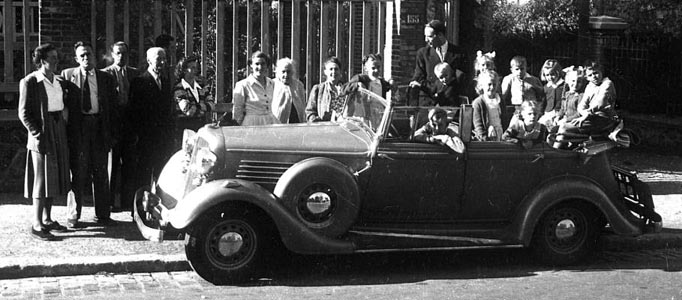 Left: the Saunders family in Divonne, fall 1948.
Right: the French side of the family in Clamart (near Paris), fall 1949; even my
great-grandmother was present (she's the white-haired lady in the wool cardigan (center)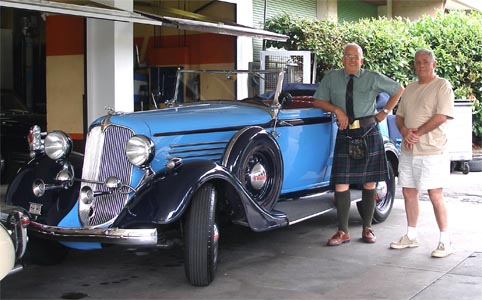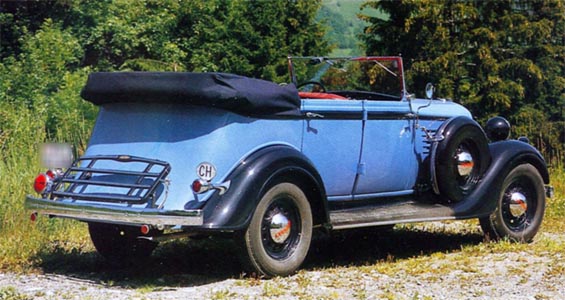 My brother and I in Geneva, on the occasion of my 70th birthday, in 2009; we found
the car sitting outside a garage near Geneva's restaurant, "La Perle du Lac";
Dad had paid $450 for the Chrysler in 1948; the current owner wants $90,000!
Repainted from silver-gray to baby-blue, she is nearing 80 years of age (2014) but is still going strong.
[ Photos (left): Yann Saunders collection; (right) © and courtesy J.-P. Schindelholz, Switzerland ]
Was it the many enjoyable rides I had on the back seat of the Chrysler, or - unknown to my father - the secret driving lessons my older brother André (then aged 10) used to give me (then aged 9) at its wheel? At any rate that first American car in my childhood probably was instrumental in guiding my choice of automobiles in later life.

In 1952, I went back to school in Scotland where I attended the Vale of Leven Academy, then Dumbarton Academy. As a matter of interest, so did F1 racing legend Jackie Stewart, born just a couple of weeks after me! I mention him here because we have more in common than just high school; like me, Jackie too moved to Switzerland ...but for different reasons! He and wife Helen moved into beautiful Clayton House in Begnins, overlooking Lake Geneva, about 20 miles east of our own [former] Eldorado in Chambésy. I used to bump into Jackie, with his sons Paul and Mark, at the Geneva Auto Show held every year in March.

Sir Jackie's wife, Helen (from Helensburgh!), and my sister-in-law, Thérèse, shared the same obstetrician. One day, Thérèse (then expecting my nephew, Chris) and Helen (expecting her younger son, Mark) got talking in the waiting room (at that time Helen's French was almost non-existent and she was glad to get help from Thérèse to fill up some medical forms). While chatting they found out that their respective husbands hailed from Dumbarton. Helen said that her husband was "...in cars." Thérèse replied that her husband sold earthmoving equipment [Caterpillar] and inquired if Helen's husband might be a "car salesman". Helen laughed; she said "No, actually my husband is Jackie Stewart..." To which lovely, blonde Thérèse [who knows as much about F1 racing as I know about nuclear physics] retorted, "I'm pleased to meet you; my husband is Alain Saunders..." Helen was very impressed!

Some time after retiring from F1 racing, the Stewarts sold their home in Begnins to singer-showman Phil Collins and his third wife, a local Swiss lass.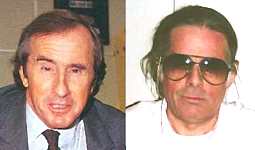 Jackie and Yann, a pair of
Dumbarton Academy FPs, 40 years on
[ Photo (left) © Richard Martin, SIPA Press, (right) © Yann Saunders ]
Anyway, during the next eight years [1952-1960], fruitless attempts were made to "edikate" me. But I remember mainly the summer and winter vacations spent with my family in Switzerland. It was during such a school break, at Xmas 1955, that I stumbled across "my" first Cadillac. There it was, all two tons of it, a beautiful, claret-red 1956 Sedan De Ville depicted in a colorful magazine ad. It sat in a snow-covered driveway in front of a lighted porch, somewhere in suburbia. Inside, under the Xmas tree, Dad was handing Mom the keys to the new Cadillac. The ad read: "The Xmas they'll never forget". I still have that original ad (below) ...as well as some 2,000 others accumulated over the next 45 years.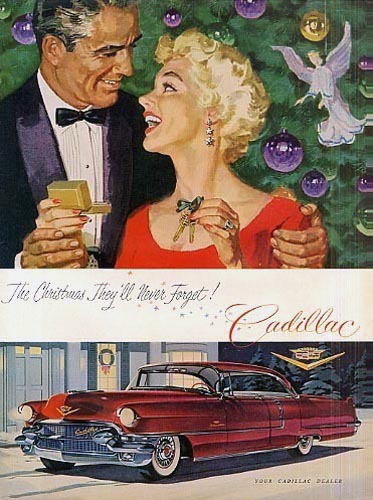 The Cadillac ad from National Geographic, December 1955
that started it all: the 1956 Sedan de Ville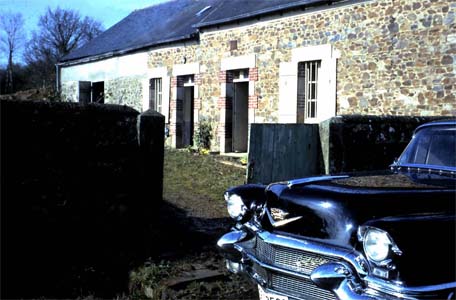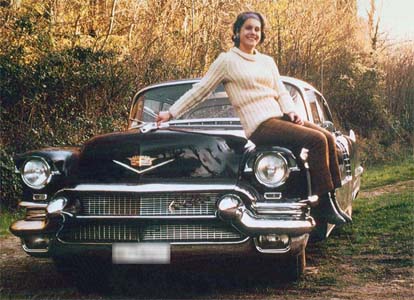 The gal riding the front fender (below, left) is Christiane; we were married, briefly, in the sixties; we divorced because she thought I was too carefree!
Well, I later met Gita, my wife since 1972; nobody could be more carefree than Gita; I guess that's why we get along so well!
BTW, the small parking lights below the headlights (center photo) were mandatory on this model, in Switzerland.
Far right, the Caddy parked outside my Dad's apartment, at 61 rue de Montbrillant, Geneva, in 1967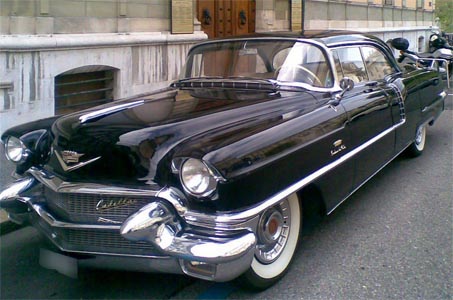 This one (could it be OUR former car) resides in Geneva (CH), half a century later
Six months later, in June 1956, I got to ride in a Cadillac for the first time. It was a black 1949 Series Sixty Special sedan owned by the then U.S. ambassador to the United Nations. His son sometimes got to borrow it to drive a bunch of us teenagers to memorable summer parties by the lake. I remember being fascinated by the car's comfort, performance and better-than-state-of-the-art passenger conveniences. I remember also being impressed by its fully automatic transmission as well as its hydraulically-operated windows and radio antenna.

1949 Cadillac Series 60 Special sedan, like the one in which I first rode
In the fifties, Cadillacs were a common sight around the U.N. in Geneva. However, they were rarely seen in the west of Scotland. One of the first and only ones I ever saw there, on a bleak, misty morning in early 1960, was the tail-end of a shiny black 1959 Coupe de Ville. It was only a fleeting glance but, for me, it was love at first sight! I swore that one day I would have one like it ...even if I had to wait a quarter of a century!

I worked in London, then Paris before going back to Switzerland in 1963 in search of a more challenging job opportunity. It was there, in Geneva, in December 1966, eleven years after admiring that 1956 ad, that I "blew" my entire month's pay on my first old Cadillac, a 1956 Sedan De Ville just like the one in the ad. It was a Xmas present to myself that I will never forget!
The '56 Sedan De Ville was the first of a number of old Cadillacs I was fortunate to own and enjoy ...and on which I lavished also large amounts of hard-earned bread. Back in the good old days, i.e. before children, dogs, inordinately high mortgage payments, we had lots of fun with old cars. Cadillacs were cheap at the time. Nobody wanted those so-called gas-guzzlers. But I was prepared to ride my bicycle all week just to enjoy driving a few miles each weekend at the wheel of one of my favorite old cars.

The year I met Gita (1971) we traded her '69 Beetle and my '67 Mustang for a more spacious '64 Cadillac hardtop Sedan de Ville, the 4-window model with the Vicodec roof covering. The '64 was a strong runner, a stately black sedan formerly owned by the Danish Consul in Geneva. It took us to such ordinarily inaccessible places as the Palazzo Quirinale, i.e. the Italian Parliament in Rome (where I worked briefly as a translator/précis-writer before Gita and I were married), as well as the elite Cap Estel hotel at Eze-Bord-de-Mer on France's Côte d'Azur [used as the back-drop in a bespoke ad for Britain's elite Range Rover!] ...but that was only because I had followed a post-graduate course in Hotel and Catering Management with the owners' daughter, Mireille, in 1959 and 1960. You may read more about that princely hotel in a short story I wrote entitled "59 SHARK" that relates a trip I took to Monaco, in the eighties, to purchase a 1959 Cadillac Series 62 convertible.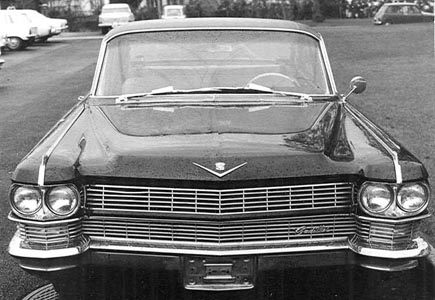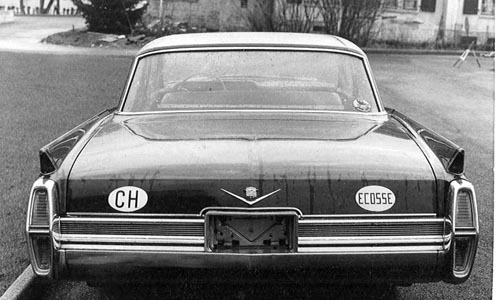 Left, front clip of our 1964 SdV; right, the rear clip of the same car sporting dual, oval country ID stickers.
"CH" does not stand for "Chwitzerland" but for Confederatio Helvetica, i.e. the Confederation of Swiss cantons.
The "ECOSSE" sticker is seen often on Scottish-licensed cars that tour the Continent (i.e. Europe outside
of the British Isles). Lower left, the sumptuous interior of our car
[ Photos: © 1972, Yann Saunders ]

In the Spring of 1972 we acquired a 1960 Eldorado Seville from a truck driver in Berne, Switzerland. He had inherited the car from an uncle who had bought it second-hand from a Geneva used car lot. I later found out the car's history. In 1963, it had been imported from Florida where it had been used on vacation, for three seasons, by its original owner, Ms. Elsie De Reuter, wife of wealthy Argentinean banker and financial genius, Carlos De Reuter; both were residents of Cologny, Geneva's Beverly Hills, since 1953. Elsie passed away in September, 1969 and her husband some ten years later. They left ten million Swiss francs (circa $5,000,000) in a Geneva-based Foundation for Medical Research.

Anyway, the truck driver did not like the color of the car! It was painted Heather Poly, i.e. metallic lavender (code #99) with matching metallic lilac leather and cloth upholstery and the very rare bucket seat option (trim code #58B). The Eldorado became our wedding car that very summer. It was with deep regret that we parted with this low-mileage beauty when our second child was born. In the late eighties its value as a collectible had climbed from the $1800 that we had paid to circa $40,000! You may read more about this superb automobile by clicking here.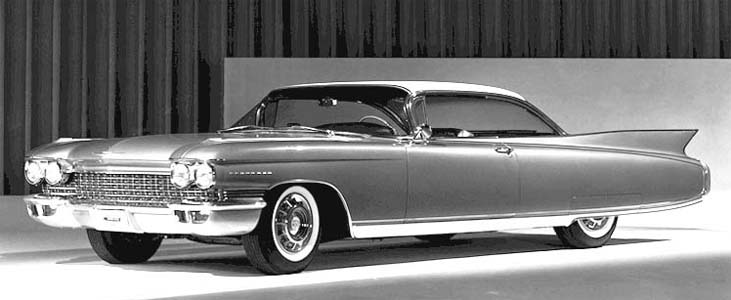 This is how the Seville looked when it left the factory in the late fall of 1959. It still looked
very much the same when Gita and I bought it, in Switzerland, some thirteen years later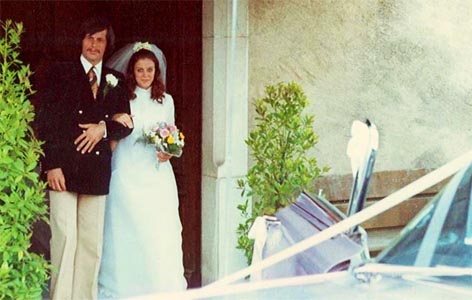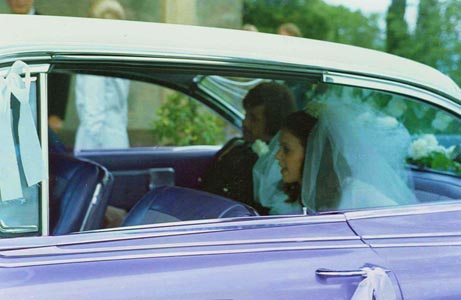 (Left), my BFF, Tony C., drives Gita and her Dad to the family church in Trélex, 15mi east of Geneva;
(Center), the lilac Seville awaits the bride and groom outside the church;
(Right), off to the wedding reception at the home of my in-laws, then we'll take a cruise ... on lake Geneva
After changing hands five or six times, this rare and beautiful Eldorado Seville (with under 20K miles when we sold it) has been rotting away on a private lot in Geneva's Chêne-Bourg area, since the mid-eighties. Downright shame for such a rare and beautiful example of Cadillac's Golden Years!

Much later we got a white 1959 Coupe De Ville with a black roof. Yes, it had been 25 years (a quarter of a century!) since I had first glimpsed that one in Glasgow, in 1960!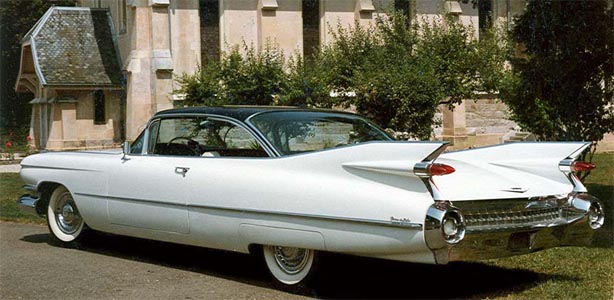 (Left) The '59 Coupe de Ville at the Chapelle des Cornillons, in Chambésy, Switzerland;
she cost $4500 in 1983; today, one as nice as this will cost 10 times as much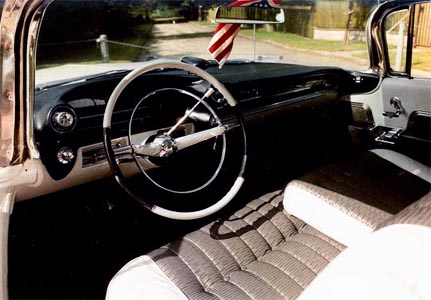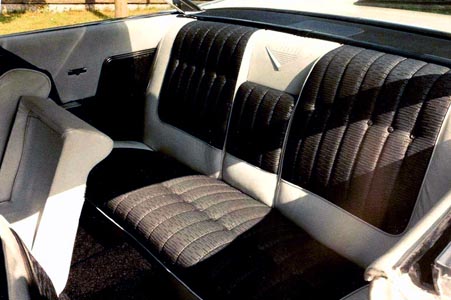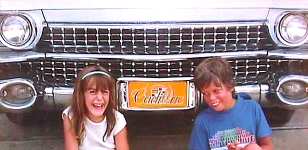 Our children, Jamie (right) and Kelly (left) loved the 1959 Cadillac rocket-ship;
believe it or not, "baby" Kelly now has three grown children of her own!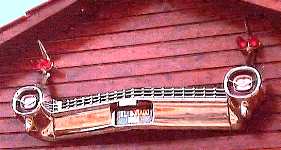 This tribute to the 1959 Cadillac hung for many years above the garage of our home
in Switzerland. It featured working tail-lights, reversing lights and license plate lights.
At night it could be seen from planes landing at nearby Cointrin airport. When we
decided to emigrate to the USA, I sold the ensemble to a friend and keen Cadillac
aficionado, Jean-Michel Roux. After it was gone, one Swissair pilot is quoted as saying:
Whatever happened to that night-club in Chambésy?
We did not keep the '59 very long. A desperate young Swiss man made us an "offer we could not refuse". In any case, at that time, I was looking for a '59 Eldorado Biarritz. But the prices of the latter were going over the moon! I had my eyes also on a '57 Eldorado Brougham [car #251]; that particular Brougham is reported to have been owned by Fidel Castro before it was brought to Switzerland by the then Swiss Ambassador to Cuba, His Excellency Giacomo Menasce. However, judging from the asking price at the time, the Swiss businessman who owned the car in the mid-seventies must have thought it was made of solid gold! More on this car may be found in the section of the Database that deals with the Cadillac Eldorado Brougham.

So Gita and I settled for a 1960 Eldorado Biarritz that we bought, sight unseen, from a not-too-honest vendor in Portland, OR, who assured us that this was a two-owner, totally rust-free car ...as may readily be seen in the photos, below! In addition, the DMV [Department of Motor Vehicles] whom I contacted in Oregon, sent me a list of at least seven previous owners!
When we got The Pink Lady, she had been re-painted powder-blue by the lady-of-the-night who had owned the car in the late sixties. When the car was stripped to bare metal, we found traces of the original color - Siena Rose (metallic fuchsia), code #98 - on the firewall and behind the inner door panels (photo). We decided to repaint her the original hue.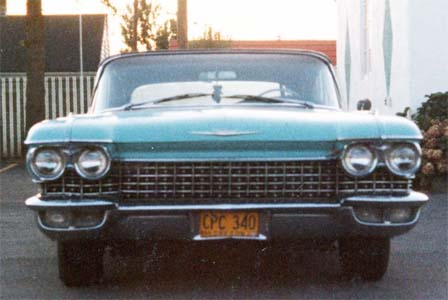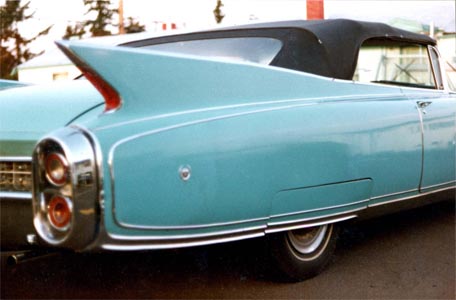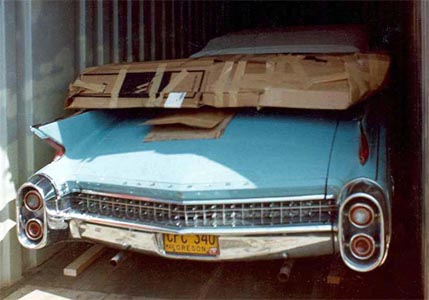 In 1983, we bought this "totally rust-free" 1960 Eldorado Biarritz in Portland, OR, for $5000 on the strength
of the RH photo; rust-through was found in the front compartment, under the rear seat and in the trunk area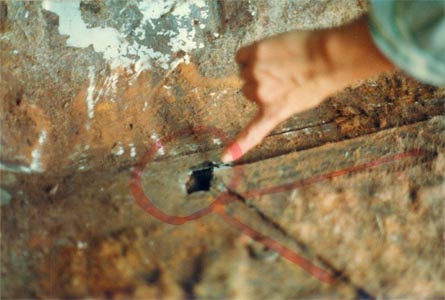 Gita points to "non existent" rust holes in the floor area


The original Siena Rose color was found on the firewall and on the inner door when the car was
stripped for paint (above); The Pink Lady was reassembled in 1989 by François-and-François,
friends from Laval whom we met in 1987 during a 2-week classic car "raid" in Morocco
I prefer the lines of the 1960 Eldorado models; I consider them much prettier, if somewhat less emphatically styled than their
1959 counterparts; the '60 convertible was repainted the original Siena Rose color (Code 98) and had all white leather upholstery
and top; the hard boot was missing but (I refused to pay one fifth the price of the car just to put on for that finishing touch!


For a while also we had a white 1976 Seville with blood-red leather upholstery (below, left). Although a plain-Jane, daily driver, nonetheless this car had belonged to one of the many wives of Saudi-Arabia's King Fahd, a part-time resident of Geneva. I got it from her chauffeur, to whom she had given the car when she had tired of it.

At the same time we had briefly a white 1976 Coupe De Ville, the one with the 8.2 liter power plant! At only $200 (yes, two hundred U.S. dollars!) it was the "cheapest" of all our Cadillacs, simply because the previous owner had left a dog inside, unattended for too long, and it had "played" with the car's blue, velour upholstery. Unfortunately, we had to get rid of this car when we found out that customs duty was unpaid in Switzerland and would have amounted to about ten times the cost of the Cadillac! In Switzerland, customs dues on automobiles [and on most other merchandise for that matter] are calculated on weight, irrespective of the car's value or condition.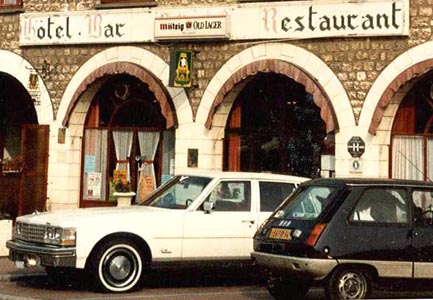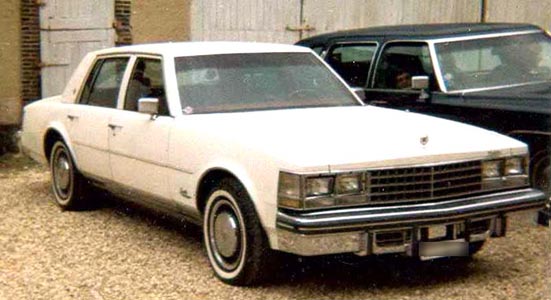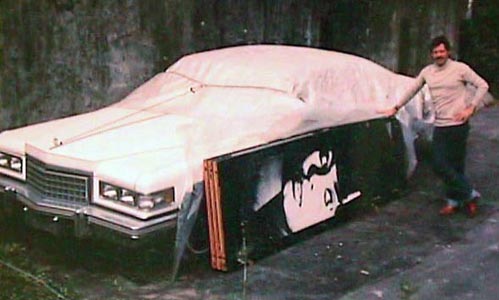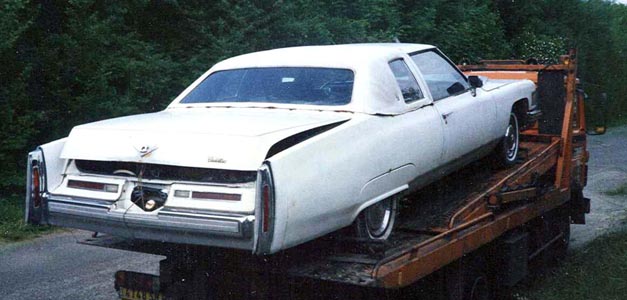 Above row: the 1976 Cadillac Seville, once the property of a Saudi queen (one of many)
Below: the '76 Coupe de Ville in "sad" condition (not worth restoring; it wend to a collector in France)
From 1963 to 1983 I put together also a unique collection of 750 Cadillacs covering the model years from 1903 to the present. Where did I store them all, you ask? Simple: in a glass case ...because they were scale-model toys and replicas! Yes, collecting Cadillac, toys and miniature replicas was a cheap way to fuel my bad habit!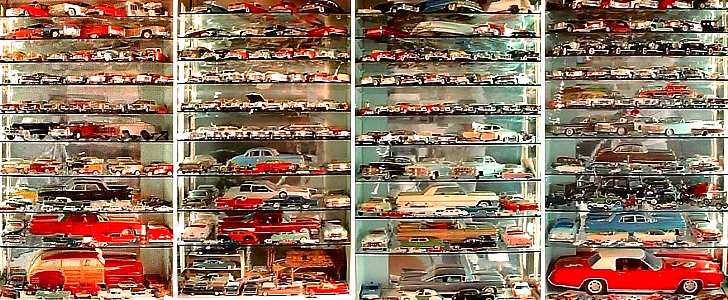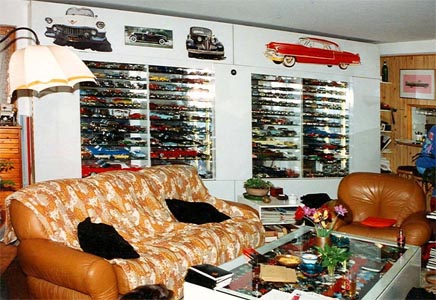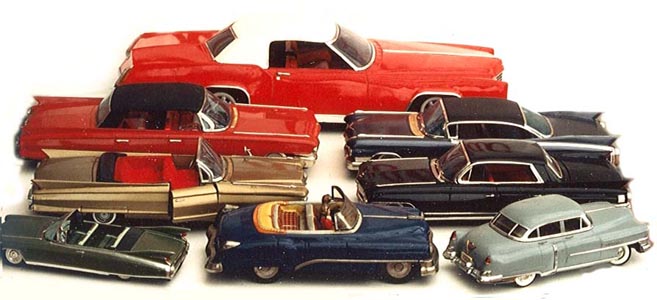 These are photos of what was once the "largest collection in the world" of Cadillac and LaSalle scale models,
replicas and toys; they ranged in size from 1 inch to 3 feet (the red '67 Eldorado at right, above) made by Ichiko;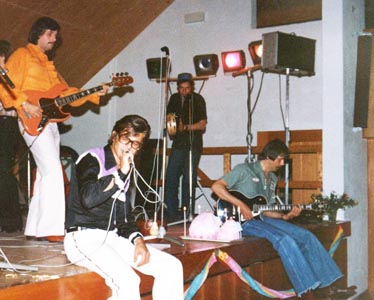 Yep! That's me with my 40th birthday present from Gita: a tinplate 1968 Cadillac Fleetwood Brougham;
the frilly, orange shirt is from London's Carnaby street in 1969; I used to wear it for band work (right)
Collecting Cadillac toys turned out also to be a rather good investment. Indeed, the sale of the collection - which weighed in at about 150 lbs. - allowed us to acquire Gita's Ark, a second-hand SSDY1, built in Holland in 1982, that measured more than 47 feet and displaced ...18 tonnes! Click here to read about the toy collection in greater detail.
____________________
1 Single-screw diesel yacht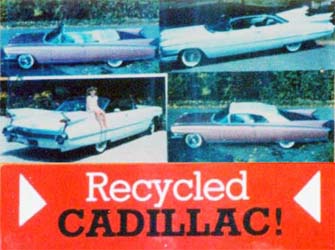 Converting a 150lb toy collection into a a 10-ton diesel yacht

(Left) As a UK citizen, I had the boat registered in Glasgow, Scotland, hence the red ensign aft; our "home base" was the marina at Mâcon, on France's river Saône
(Right) Later, we moved the Ark to Yvoire, on Lake Geneva, half of which is in France, the other in Switzerland; here we are steaming past Montreux en route to Chillon castle)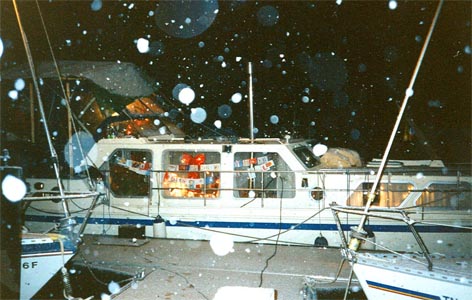 (Left) Summer: below the fortifications of Château de Chillon
(Right) Winter: Christmas in the marina at Yvoire, with Xmas tree and lights!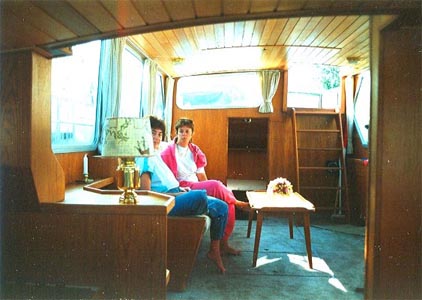 The finest teak was used on the interior fittings
But life was not always this good. A job-related downturn in the mid-eighties had me facing a loss of half my retirement pension. No longer could we afford to live in luxurious Switzerland, the country that had been my permanent home since 1963. In 1995 we were compelled to sell our home, our boat, all our possessions and to emigrate to the USA to start a new life in sunny South Carolina. There, we learned, we could buy a decent home for less than one quarter what similar accommodation cost in and around Geneva at that time.

It was a tough decision leaving behind our young adult children as well as giving away our two dogs. Yet it turned out that our decision to relocate to the USA was not all that bad. The sale of all our belongings in Switzerland enabled us to pay cash for a cozy new home in South Carolina, leaving enough change to pay for all the furnishings and to indulge in two full-sized Cadillac "toys": a stately 1942 Cadillac Fleetwood, style 7519F formal sedan licensed 1 OF 65 [because only sixty-five of them were made that year] and a slushy-plushy '64 Fleetwood Sixty Special sedan licensed E BAY B [because we found her on E-Bay, the well-known Internet auction site].

The toys bought the yacht, the yacht bought the house
... complete with the Classic Cadillac (below)!
The Black Pryncess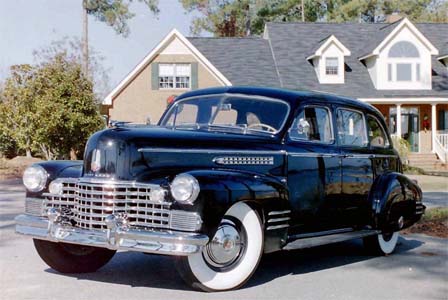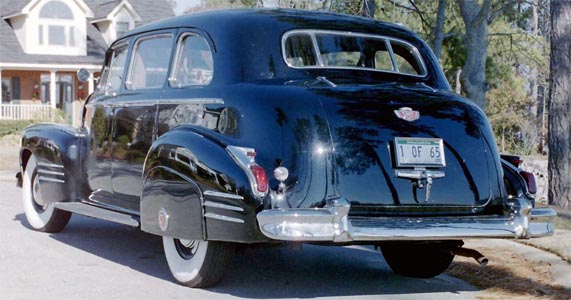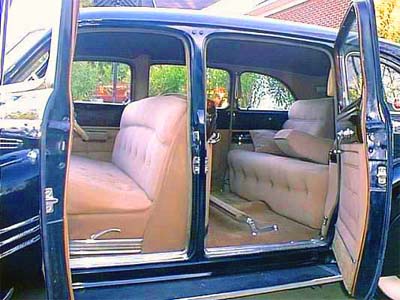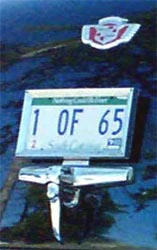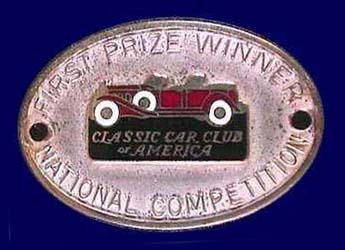 The Black Pryncess, our 1942 Fleetwood, Series 75, style #7519F formal sedan for five passengers
is one of only sixty-five such models built that year, hence the personalized number plate: 1 OF 65;
Generals Eisenhower and MacArthur used the same model during WW2; ours is one of only four known survivors
" E - BAY - B "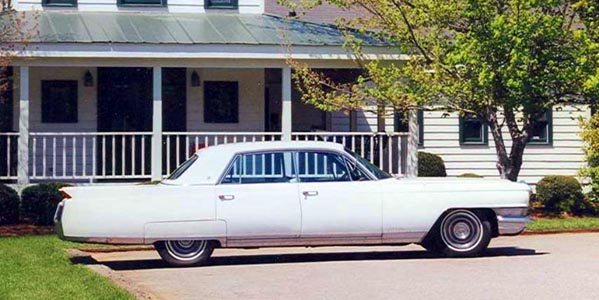 E BAY B was an "accidental" purchase on Ebay; Gita had gone to Geneva for a week ... just long enough for me to have fun on the computer;
our 1964 Fleetwood Sixty Special sedan epitomized Cadillac's owner-driver luxury cars of the sixties; It was our second 1964 Cadillac
Late Extra (Spring 2004): We moved to a town house closer to the water, that comes with a boat slip and winter boat storage. We sold the big Cadillac toys and reverted to boating, which left me more time to devote
to the The (new) Cadillac Database©.
~~~~~
The (new) Cadillac Database© is Born

On the topic of man's IQ, James Q. Wilson, professor of management and public policy at UCLA once said: In no field of knowledge is there a wider gap between what the experts know and what the media report. The situation seems to be much the same with automobile history, although, like my friend Ron Van Gelderen, twice President of the Cadillac La Salle Club, Inc., the more I know about Cadillac and La Salle cars and history, the less I consider myself to be an expert. Yet in collector circles my predilection for Cadillacs quickly earned me the nickname Mr. Cadillac. It was under that alias, in 1983, that I took over from Hervé Antoine, in Paris, editorship of the Cadillac-LaSalle column in the bi-monthly Bond, the French-language journal of the then 2000-member strong American Car Club de France (ACCF)]. My articles, in French, in that glossy magazine sparked a lot of reader interest. Questions about Cadillacs started pouring in.

Advancing senility combined with an understandable penchant - as a Scot - for golden-hued usquebaugh (the "water of life", i.e. whisky) my brain cells gradually were being destroyed and I was having to cross-check often my facts and figures before I could quote them with any kind of assurance.

Many of the answers were to be found - after much rummaging - somewhere among the piles of books and magazines littering the Cadillac Room at home. Without a proper reference system, finding a specific Cadillac photo or fact was like searching for the proverbial needle in the equally proverbial haystack. Some semblance of order was needed! But where to find the time?

For economic reasons Gita and I had begun riding 125cc motorcycles to save on gasoline. One day in May 1987, on my way back to the office after lunch, I was hit by a car driven by a "blind" Korean diplomat and left partly disabled for five months1. With Gita's help, I made the most of the succeeding long period of convalescence to put some order in my Cadillac literature collection. And with the advent of computer technology I was able gradually to discharge my failing memory onto more reliable magnetic discs.
__________________________________________________________
1 Had this accident occurred in the USA, probably I would have become a millionaire. In Europe, however, injury law suits do not provide for huge settlements; my opponent's insurance company covered only the cost of the broken bike, the broken bones and the effective loss of earnings during the time I was off work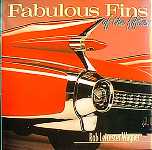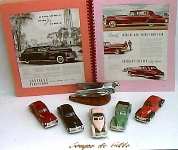 Top: samples of Cadillac sales literature and books on Cadillac cars.
Below: sample Cadillac magazine ads, Cadillac toys and Cadillac
memorabilia from Yann Saunders' collection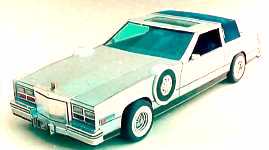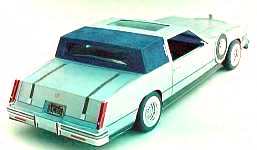 Here, made of stiff card, with plastic wheels, by model-maker "artiste" Bernard Gervais
is an exciting 1:8 scale replica of the Paris Opera coupe by Grandeur Coach Corporation
there is so much detail that even the the car keys hang on a tiny key-fob in the ignition
I had noticed also that much material published about Cadillac and La Salle cars is not always accurate nor complete. For example, in a so-called automobile encyclopaedia published in 1998, a photo of a 1932 Cadillac coupe was identified as a 1928 model, a 1955 limousine as a 1953 and a 1975 Eldorado as a late-sixties model. Another well-known publisher whose magazine is described (by them!) as The definitive publication for enthusiasts, collectors and dealers, lists the Cadillac V-16 all-weather phaeton, as well as some other V-16 convertibles and three town cars, as Madame X models. In fact, that appellation applies only to certain closed body styles on the V-16 chassis built from 1930 to 1933.

This gave me one more reason to compile The (new) Cadillac Database©. It was time to try to set the record straight. Of course, the accuracy of the Database is a reflection of the accuracy of the inputs from the various sources where I gleaned the information; errors, therefore, are inevitable. With your help, nonetheless, we may gradually cancel them out.

In addition, in 1993 I was approached by Fabien Sabatés, a French automotive writer, who proposed that we co-author a book on Cadillac styling for the French publisher Auto-Collection. But Sabatés did not keep his word; he reneged later on our gentleman's agreement ...and left me in a rather embarrassing situation vis-à-vis the many people - including the Cadillac Motor Car Division of General Motors Corporation (GMC) - who had supported the book project and supplied material for it.

I started to compile The (new) Cadillac Database© with that intended book in mind. It was done with relative haste and in the midst of the other urgent, professional and domestic preoccupations (some of them described above). Therefore, I don't preclude errors and omissions. I am counting on users to point them out, as also to provide me with additional facts and information considered worthy of inclusion here. Also I would welcome any suggestions how to improve on the style and layout.

Space in plenty has been donated kindly for The (new) Cadillac Database©, by long-time CLC member Glen Houlton from Hawaii. However, this may not allow simultaneous publication of the thousands of images in my collection. I have tried to be as representative as possible in my selection. Not all Cadillac and LaSalle models currently are shown although at last count there are more than 40,000 of them ... more, in fact, than in ALL Cadillac books published to date!

Users who would like to see a specific model [1902-2002] not currently included here may contact me by Email.

I shall do my best to accommodate such requests.
Tu peux m'écrire en français
Du kannst mir auf Deutsch schreiben
Puedes escribírme en Español
[...but I may answer you in English!]
Hard-copy inputs may be sent also by
snail-mail to my home address, below:
Yann Saunders
114 Seafarer Lane
Columbia, SC-29212 / USA
Only rarely was I unfaithful to the Cadillac
FORD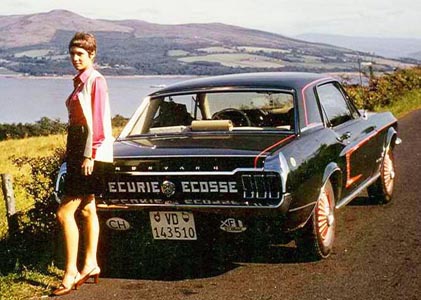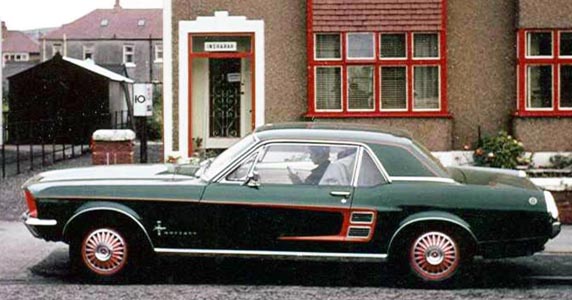 My first non-Cadillac American car was this 1967 Mustang coupe; I loved that car as much as I loved my wife (left); sadly, I kept the car longer!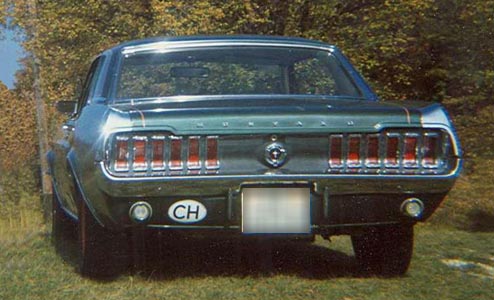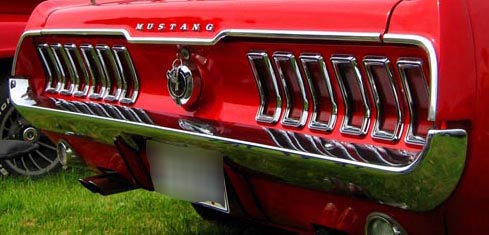 With a minimum of tools I was able to double the tail-light pods; a guy in Canada did the same with better results (right)
CHRYSLER (DODGE)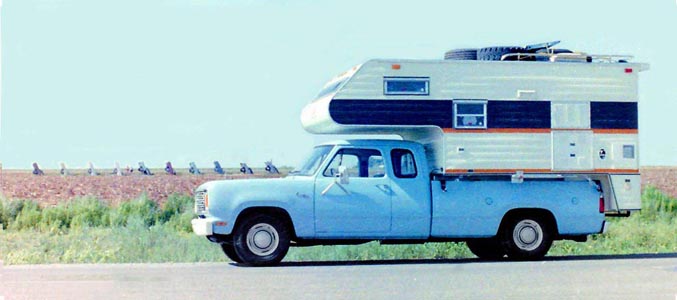 This 1978 Dodge D200 "2+2" truck, with removable camper shell were something I "created" after being told
such a rig was "not allowed" on Swiss roads, without major modifications; an estimate from Streag (the
Chrysler dealer in Zürich), in 1977, put such a rig at a whopping CHF53,000; however, by purchasing
the truck in Baltimore, MD, and having the shell custom-built in Elkhart, IN, in 1978, this rig ended up costing us
"only" CHF19,000 ... and we sold it a year later to a couple from Canton de Vaud for CHF27,000! I believe we
were the first owners of such a rig, in Switzerland; it required TWO road licences: one when being used as a
pick-up truck, the other when being used as a "camper" ... I tell you, ONLY IN SWITZERLAND!
BUICK *)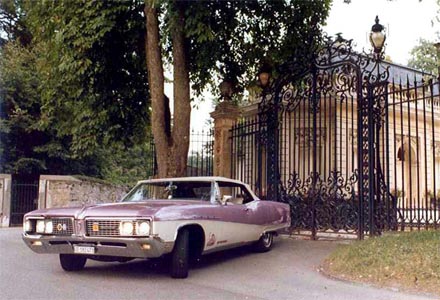 The profit from the sale of the Dodge camper went into this "raspberries-and-cream" 1968 Buick Electra 225
convertible; she is seen here before the impressive, wrought-iron gates to the estate of of the late Baron Edmond de Rothschild;
his son, Benjamin, is now in charge; he is a car collector in his own right and owns a few Classic Cadillacs



Here is "Der Pink Panzer" at Lignières care-track, near Neuchâtel
on the occasion of a meeting of the American Car Club of Geneva in 1979
*) Although my heart still belongs to Daddy Caddy, since moving to the USA in 1997-98 Gita and I have come to appreciate the reliability of our BUICK "daily drivers"; we have had four, so far, and still run two of them. Our first was a 1995 Le Sabre Custom that we gifted later to the daughter of some friends of ours when she turned 18. Before that, we had bought a 1990 Century wagon when daughter Kelly came over to stay with us for 3 months; it was so reliable that we kept it for another two years, finally succumbing to the call of a larger wagon, a 1994 Roadmaster Estate; I had seen a white one on a mall parking lot and had left my business card on the windshield; the lady owner called back ... 2 years later; we bought the car with "only" 110,000mi on the clock. Meanwhile, on a tip from a friend in Alabama, we bought a SECOND 1994 Roadmaster Estate with fewer miles on the clock (45,000); this one is teal colored. In 2002 Gita inherited from her step-Mom the latter's 4-cyl. 1995 Pontiac Grand-Am ... with only 20,000mi on the clock; that one ought to last at least another 10 years.
"Nothing too big, too bright and never too much chrome.
Cadillac never skimped on styling.
Check the true classics and read about them.
Cadillac will always be Cadillac"
Trivia: In reviewing the book Automotive Web Sites by Todd A. Jensen, the late Tom Bonsall asserted ...there may be a zillion automobile sites out there on the Web, but surprisingly few of them are heavy hitters worth taking seriously. I wonder if he or Mr. Jensen ever visited The (new) Cadillac Database ©? In all due modesty, I have yet to see another single-marque Web site as broad-based as this one and replete with so many related images and photos as this one!


(traduction française, © 2000, Philippe Ruel - avec ajouts de Yann Saunders en 2005)
Avant-propos
Comment tout a commencé
Généralités

Cela fait une centaine d'années que l'automobile a vu le jour … le temps qu'un volcan met pour éternuer. Dans dix mille ans, des archéologues déterreront peut-être les restes de l'une d'entre elles, un vestige de nos moyens de transport individuels des XXème et XXIème siècles. En la comparant avec sa capsule personnelle à gravité inversée déjà démodée, il considèrera sans doute nos "voitures" comme des objets tout à fait saugrenus. Et pourtant, nous voyons en elles l'un des plus admirables machins jamais construits par l'homme … jusqu'à épuisement des réserves pétrolières mondiales !

Parmi toutes les voitures du monde, j'ai le sentiment que certaines ont toujours été à part. La "(new) Cadillac Database" [NBDC], comme vous l'avez deviné, est exclusivement consacrée à ma marque préférée.

L'objectif de la rédaction de ces archives électroniques est de regrouper quelque part, comme référence pratique, les milliers de faits, de chiffres et autres gâteries que j'ai pu glaner à propos de ces voitures pendant les quarante-cinq dernières années, depuis qu'à Noël 1955, une publicité dans un magazine pour la Sedan de Ville 1956 a déclenché mon intérêt pour la marque phare de la GM.

Par nature, une base de données n'est à jour qu'à la date de ses dernières modifications et ajouts ; cette date apparaît entre crochets à gauche en tête de chaque chapitre, partie, section ou page. L'exactitude du contenu ne vaut que par l'exactitude de ce qu'on y met. A cet égard, j'ai remarqué des "faits" parfois contradictoires d'une source à l'autre. Je n'ai donc placé ici que les "faits" provenant des sources qui m'ont semblé les plus fiables. C'est à vous, utilisateurs, de noter les erreurs, omissions ou incohérences que vous rencontreriez, de sorte qu'ensemble, nous puissions améliorer cette base de données et par là même servir notre passion commune.

Les sujets, les mots-clés, les dates et la matière de la NBDC proviennent d'une multitude de livres, de revues, de coupures de presse ou de documents du constructeur qui ont alimenté depuis 45 ans ma collection de documents se rapportant aux voitures Cadillac et La Salle. Ils ont été compilés dans ce vaste travail de référence destiné aux amateurs, collectionneurs et admirateurs des voitures Cadillac et La Salle. Il est destiné en particulier à ceux qui, comme moi, sont plus intéressés par le style de leurs marques et modèles préférés que par les merveilles mécaniques qui se cachent sous le capot. Il est aussi destiné à ceux qui écrivent à propos des voitures Cadillac et La Salle et qui veulent produire des écrits aussi exacts que possible. Enfin, il est destiné à tous les aficionados distraits de Cadillac et La Salle qui, encore comme moi, ne peuvent jamais se rappeler exactement dans quel livre, quelle revue ou quel catalogue ils ont vu cette photo de coupé de ville à carrosserie française, ou lu cet article à propos un "dream-car" Cadillac. Plus spécifiquement, la NBDC est faite pour les nombreux gardiens de ce que mon ami l'écrivain automobile Roy Schneider appelle l'héritage sacré.

Comment j'ai attrapé le virus

Mon intérêt pour les voitures Cadillac et leur histoire remonte à plus de quarante-cinq ans. J'étais un adolescent quand les dimensions généreuse et le style flamboyant des voitures américaines en général ont commencé à me fasciner, surtout comparées aux petites autos ternes de mon enfance oubliée sur la côte ouest industrielle de l'Ecosse dans l'après-guerre.

Je suis né en 1939. Feu mon père, Jock, épousa maman à Paris en 1937; c'était une beauté française de 19 ans qu'il avait rencontrée à Vienne où ils étudiaient tous les deux l'allemand. Papa enseignait le français et l'allemand en Ecosse avant d'être recruté en 1947 comme traducteur pour les toutes jeunes Nations Unies. C'est lui qui m'a donné l'amour des langues… et des voitures américaines.

En 1947, la famille quitta Balloch, sur les rives du Loch Lomond, pour Genève, en Suisse, siège européen des Nations Unies. Jusqu'alors, l'unique moyen de transport de papa avait été ses pieds, ainsi qu'un vieux vélo Raleigh acheté d'occasion quand il était encore jeune étudiant-enseignant en Ecosse. Mais par un matin de printemps 1948 il fut séduit – comme je devais l'être quelque 18 ans plus tard – par une impressionnante voiture américaine sur un parc de voitures d'occasion de Genève. C'était une décapotable 4 portes Chrysler CB-6 de 1934. Il l'acheta moins pour la grâce du mouvement de ses ailes et ses phares en obus que pour sa capacité à loger les 7 personnes que comptait alors notre famille. Papa ne le savait pas à l'époque, mais il venait de s'acheter une voiture rare et désirable, n'ayant été construite qu'en 450 exemplaires.

Etait-ce les nombreux et plaisants voyages que j'ai effectués sur la banquette arrière de la Chrysler, ou les leçons de conduite que me donnait en cachette de mon père mon frère aîné André (10 ans) ? Quoi qu'il en soit, cette voiture américaine de mon enfance a probablement contribué à guider mes choix automobiles par la suite.

En 1952 je retournai étudier en Ecosse à la Dumbarton Academy … en même temps que la légende du sport automobile Jackie Stewart, né quelques semaines après moi ! Les huit années suivantes furent peuplées de tentatives pour faire mon éducation à l'écossaise. Mais je me rappelle surtout les vacances d'été et d'hiver passées en famille en Suisse. C'était pendant l'un de ces congés, à Noël 1955, que je tombai sur "ma" première Cadillac. Elle était là, du haut de ses deux tonnes, une "Sedan de Ville" année 1956 bordeaux décrite dans une publicité de magazine toute en couleurs. Elle stationnait dans une allée enneigée en face d'un porche éclairé, quelque part en banlieue. A l'intérieur, sous le sapin de Noël, papa tendait à maman les clés de la nouvelle Cadillac. La publicité disait : "le Noël qu'ils n'oublieront jamais". J'ai toujours la publicité originale (voir photo) … et quelque 2000 autres accumulées pendant les 45 années qui ont suivi.

C'est six mois plus tard, en juin 1956, que j'ai voyagé à bord d'une Cadillac pour la première fois. C'était une berline "Sixty Special" noire de 1949 appartenant à l'ambassadeur des Etats-Unis aux Nations-Unies. Son fils la lui empruntait parfois pour amener notre bande de jeunes à des soirées mémorables au bord du lac. Je me souviens avoir été fasciné par le confort de cette voiture, ses performances et les commodités qu'elle offrait à ses passagers bien au-delà du nécessaire. Je me souviens aussi avoir ... [traduction malheureusement interrompue, faute de temps !] ...